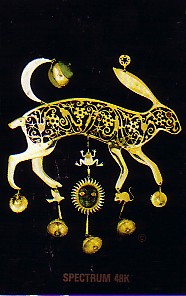 After winning, Ken Thomas stored the jewel in a bank vault. He had agreed to loan it to a museum for public exhibition, but changed his mind at the last minute.
Paul Harkin knows more: "In 1985, a computer game/puzzle named Hareraiser was released in 2 parts by a company called Haresoft. Part one was called 'Prelude' and part two 'Finale.' The prize was the Golden Hare. It was released across several formats of home computer in the UK; I'm not sure about other countries worldwide. I remember seeing 'Prelude' on sale at the time but I never bought a copy. If you really want to, you can download the program and a ZX Spectrum emulator to see what it looks like. There is a small snippet of info from a computer magazine of the time at Your Spectrum." [Note to American visitors: the ZX Spectrum was sold in the U.S. as the Timex Sinclair 2068.]
I've found the original box art from the Sinclair version, which should look familiar enough–come to think of it, even if I didn't know that it was "the jewel from Masquerade," I would probably at least pick it up off the software shelf to have a closer look. I'm guessing all the boxes looked similar.
Through the magic of technology, you old computers never die–they just get emulated by newer computers, which are made to think they're old computers. In other words, if you want to try Hareraiser, you still can, but you'll need to download an emulator for one of the old machines (they are often available for Windows, Mac, DOS, and several other platforms) as well as the ROMs of the games for that system. A very special thanks to James McLaughlin who tirelessly gathered the ROMs on the site's behalf:
ROMS Emulators
ZX Spectrum – Prelude & Finale ZX Spectrum emulators
BBC Micro – Prelude & Finale BBC Micro emulators
C64 – Prelude C64 emulators
Acorn Electron – Prelude Acorn Electron emulators
I warn you–no matter which machine you use, once you get Hareraiser running, the game does not make a hell of a lot of sense. Here's a few screens from the Spectrum version of Prelude:


Paul continues: "I also have a newspaper cutting from the Daily Mail (UK), December 7 1988, which details what happened to the Hare after that. It transpires that Ken Thomas (real name Dugald Thompson) set up the company, Haresoft, with a partner, John Guard. At the time of the newspaper article, the company had recently gone into liquidation, and thus the hare had re-emerged from its bank vault that week, to be sold at auction, at Sotheby's, to an anonymous buyer, for £31,900. Kit Williams went along to bid, but dropped out at £6,000." A scan of the auction catalog appears at the left (thanks again to Toby Malcolm); click the photo for a larger version, including the detail of its expected price. If the jewel was auctioned off when the company went under, it's safe to assume that Hareraiser did not sell well and the computer game's puzzle was not solved.
Flash forward almost ten years later, and Tim Tate picks up the trail: "I saw on CNN Headline News [in 1996 or 1997] that the Hare was auctioned off. They interviewed Kit Williams himself, who was also bidding on the Hare. He didn't say much, but that he really wanted it back. In the end, it was purchased by an anonymous bidder who was not present. There was no indication of who the bidder might be. I can't remember the purchase price." Did anyone else catch this piece on CNN?