And The Mysteries of Kit Williams

---
Masquerade, Page by Page
---
Painting #10: Jack In The Green
---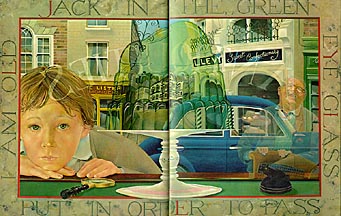 BORDER PHRASE: "I am old, Jack in the Green, eye glass put in order to pass."

BARBED LETTER WORD: MOULD

RED LETTER WORD: JELLY

WORD FROM THE MASTER RIDDLE: POINTS

HIDDEN HARE: There's always room for Jell-O. And apparently, room for hares in Jell-O as well.

CLUES & COMMENTS: Jack in the Green is a character from English folklore, so the green gelatin where Jack appears here is a clever pun. The names Lister and Levy on the storefronts in the background are the owners of the Portal Gallery, where Kit's work is displayed.
---
---