"You're Never Gonna Regret This, Ray..."
How To/How Not To Build Your Own GB Props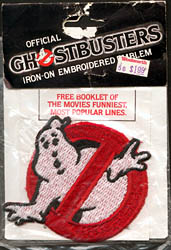 It took 15 years of wishing but only (only!) seven months of planning and four months of construction...and now, by God, I finally have the Halloween costume I wanted when I was 13. Better still, I suckered two friends into doing it with me! And neither one is 13 years old!

Short version: I have always been a huge fan of the original Ghostbusters. Hell, I have the movie poster--in German ('Sie sind gekommen...um die welt zu retten!'). In 1984 I bought a little logo patch at my local Woolworth's for $1.99. I never found an appropriate sleeve upon which to sew it, so I kept it--packaging and all--and it's been kicking around my collected junk for a decade and a half. I found it again in March and realized that 1999 was The Year To Do It. I had the time, I had the cash, and I was old enough to use power tools. A strained request to Jason Drake, all-around handy guy and owner of various specimens of said power tools, and there were two. Of course, a bizarre project just isn't a bizarre project without Andy Eddy, whom I love precisely because he acts 14 years old instead of 41, so he was definitely in. And the rest is hysteria. (As for the patch, I still haven't used it--we bought three new ones for this project. It still hangs on my wall over my computer desk, where I put it months ago to to remind myself about the whole project. I am thinking of geeking out a new denim jacket with it, though.)
"No Job Is Too Big, No Fee Is Too Big"

Obtaining costume details--elbow pads, goggles, etc--began in late March. Construction (that is, cutting wood) started in June and continued intermittantly throughout the summer. By late August we started getting stuff that looked good, and had one pack complete by early October. My pack was the first completed but is also something of a mutant compared to the other two, as many, um, lessons were learned during its construction. Among them: Hot glue dissolves styrofoam, unless you paint and laquer it first; they don't make flat-bottomed springform cake pans like they used to (if at all); and of course, buy everything in threes and settle the bill later. I lost track of how much the everything cost; it was a labor of love.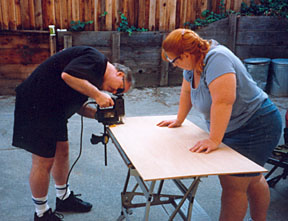 Most of the clever ideas for parts came from Norm Gagnon's pack-building plans. Almost everything is made out of 1/4" plywood--the backboard, the boxes, the little strips on the sides. Most of the "doodads" are glued-together bits from the plumbing and sprinkler departments of the hardware store (and I realized it was time to hurry up and get the project done when I started to be recognized as a "regular" at OSH). We made efficient use of the doodads--one plastic connector consisted of three pieces, which were affixed in three different areas of the pack. Also, empty film canisters played a huge role; you'll spot caps as well as full containers glued in all sorts of fun places. Also, there's a few broken bits from game controllers sacrificed for GamePro's annual torture test/buyer's guide, which ultimately ends up in us shattering stuff. At least this year, it didn't all get thrown out. Kat recreated the labels perfectly, based on Norm's transcriptions from an original pack on display at Planet Hollywood. She also whipped up some business cards!
The round part on the bottom (the "cyclotron" in GB lingo) is a cake pan glued to a styrofoam base. Kat found a great cake pan for mine, then a few months later when we were ready to build the other packs, we couldn't find two more just like it--major chaos. The large black band that seemingly keeps it all in place is Hot Wheels track with gaffer's tape on it; the silver knob is from a garden hose release valve that we cut off and painted (and it spins!).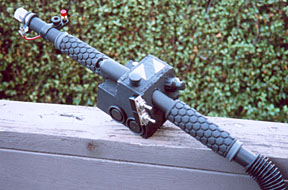 The gun is plywood with PVC pipe; it slides onto the pack with a simple hook & bracket assembly, but can be removed from the hose for storage. It was a colossal pain in the ass to build, as we needed a hole at an angle for the pipe/handle. We screwed up a lot and had to rebuild a few times--really frustrating. If you look at the tip in person, it's actually a glass Saticon tube from a blown-out video camera, donated by our pal Matt Willson. The hose is vaccuum cleaner extension from Eureka's online parts store. Everything was painted flat black before it was glued in place. The backpack itself is a standard military A.L.I.C.E. pack frame with the plywood base screwed and bolted on (Andy, Jason, Kat, a drill, and some nasty-looking screws made sure it wasn't goin' nowhere). The whole backpack weighs in at 12.5 lbs. Had we gone for lights or motors to make it more exciting (and of course, that's the first thing anybody asks, if it lights up), it would have been heavier, but as it is, it's pretty comfortable.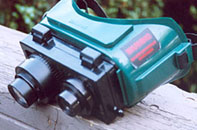 My ecto goggles got both eyepieces from an abandoned 35mm slide scanner. Once I got it apart, the lenses popped out and were perfect. Kat created a special label for it so it would look a little more interesting ("Danger: No user serviceable parts inside"). Bonus: The one over the right eye makes a great clicking noise as you rotate it to change the f-stop.
The jumpsuits are standard military surplus (no, we did not make them too--we had enough to do, thanks), with the sew-on GB logo patch and the name tags (our names, of course) ordered from Intergalactic Trading and 8th Street Tailor, respectively. Everybody seemed amazed that I had my own name on my suit (as did Andy and Jason). Um, all you have to do is search the 'net for people who will do it for you, folks. It ain't hard, it just requires some planning. One small detail that I wanted to get right was the little hose coming out of the right pocket. What does it do? Nothing. Where does it connect? Nowhere. It was purely a visual prop in the film, but I wanted to make sure we had it in some form. It's the other half of that garden hose release valve with some latex tubing tied inside, then screwed into the jumpsuit pocket. A pretty cool hack, I thought.
"Back Off Man--I'm a Scientist"
The overall goal was to create something interesting and sturdy rather than Hollywood authentic. We intentionally left some small parts off because we just didn't want to be bothered with them. Some serious Ghostbusters fans will see our packs and scream "Blasphemy!" But, ya know, fuck 'em. For our tastes and desires, our packs are exactly close enough.

Kat created patterns for each wood panel that needed
to be cut, so we could just trace and buzz.

Andy slices 'n dices.

Wow! A...blank board! With straps!

Andy wrestles with a gun housing, trying to get
the hole and the pipe to play nice together.
(Keep your dirty jokes to yourself.)

Bare-bones packboard, with only a few details...

...and a few weeks later, about halfway done.
Still a very long way to go.

The core of the particle thrower. The wood putty sucks.

Dan's gun takes shape with paint and detail around September.

Kat, Jason, and Andy, tracing and cutting in the home stretch.

Hot glue + cake pan = cyclotron.
It's messy and you have to move quick.
(I repeat, keep your dirty jokes to yourself.)

Kat gave me a refresher course in sewing, but hey--
I am the son of a seamstress.

The wires added a lot in early October, but it's still
missing warning labels and the silver knob, among other things.

One down, two to go.

Detail on the finished cyclotron,
with Kat's labels and everything.

Andy tries his pack for the first time, while
Kat coaches on the finer points of gun removal.

Three Ghostbusters. Three packs.
Good thing the math worked out.

Dan's finished pack.

Dan's finished pack, profile.
There are nice close-up photos of my finished pack and jumpsuit over at the archive at Spengs' Lab. They are exclusive to his site--I didn't even mirror them here. If you are building props, I think they're worth a look--if only to say, "Hell no, I'm not doing it THAT way!"


Home
Props
Halloween '99
Photos


Downloads
Links
Email Dan