"We're Ready to Believe You!"
Downloads, Oddities, and Miscellanea

Ghostbusters logo as Windows wallpaper

I scanned and cleaned this basic "no-ghost" logo on a black background and sized it to my 1024x768 Windows desktop. This .ZIP contains a .BMP--unzip and stick it in your Windows directory, and you're in business with a big ol' GB desktop.
---
Ghostbusters logo as vector EPS

Our good pal Matt Willson also created special Adobe Illustrator/vector EPS versions of the Ghostbusters logo. These will come in handy if you need something professionally printed--like, say, magnets for the side of your car, or t-shirts, or whatever. You'll need at least Illustrator 5 to view them. There are multiple versions of the file in this .ZIP archive--two EPS files with either a white background or no background at all, a version of the logo on a black background, and Matt's master work file. But if you don't have a specific need for vector-based EPS versions of the logo, you can skip this download--it won't do ya no good.
---
Ghostbusters skin for The Sims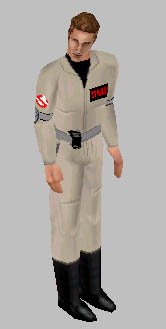 As experienced players of The Sims know, when a Sim dies, you'll sometimes see their ghost haunt the house or the local graveyard. And while there's a maid to help you tidy the house and a repairman to help you fix things, well, when the spooks come out...who ya gonna call? Install this custom Sims skin into your GameData/Skins directory, and you can dress your light-skinned, medium-build male Sims in proper GB attire. Click on the pic to download.
---
Monster Truck Madness 2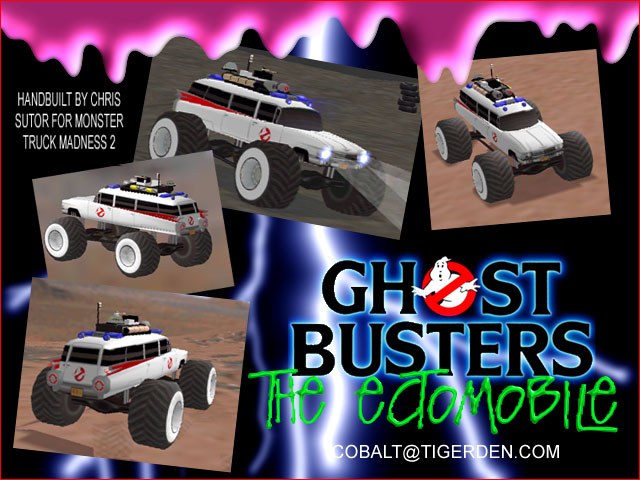 Is this sick or what? :) Designed by Chris "Cobalt" Sutor, this is an awesome recreation of the Ectomobile, designed for the serious off-roadin' of Microsoft's Monster Truck Madness 2. (Click on the photo for a larger view.)
Cobalt says: "It took about a month... I used a very basic 3D program called binedit. It was designed specifically to edit MTM2 models...it was slow working. I had to plot the model one vertex point at a time and build each individual face." Insane...and incredible!
Download the Ectomobile for Monster Truck Madness 2
Installation instructions:

Locate pod.ini file in your MTM2 directories
Open pod.ini in a text editor
Add boo.pod to the top of the list. Note: "Boo" is the name of the car model, not "Ecto." If you want the siren to work when you hit the horn, boo.pod must be the first car on the list.
Save pod.ini
Start MTM2
And there's more good news for owners of Need for Speed III: Hot Pursuit! Sez Cobalt: "Someone released a patch that would convert MTM2 models into NFS3 models. After that, it was just a matter of fiddling with NFS3's performance specs. I put normal sized-tires on the NFS3 version." That'll be online soon.
---


Home
Props
Halloween '99
Photos


Downloads
Links
Email Dan