About Kit Williams
 Kit Williams spent time in the Royal Navy and worked with electronics during his younger years, but eventually found his calling of painting. When the man who would eventually publish Masquerade, Tom Maschler, first suggested the idea of a children's book to Kit, the author was reluctant. Once the idea of doing a complex treasure hunt was hatched, however, Williams could not deny it and forged ahead on what would become one of the most talked-about and ambitious literary projects of the time. It has spawned many imitators, and it's still the standard by which all similar books are judged.
For years, Kit Williams had his incredibly detailed works displayed at the Portal Gallery in London, but no longer regularly displays there. Much of his work is on commission now, however, and he arranges appointments with the public annually in a sort of "open house" event. He has also designed the Dragonfly Maze for Bourton-on-the-Water in the Cotswolds, and has made several gorgeous clocks for shopping centers in Cheltenham, England. One is is the Lady and Tiger Illusion Clock at the Beechwood Shopping Centre; another is the Bubble-Blowing Frog at the Telford Shopping Centre; a third is the Wishing Fish Clock for the Regent Arcade Shopping Centre. My wife spent a few months living in England, and when I showed her Wishing Fish Clock online, she said she'd seen the clock at Regent Arcade and never realized it was Kit's work. Her guide that day mentioned only that it had been created by "a children's book artist." Bah!
A collection of Kit's work, Out Of One Eye: The Art Of Kit Williams, was published in 1986 and is now out of print–as are the hardcover editions of his two treasure hunt books. I have more information on them here.
James McLaughlin located this profile of Kit which accompanied the solution in the Sunday Times Magazine. This article appeared June 20, 1982:
THE MAN OF MASQUERADE
by Susan Raven

"I became a painter because I was a painter," says Kit Williams. He was almost put off art at school; "but I always knew I could do it. And thinking visually was useful in physics, and I spent my time building television sets and sending up rockets. When I left school – without any O-levels – my mother was so fed up she sent me off to join the Navy."

He started painting on board the aircraft carrier Victorious ("she's razor blades now!"). "Everyone round me was playing cards – I couldn't do that. At first I thought I'd be a philosopher. So I read Nietsche and Marx and Russell for two days. No good. Then I decided to be the first visual philosopher."

To keep steady when the ship was moving, he used to tie down the canvas, and the seat he was sitting on; he even tied his arm to an armrest. "They thought I was very strange, but my divisional officer somehow understood. He gave me a tiny compartment to paint in. He thought it was better than letting me fiddle around with the ship's computer, which had to look after 24 aircraft."

Kit Williams eventually bought himself out of the Navy, for £200 ("my life's savings, enough to have bought a car!"). Then he lived on his uppers for 10 years, touring the coast in a caravan, moving when the police moved him on, taking less and less demanding jobs so that he had the energy to paint and to think. Teaching himself a potted history of art he discovered English painters like Blake and Samuel Palmer and Stanley Spencer: "I felt related to them, I identified with them." Today, he says "Botticelli is my man." One can see traces of all of them in his obsessed and haunting canvases.

He first showed his work in Bristol. Nobody, he says, came to the preview. He vowed he would never show his work again.

Then, the year he was in Whitstable, he used to collect driftwood on the shore and make little boats with his address inside, and push them out to sea, hoping to get replies from half way across the world. "That must have been 1971. In the end, somebody in England picked one up and wrote to me, thinking I was a child. When I wrote back saying, 'Actually, I'm on the dole,' this chap – a young man about to go to Cambridge University – came to see me. And it was he who brought me an entrance form for the John Moores exhibition in Liverpool."

So Kit Williams submitted to the organisers an intimate little picture of two people and a Morris Minor parked on a river bank. It was one of the 80 selected (from 800) and was bought by one of the Moores family before the exhibition even opened.

The Portal Gallery in London saw his Liverpool picture and asked him if they could show his work. And it was after their second Kit Williams exhibition, in 1976, that publisher Tom Maschler asked him to do a children's book…

Masquerade was published in September 1979 to a fanfare of publicity. The result was that Kit Williams's life was overwhelmed – by letters, telephone calls, even visits, from people who believed they were on the track of the solution. He opened all of the letters – at one time 200 a day – answered all the telephone calls until his number was made ex-directory, talked to all the visitors. None of them had got it right; and as time went by Kit Williams began to think he had made the puzzle too difficult, that no one would find his golden hare except by luck or accident.

Then, on February 18 this year, nearly two and a half years after publication, he recieved a solution from someone who signed himself "Ken Thomas".

"It was just a very childish sketch – there were no words at all on it. But it was exact."

However, when Williams telephoned Ken Thomas, it was clear that he had somehow deduced the right answer, although he hadn't cracked the code. But he had quite fairly and logically pinpointed the right spot, and the treasure was rightfully his. Its uncovering was witnessed by Kit Williams, Tom Maschler, Bamber Gascoigne, Magnus Linklater of The Sunday Times, and a TV crew.

Then, just a couple of days later, Kit Williams recieved a letter from two teachers in Lancashire. "They had worked out my method," says Williams, "completely and in every degree – in October the year before.

"They had written two letters to me, but had not sent them – they'd kept them in a drawer! They felt it was in the spirit of the thing to go and dig, and they had been too busy to do it."

Williams learned that one of the teachers and his wife had actually visited Ampthill back in January but, realising that they would need an inclinometer to measure the slope of the land, they went home and made one, in wood and cardboard, returning to the site on February 18. It was the very day on which Kit Williams recieved the letter from Ken Thomas. The Northern couple waited until it was dark, and dug a 4ft. square. But they failed to find the treasure. They decided not to try again until the equinox on March 22.

"It is a great shame they did not get in touch with me sooner," says Kit Williams. "But I was thrilled when I heard from them. I'd been so depressed that the treasure had been found without the code having been worked out. They are still the only people who have cracked it.

"I've always held – and the teachers agree – that the mystery was not esoteric, that a child of 10 could do it, with a lot of perseverance. Perhaps that need to stick with it is why the puzzle is more of a cult with the middle-aged."

Today Kit Williams lives in a tiny cottage in Gloucestershire with his second wife Eleyne. They met on a train in September 1980 and married three months later. She is a hand-(picture captioned "The only people who fully solved the puzzle – but didn't say so in time.") loom weaver – the daughter of hand-loom weavers in Stroud, nearby. There is also Bramble, the border collie, and a hive of bees: Williams's next book is about bees.

Masquerade sold more than a million copies, and the paintings were sold for four-figure sums. The Williamses could move anywhere. But, says Kit, he would never want to change his lifestyle. They now have a car, a studio for Eleyne and a workshop for Kit; but the cottage still has no central heating.

What has changed is that Williams now pays full rates for everything. "I spent 10 years almost on the breadline, making do with scraps and leftovers – and I could still do it. Money means that I can't use that skill, which means I've also had a pleasure removed."

His most immediate project is a wooden puzzle – a box so constructed that a ball of lead can be made to fall through a three-dimensional maze to release a little drawer containing something in gold. "I've never done it. But children can do it – a Japanese friend's seven-year-old twin sons cracked it in 20 minutes."

Williams has also been working on his next book for the last two years; it should be published in 1984. "Tom Maschler gave me a bottle of whisky and said, 'We must have another book out of you'. I said 'So long as it is a better idea and something no one has ever done before.' And a few weeks later I had just such an idea. It's very simple, but there's a twist." He will say no more. But it's clear that Williams's thousands of fans have another treat to look forward to.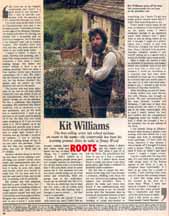 Please check out this excellent interview from the Sunday Express Magazine in 1986, sent to me by…a very nice woman in England whose name I entirely forget. Please, come forward and take the credit. Click on the image for a larger, legible version.
In December 2009, BBC Four presented The Man Behind the Masquerade, a new, hour-long documentary on Kit, Masquerade's history and legacy, and a very special moment: Kit being reunited with the hare he'd created 30 years prior. The BBC has not rebroadcast the show, but I have been made aware that htere is a bootleg copy wending its way around the internet. What's more, one fan has uploaded the entire program as six YouTube videos.