Painting #12: Sir Isaac Newton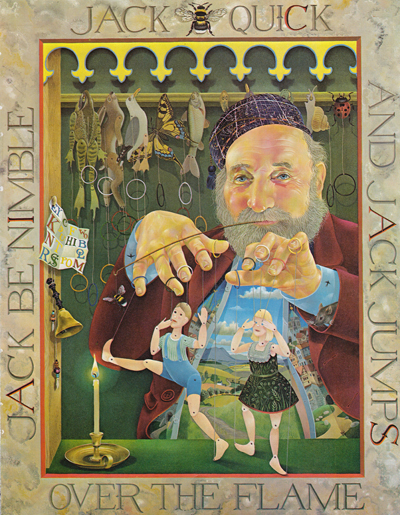 BORDER PHRASE: "Jack be nimble, Jack [bee] quick, and Jack jumps over the flame."
BARBED LETTER WORD: SIR
RED LETTER WORD: ISAAC
WORD FROM THE MASTER RIDDLE: HOUR
HIDDEN HARE: Hanging on the rack in the back of the picture.
CLUES & COMMENTS: This is the key to the whole book. The colors in the magic square pinned to the wall correspond to the numbers in the magic square on Miss Penny Pockets' wrist. This color sequence matches the rings on the puppets; when a line is drawn from the eyes through the longest finger/biggest toe on each creature in every picture in the book (as per the clue on the book's title page, about using your eyes and pointing to the prize), the lines point to the letters on the border, and the master riddle phrase is spelled out: "Catherine's long finger over shadows earth buried yellow amulet midday points the hour in light of equinox look you." The first letter from each word in that phrase spells "Close by Ampthill," a geographical confirmer and the heart of Kit's riddle. The letters on Sir Issac's magic square are the first initials of towns near Ampthill, and the numbers to which they correspond are their approximate distances from Ampthill in miles.
The game of "Jack Be Nimble" was from a rhyme chanted during the old game of candle leaping, which was played by lacemakers on St. Catherine's Day. Catherine of Aragon introduced the Ampthill region to lacemaking.
Janet Fishwick notes that picture 12 is the most important in the book–but the painting before and the painting after it in the book are red herrings.