Painting #7: Eclipse!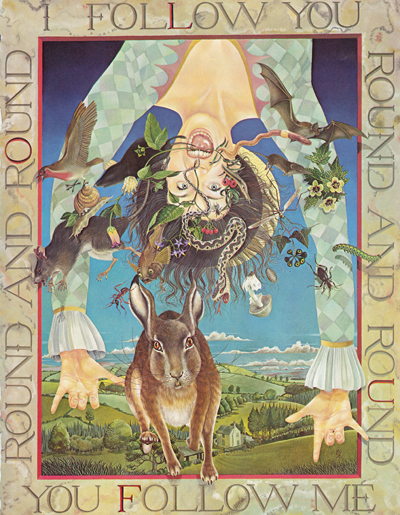 BORDER PHRASE: "Round and round, I follow you, round and round, you follow me."
BARBED LETTER WORD: FIEND
RED LETTER WORD: FOUL
WORD FROM THE MASTER RIDDLE: YELLOW
HIDDEN HARE: Smack dab in the middle.
CLUES & COMMENTS: One of Kit's least concrete clues: the ant near the hare is meant to imply Ampthill, which means "ant-hill." He used the ant clue a second time on the Sunday Times clue.
I originally thought that that moon's odd finger positions were merely sign language. And they may be — her right hand shows the combination of the letters I, L, and Y, which is American Sign Language for "I love you," which makes perfect sense in a storybook of lost love. But upon seeing the solution I realized how crucial her hands were in this portrait.