Painting #4: The Penny-Pockets Lady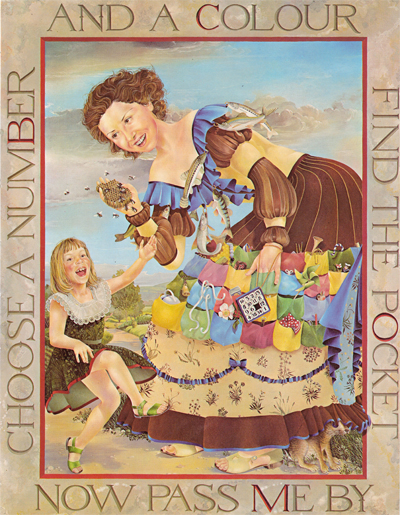 BORDER PHRASE: "Choose a number and a colour; find the pocket, now pass me by."
BARBED LETTER WORD: HONEY
RED LETTER WORD: COMB
WORD FROM THE MASTER RIDDLE: SHADOWS
HIDDEN HARE: Hiding beneath Penny-Pockets' skirt.
CLUES & COMMENTS: The magic square puzzle around Penny-Pockets' wrist is crucial to decoding the master riddle's solution phrase; it acts as a key to the colored letters on the Sir Isaac Newton painting. Her skirt contains the same four colors as Isaac's paper and puppet rings, as well.
Meanwhile, the little girl was the young daughter of Kit's chemist (pharmacist), and Kit painted her as he thought she might look when she was older in the 14th painting. For the time being, however, she seems positively elated at the prospect of being horribly stung by bees.
Mason Willey adds: "It is not just an ordinary magic square, (constructed by putting the numbers 1 to 16 in a 4 x 4 grid and then reversing the diagonals), but the version used by the Renaissance artist Durer in one of his engravings, Melancholia I. Durer took the standard magic square and transposed the two middle vertical rows of numbers, which does not alter the square's properties, but makes it unusual."