Ibanez SRMD200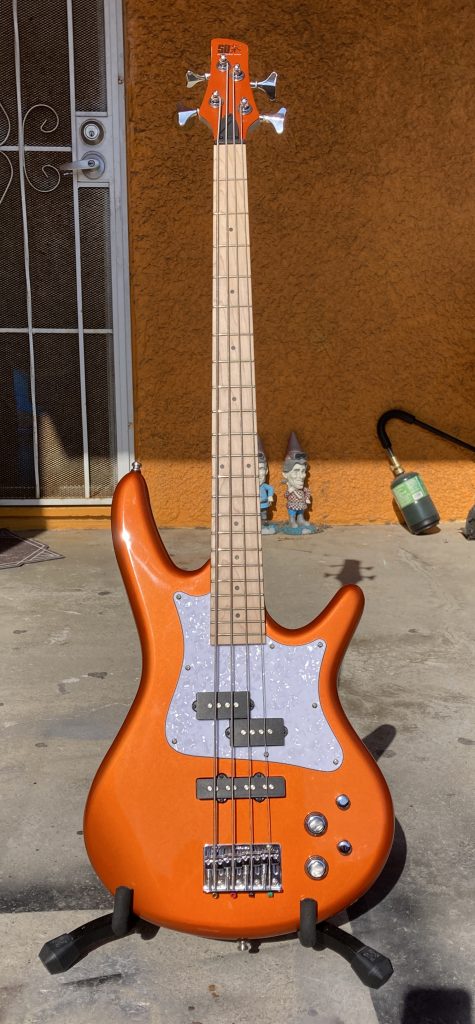 Year: 2021
Finish: Roadster Orange
Origin: China
Acquired: 2021
Mods: Schaller straplocks, Thompson "Brooklyn" black knobs
Still owned: Yes
The Story:

I thought I wanted a 5-string bass, so I bought an Ibanez Mezzo SRMD205. After using it on just one recording, I realized this was the best possible 5-string for me — shallow neck profile, smooth satin finish, 32″ scale — and I still kinda hated it? I just couldn't get on with the width of the neck, and I realized it was actually not all that hard to tune down to D, which was the main reason I got one.

But I really liked everything else about the bass; there was definitely something special about it. So I tracked down a used 4-string SRMD200 and found it to be absolutely perfect for me. The line launched with a lot of candy colors and a terrible video, both of which customers quickly rejected, so I feel fortunate that I was able to get this metallic Roadster Orange finish before it disappeared from production entirely.

It was missing a knob when I got it, so I tried several different replacement options. I settled on Brooklyn knobs from Thompson — basically Gretch without the G logo — and I really think it makes the whole bass look better. I had to drill one of them out slightly so it would fit the thicker shaft of the blend pot, but I'm glad I did.

After swapping in some new strings and giving it a basic setup, it was epic. That 32″ medium scale is no joke for folks with small hands — it's a perfect do-it-all bass for me. I was so happy, I immediately sold three other basses, including the 5-string!
Also, it's worth noting that there is no official case for this; being a medium-scale, it's too big for a short-scale case and too small for a standard bass case. You can add some padding if you go with the latter, but I keep mine in, of all things, a Silver Creek Vintage Archtop Hollowbody case. The foam gets squished a bit but that's a good thing in my book — it's in there securely but there's no pressure on the neck.