Fernandes H-65 (Vertigo)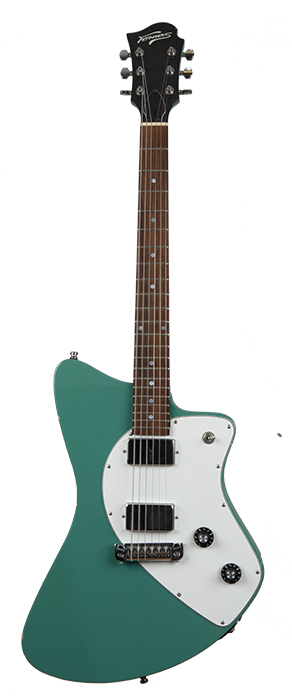 Year: 1995/1996
Finish: Pale Cobalt
Origin: Japan
Acquired: November 2008
Mods: Schaller straplocks
Still owned: No
The Story:
Most people quit a band and then sell the gear. Not me. The day after I left Fast Times, I found a rare bird on eBay and jumped.
The week before my last FT gig, I saw a listing go up on eBay: "Rare Sherwood Green Fernandes Vertigo Guitar." You're kidding me — the same shade as the bass we had already had refinished in a guy's garage in California? Pull the other one. I could have a complete set of Vertigos! Kat and I on matching instruments, like those sad families you see on vacation!
As you might expect, the Vertigo is such a specialized (notice I didn't use the word "ugly") shape that it didn't command a high price at the time it appeared on eBay (though that has changed!); what's more, the main run of them had a painting defect that caused the finish to flake. Most serious collectors ignore them. If my guitar collection says anything, it says that I am not a "serious" collector in the way that other "serious" collectors are "serious." Still, this is a fairly uncommon specimen — the Fernandes logo on the headstock is an older script style, and the witch-hat knobs also seem on the early side. The Vertigo was originally called the H-65, so I figured that's what I was looking at — and the only other one I could find in this finish was on an Aussie website for a lot of money. The pickguard was flat white, not pearloid as some others I'd seen — another great match for the bass. Plus, check out those pickup covers — plain chrome, no screws! I love that look and it's not common. I had gear lust.
My last FT gig was on a Friday night. The auction ended Saturday afternoon. Five hours before it went off, Kat gave me a slightly weary permission — like "I have run out of reasons to say no." I sniped it and won but considered it an investment.
There's more damage than a listing saying "excellent condition" would suggest, and "a few dings" is not the truth: "the guitar's awkwardly large rear wing has clearly been rammed into walls several times, so you can see the wood underneath through multiple gouges." (I have since bought it a fitted hardshell case.) But the D-profile neck feels great, the frets are immaculate (very surprising considering the body damage and the age), and after a fretboard cleaning, a string change, the obligatory strap locks, and some mild adjustments to the action…well, it still needed to go to Greg at Orbiter Guitars to have all that stuff done right, but it's definitely a keeper, and it sounds great. Very full, very thick slabs of tone — there's a lot of alder in this body — and it's a great rhythm guitar.
Let's talk about that finish. Green, right? No. Pale Cobalt, says Fernandes. How…how? Maybe this is their riff on Gibson's Pelham Blue, which famously turned green with age as its nitro overcoat yellowed, but I can't think of another more reasonable explanation. This is almost a Sherwood Green in person and in photos.
I believe the body is alder (the fancier H-80s were as well), but I still don't know exactly what year it was made. These were branded as Fernandes' Japan-only brand Burny in 1994, which was rebranded for other countries with the Fernandes script logo in 1995. That headstock logo changed again in 1997, so it must be either a '95 or a '96. There is no visible serial number, so I don't have anything to go on without disassembling it. Regardless, it looks and feels right when I play it, and it's so naturally cool that I'm a happy camper.
I never thought the day would come that I would part with this, but I wound up having too many other project guitars and things that I have dialed in perfectly for me. Every so often someone will write asking if I am interested in selling, and I never have been — but earlier this year, I finally realized this was not getting played as much as it should, and I entertained one. It's now living a happy life in Colorado, and I miss it, but I've made my peace.