Eastwood Classic 6 HB-TL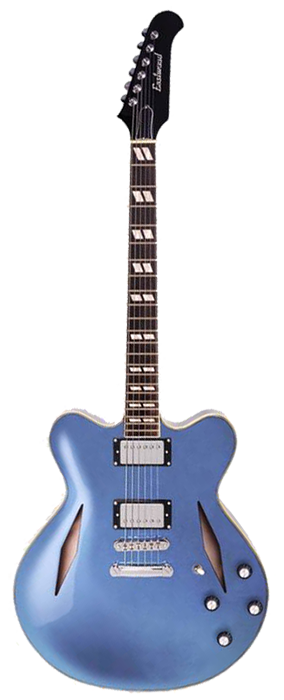 Year: 2019
Finish: Metallic/Pelham Blue
Origin: China
Mods: None
Acquired: February 2019
Still owned: No
Every time you buy a guitar online, there is risk. What if it's damaged in transit? What if it's not what the seller promised? But the number one issue is, what if I just don't like it? Exhibit A.
Early on, I decided I wanted a Rickenbacker 325 because John Lennon played one. I finally found one at a Guitar Center, put my hands on it and said…oh no, this is not for me. I love Eddie Van Halen, so I naturally dreamed of getting something with stripes, but I have never gotten on with Floyd Rose trems, and besides — you show up with an EVH guitar, people expect you can play his songs. I cannot, so I have resisted and kept my stripey devotion to things like laptops and game controllers.
But Dave Grohl's pelham blue Trini Lopez Gibson ES-335s? Now that's something I can represent — I love his music, his life attitude, his whole vibe. Vintage Trinis in blue are rare, and even his "inspired by" DG-335 Gibsons and Epiphones sold out in a flash. But, you know, if I found one, I'd be very interested.
Enter Eastwood Guitars, famous for making unofficial reissues of unobtainable instruments. I'd window-shopped with them for a long time and had several friends who spoke highly of their guitars. In September 2018 they offered a limited-run preorder of their Classic 6 — itself a version of Gretsch's double-cut Country Gentleman — with Trini appointments, including the signature diamond holes, six-in-a-line headstock, and of course a metallic blue finish. It was not an insignificant amount, but it was a one-off run — now or never. I literally waited until the last hour before committing. I put down my deposit and settled in for a long wait until December. Kat said "Well, that's Christmas solved!"
December arrives and I've heard nothing at all from Eastwood. I reach out and find that the guitars haven't even been produced yet, but they expect them in January. Well, that's Christmas dampened, anyway. January comes around and I get an email saying "we are oversubscribed, so make sure you pay your balance promptly." Wait, "oversubscribed?" Like, I put down a significant deposit, but if I'm not one of the first to pay the remainder, I won't get the guitar I ordered? Eastwood had to clarify in email that no, I'll get my guitar, they just have a waiting list. OK. With an unannounced delay and weird word choice, they might make good guitars, but communication isn't their strong suit. I pay my remainder promptly and realize, wow, that's a little more than I remember. But it's a limited run! It's as close to playing one of my heroes' guitars as I'm ever going to get! It's an Eastwood version of a Gretsch cosplaying as a Gibson! It's my kind of weird!
Last week of January, the guitar finally ships. It's supposed to arrive on the first Friday of February, but doesn't due to inclement weather delaying UPS. Friday night, expecting to go home with guitar in hand, I get a Facebook message from a stranger: "Hey, I noticed you ordered one of the guitars from this run too — are you having the same issues I'm having?" Oh no. What's wrong? No, wait, don't tell me, I want to have my own reactions first, I've waited six months now…this can't be a dud. I then lose sleep over the weekend and ask him to tell me what he dislikes. It's a list of a lot of little personal things that don't sound like they will be issues to me, but the one that makes me nervous is a flat fingerboard radius, which leads to an uncomfortable neck. Uh oh. This is my top issue with guitars I cannot get along with — if the ergonomics are wrong for me, then nothing else can save it for me. I have to part ways. I thank him and wait for Monday when the shipment will finally arrive.
Monday, I am afraid to pick up the guitar from the mailroom, but I finally do and realize, okay, all his issues are not issues to me. Then I put hands on it. My first reaction is a quiet but undeniable Uh oh. This neck shape is not the medium C I was expecting; this neck radius feels really flat and therefore not so comfy for playing chords. These kinds of ergonomic issues cannot be resolved without spending so much money that you realize you should have just sold the thing. I have that sinking feeling: What if, after six months of building it up, this leap of faith is wrong? This is the second semi-hollow I've owned that I bought without playing first, because it was the only way to get in on the deal; is this style of guitar simply not for me? No, don't overreact — it's just different. That's why you got it. Give it some time. See if you like it after taking it home, playing it through your rig, feeling it out a bit.
I plug it in that night. It does not sound good through my rig — dark, muddy, even with everything dimed. This is not the sound I expected. It's large, it's bulky, and I am fighting the neck something fierce. My favorite guitars melt into my hands and body; this is awkward and actively repelling me. "Give it time," advises Kat. "Set it up the way you like it, get to know it. You have a 30-day return window, right?"
Forty-eight hours later, I'm writing to Eastwood, asking them to authorize a return and refund. For the money I paid, I cannot live with a guitar that neither sounds or feels comfortable to me. I have too many great guitars to justify keeping an okay one that does not inspire me to pick up and play. It's not about always having more; it's about having what's right for me.
Twist ending: Since this was part of a custom shop run, I couldn't return it for a full refund. So my best option was to sell, which I did almost immediately after listing it on Reverb. It's someone's favorite rare guitar — just not mine.
I'll find my semi-hollow someday.