The day before Guitar Hero II drops for 360, Harmonix (developer of GH1 and 2) and their new publishing partner EA announced that they will release Rock Band by the end of the year. Rock Band is basically "Band Hero": four players online, handling guitar, bass, drums, and vocals, playing along to the original licensed tracks. GHII took some flack for being only two player and not being online at all and, to a lesser extent, using cover versions (even though I personally think that is one of its strengths — the track can be tailored to the gameplay and mixed appropriately).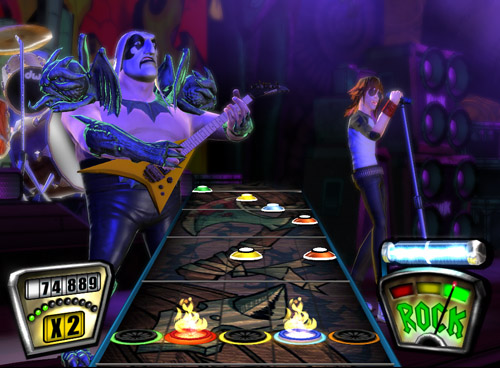 Guitar Hero III is in development from Neversoft, the Tony Hawk people, but with GH publisher RedOctane still at the helm (freshly bought by Activision…and Activision owns Neversoft, so it was a keep-it-in-the-family move). It was bad enough that they were going to have to prove themselves to "live up to" Harmonix, but with Harmonix combining all of its experience doing Karaoke Revolution and Guitar Hero and then taking it somewhere new…well, with this announcement, GHIII is already behind in the minds of nerdy hardcore gamers. But I have spent time with the Neversoft guys, and they are both smart and passionate, so I am not counting them out. We haven't even seen what they're up to yet, and seriously — RedOctane would not put the franchise in the hands of someone who wasn't worthy of the mantle.
However, Rock Band is exactly what everybody's been begging for over the last year (people play Guitar Hero and say "You know what I would love to see?"), so if Harmonix and EA can do it right…they may instantly win the mindshare war, and there will be encores until we are all dead.
But…do you really want to sing with strangers on Live? I sing on stage but even I feel embarassed to sing in my living room, let alone in my living room where both the neighbors and the interwebs can hear. And I love this quote from the USA Today story: "You could have one guitarist in Germany and another one in Texas, a drummer in New York and a singer from somewhere else, and they can play together online." We all know that lag makes that an impossibility, right? I have played Uno and Texas Hold 'em with people from Australia, but high-latency games tend to stick a little closer to home. In theory, you can rock around the world, but I suspect I'll be making beautiful music with people in my own time zone.
In any case, I predict music games will be the new WWII shooter…which was the new snowboarding game, which was the new platform hop-n-bop.