Before we start, a spoiler warning – for everything. Whether you read this blog or listen to the podcast version, we're going to be revealing deep details from the Galactic Starcruiser experience as well as diving into the occasional behind-the-scenes insight. Photos will be shown; stories will be spoiled. It's all or nothing this time, so as long as you're okay with that, please imagine the following paragraph scrolling into the horizon as an epic cinematic text crawl…

When the Starcruiser experience was announced, we immediately started saving our money, because the live-action role-playing experience that was promised was beyond belief for two people who still find themselves inspired by Star Wars some 40 years after seeing the first film. We went to Galaxy's Edge within the first few months of it opening, eager to spend a day in the Star Wars universe "for real;" that story is here.
So, after budgeting with extreme prejudice, Kat booked our journey for late January 2023 – in time for my birthday, but also intentionally off-peak, so it might not be super crowded. Going in, Kat knows a lot; she's done tons of research to make sure we leave with as few regrets as possible. Meanwhile, I'm a blank slate – I just know I'm going to play Star Wars for two days straight, so I have been focusing on brushing up on my ability to read the Star Wars alphabet, Aurebesh, as well as my character's backstory. I have written and memorized a detailed background, and we have both spent six months preparing our outfits and updating our characters. Kat is Aoife Cade, an ex-imperial intelligence officer and daughter of Imperial officers who grew up respecting the Empire but has defected because, in her words, "The First Order is a bunch of moronic wanna-bes – they only wish they were the Empire!" I'm Trevor Veeros, a retired swoop-bike racer who was never all that good, but took his meager winnings and bought a light freighter so he could feed that need for speed. While working undercover for the Empire, Aoife hired him regularly and love bloomed; now they're going on the Halcyon to celebrate their anniversary.
Also, I really enjoy Sabacc – the Star Wars version of poker, which is how Han Solo won the Millenium Falcon from Lando Calrissian – and the Halcyon has its own variant named Coruscant Shift. It plays a little like Texas Hold 'Em, and I prefer this to the more frustratingly luck-based Corellian Spike played on Batuu. A Sabacc tournament is part of the trip and I intend to win, so I've been playing against Kat when she's available, and dealing hands for myself to analyze and play through when she's not. Other than that, I'm a clean slate for whatever may happen on the trip; I'm headed in knowing almost no specifics, but eager to play along.
We fly into Orlando on a Sunday, spend Monday at Universal, and our first day on the Starcruiser is Tuesday. We start the day by dressing in costume at our hotel on Universal property, and as we wait for our ride, we get compliments – and photo requests! – from other Star Wars fans in the lobby. That certainly feels good.
We arrive via taxi around noon. You have to arrange your own transportation directly to the Starcruiser site; there is no shuttle or transport from the parks, which surprised me. Before the security checkpoint will let our taxi through, we must confirm our reservation – you can't even get near the building unless you're on the list. There isn't much in the way of signage; either you know the address because you're a registered guest, or you wouldn't head that way on the roads. Also, you can't use a rideshare service to get to the Starcruiser, as their apps will take you to the front gates of Hollywood Studios, but not the hotel.
Ah, "hotel" – let's get that word out of the way now. In a lot of media coverage, the phrases "Star Wars hotel" and "will cost you $5000" were used in rapid succession with derisive dismissal, but calling the Halcyon a "hotel" – as if you're renting a room at a Hyatt because you have to attend a business conference nearby – is insanely reductive and downright unfair. The better analogy is a cruise, in that each passenger's food, entertainment, travel, and lodging is all included in one price that spans multiple days and delivers an exclusive, communal experience. A hotel at Walt Disney World is a fun place you sleep for a few hours before going to the park; the Galactic Starcruiser is its own park, and you get to sleep there. It's truly and honestly a travel experience that takes place in a private building, the same way a cruise is a travel experience that takes place on a private boat. Hotel? No, but "showtel" isn't a word, either.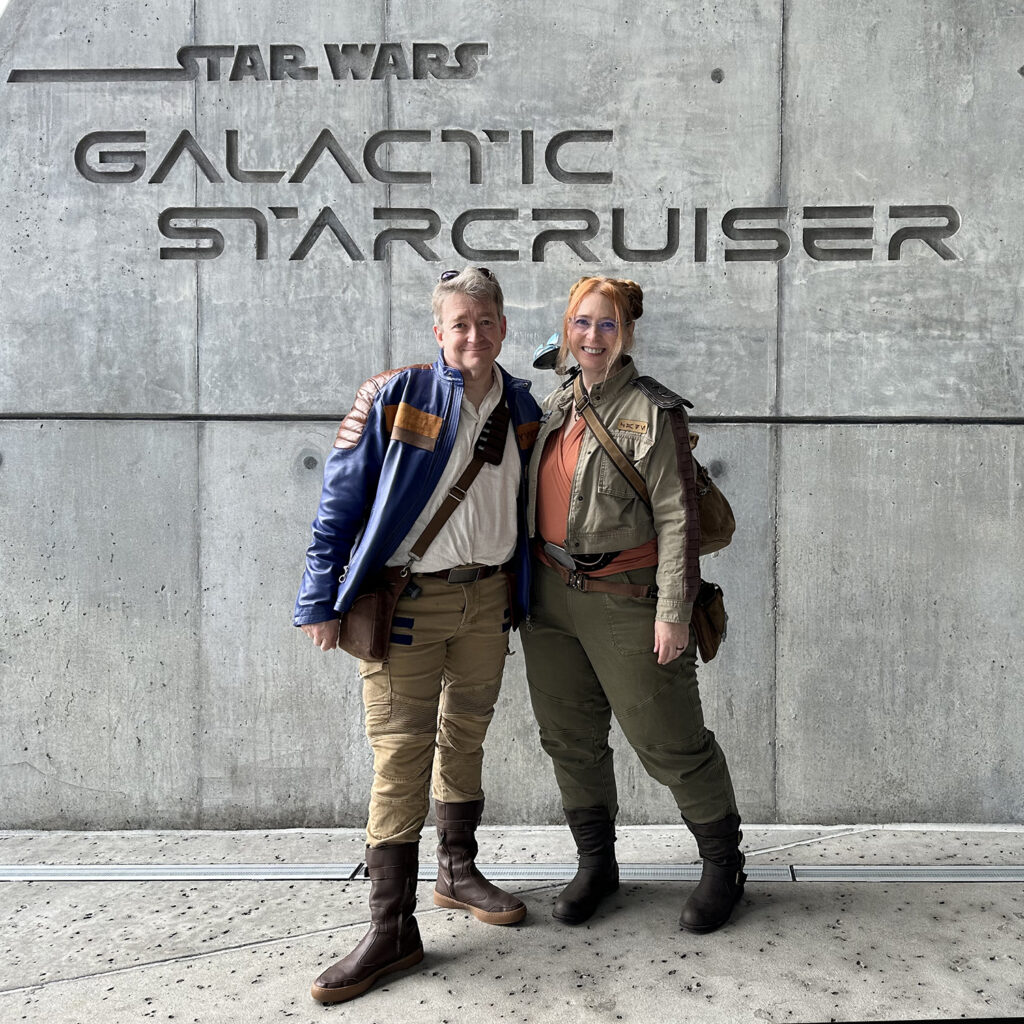 We were the second party to arrive at the loading area, where a queue was set up out front. Our luggage was transferred onto customized carts with the Chandrila Star Lines logo; CSL is the company providing the cruise experience, so they've embraced the fiction before you even set foot inside. Various selections from Star Wars soundtracks plays out front while you wait, but there's no seating – you just line up.
The party in front of us was sort of in costume, which made us feel good; most of their items were from the Halcyon gift shop. When you register, you're allowed to buy some of the merch 60 days in advance so you can plan your outfit; they really do encourage dressing up, and of course, if they can sell you some of the stuff to help you do that, all the better for Disney, right?
The next party that arrived said "Oh, I was going to change once we got inside." Totally valid – I'm just happy to hear most of the earlybirds will be dressing up. Waiting, we also spot William and Eric, whom we met on Facebook before the trip. They just got engaged and this is their nerdy celebration; William looks downright senatorial in formal garb, while Eric has chosen to come as a Twi'lek, complete with blue face makeup and matching lekku headpiece. We don't really know if we'll wind up doing anything together on the trip, but it's comforting to know that there are other people as crazy as we are.
Disney now runs its parks on RFID bracelets that they call MagicBands. It's your ticket, it's your door key, it's your wireless payment system. We are issued MagicBands exclusive to the Halcyon, a white and gold design with our names laser-etched on the back. These are not the MagicBand+ models, which work with some of the self-guided games and activities on Batuu, but they'll do everything you need them to do. And they're both lightweight and l33t, so I loved mine instantly.
While in line, we've double-checked that we have the official Disney Play mobile app – colloquially, our datapad – through which we'll communicate with characters throughout the experience. Text messages, questions and answers, secret missions, and more will be sent to us throughout our journey as our personal stories progress. We're ready.
Once the doors opened, we went through a security check, which was pretty quick considering we had to unpack all kinds of electronics and props. Since we are entering a closed environment, this is the only security checkpoint we need to pass for two days; our VIP status during this immersive trip means we'll enter the park through a private entrance during our shore day to Batuu, so there's no need for additional checkpoints. I don't think they'd seen an iPod in a while, but I also had to pull out half my props – a Sabacc deck, our laser-cut IDs and passports, some Sabacc chips, all that nerdy stuff. Once we passed through, we then stood in a long, thin hallway for about 15 minutes while they prepared. Surprisingly, there was no seating, and we'd already been standing in line for the better part of an hour, but adrenaline is a wonderful thing. We also got to meet a few more of the folks in person who'd made contact on Facebook in the weeks leading up to the journey – we knew a few names but no faces, so it was sort of our last chance to get to meet people out of character and finalize those connections.
We were finally loaded into a briefing room, where a video explained the difference between a real emergency and a scripted emergency and showed what each one looked like. Given the nature of the experience, where you can expect big Star Wars things to happen, it's crucial to know when the flashing lights mean "okay, things are getting exciting on your adventure" and when they mean "this deadly fire is not part of the show." Each cabin had an emergency closet, so in case of a really bad situation – like, active shooter – you are encouraged to hide and dial 911 and tell them your closet number. This is slightly unsettling while also being…comforting? Besides, everybody knows nobody dies on Disney property so we're probably safe!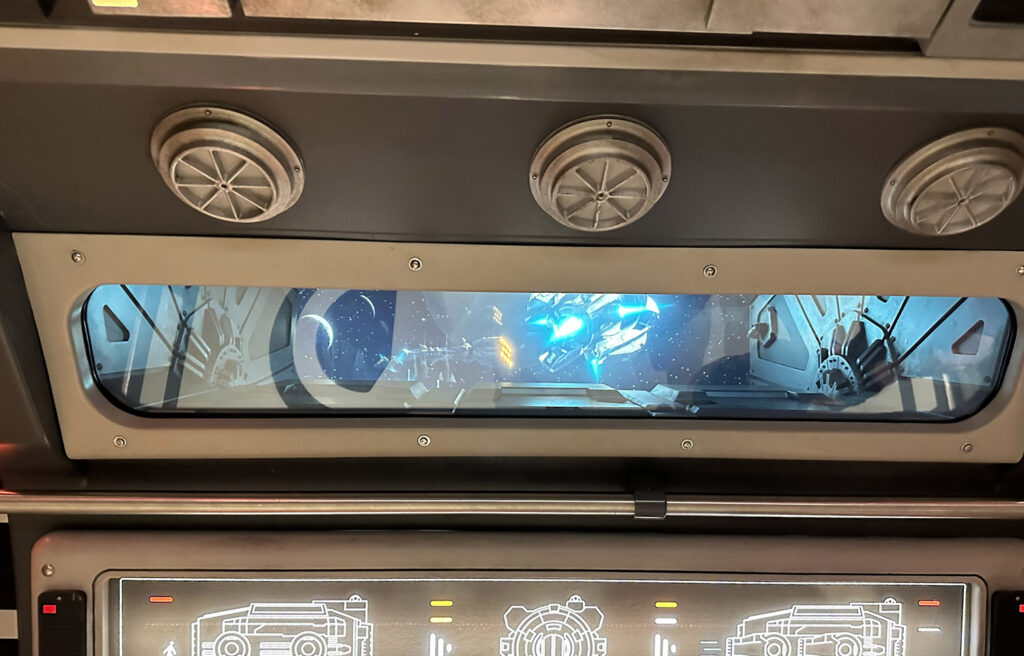 We board a small shuttle, which will take us up to the orbiting Halcyon starcruiser. This shuttle feels uncannily like an Earth elevator, but with thin horizontal windows at the top showing airborne droids whizzing by. This is one of the core technologies behind the Halcyon experience: There are no windows, there are only high-res screens, and they only show you the fiction you are here to experience. It's hard for me not to think about the staggering amount of redundant computing power it must take to sync up hundreds if not thousands of custom LCD displays and various video monitors to make the visual illusion complete, but you know what, never mind: I'm too busy enjoying going into space. Our shuttle lifts off as we watch our ascent and docking through the thin viewports.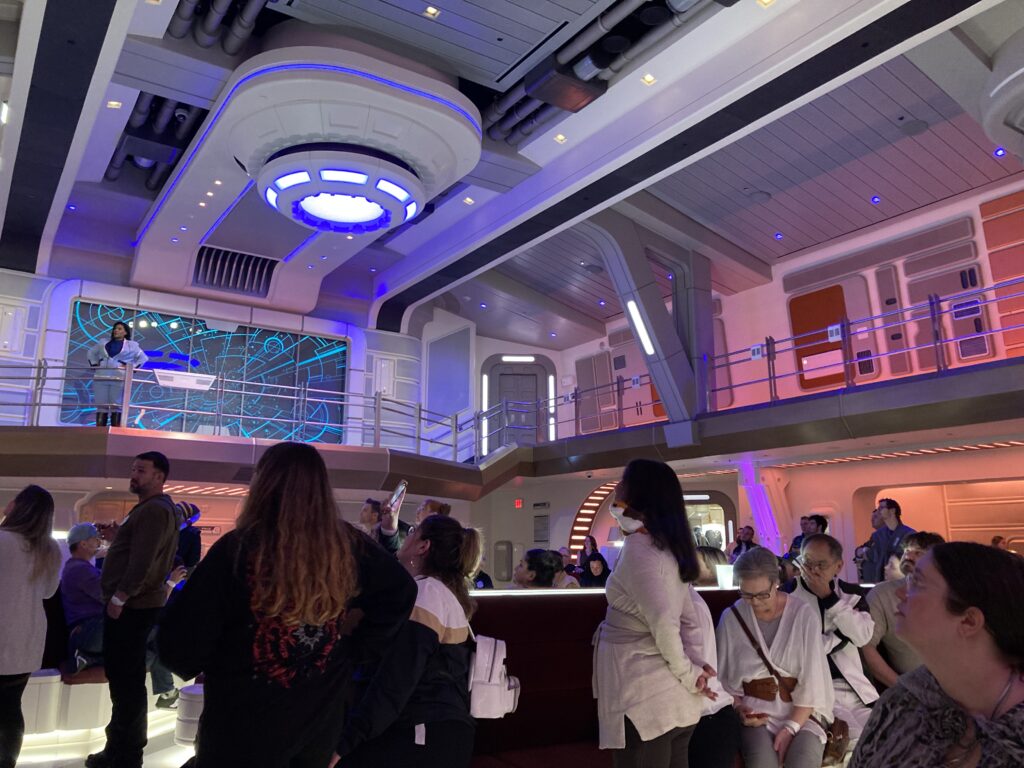 And then, just like that, we've arrived. The shuttle doors slide open to the Atrium of the Halcyon, a huge two-story space of gleaming white and gold. Large columns pulse with color and holograms of the Halcyon itself; there's also a scale model of the ship under glass. Casual seating areas litter the space, which is mostly open flooring; it's telling that there are hard surfaces suitable for resting drinks just about everywhere.
The Atrium will act as the main stage for the experience; major dialogue, big events, and various social activities will take place here. The ship's bridge is visible to the left, filled with various consoles and displays, but we don't really get more than a glance – a crewmember named Jose greets us by name, and we snap into character. He leads us on a very short tour of the Atrium, pointing out a few useful areas, then leads us to our cabin on deck 7. The entire experience takes place on decks 4 through 7, and the Atrium and Bridge are on 6.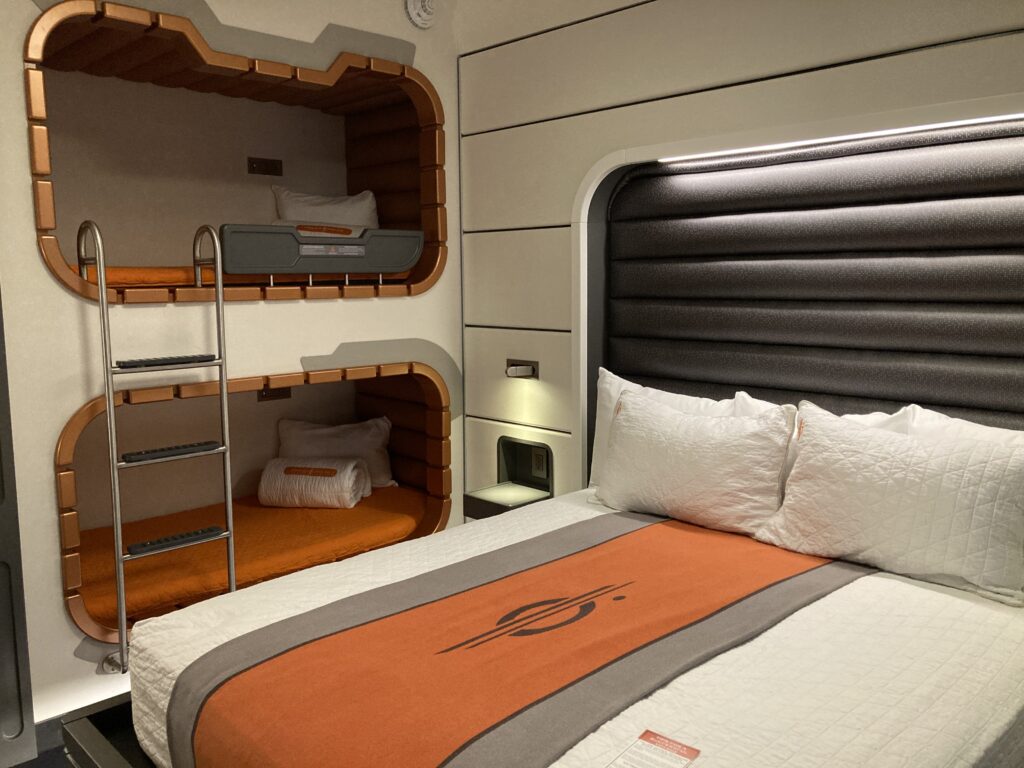 Cabins come in a few levels of fancy; ours is the most basic, and it still looks amazing. Built-in bunk beds sleep two, and the room is dominated by a queen-sized adult bed; we later learn there's a fifth Murphy bed, concealed in the wall. Disney claims each standard cabin will sleep five adults "comfortably" but we'll never know. And whereas other cruise cabins might offer you a gorgeous view of the endless ocean, our cabin window shows us…space. There are spaceships flying by, slowly, all the time. A button will lower an animated shield to close this view, but there's no chance of that happening.

Let's talk money. Our two-person cabin was roughly $4800; parties of four are closer to $6000. Like a traditional cruise, you pay for the cabin, and everything else (except alcohol and some mocktail "specialty drinks") is included for whomever stays in that room. Expensive? Yes – but somewhere, the numbers got multiplied incorrectly (and perhaps maliciously), leading to horrific and inaccurate online claims that "Disney is charging $24K for a family of four!?" That's simply incorrect. For our $5K, all our meals are taken care of and several are all-you-can-eat buffet affairs. We will also receive VIP treatment when we dock at Batuu – which is to say, park admission is included – but more on that later. 
Jose makes sure we're all good and departs after introducing us to our in-room droid, D3-09. She's a bronze and gold logistics droid we can speak with via a video panel with voice recognition. She can't see us, but she can hear us, and we're encouraged to ask her anything. We've learned this is one of Disney's forays into AI; D3 is basically Space Alexa, and she was surprisingly good at understanding normal, conversational speech. She also had an answer for everything we could think to ask her. D3 will be available throughout the journey and her panel features an indicator light; if it's glowing, we know she has something new to say. While D3 is great, she only has one storyline for the whole cabin, so if you have a mix of Resistance fighters and First Order supporters, there may be a fight for who controls D3. We're both planning the stick to the smuggler path, so we're fine winging it with D3.
Okay, our bags are dropped, we're in costume, and we are in space. Where do we go? The gift shop! The Halcyon features exclusive merchandise, none of which is branded with the Star Wars logo – as with Black Spire Outpost in the parks, when you're here, you're in-universe, and the famous curvy Star Wars gold outline logo does not exist. However, you will find jackets, hats, and other merch emblazoned with the Chandrila Star Lines and Halcyon logos that isn't for sale anywhere else. This includes a lightsaber that's only available on the ship, and it's the only one that can be customized with an Aurebesh characters — so, uh, yeah, I bought one. We also got some jewelry, a die-cast model of the Halcyon itself, two of the exclusive Sabacc decks and some movie-quality Sabacc chips. The shop also sells fashion that is independent from either political faction in the galaxy – it's just what swanky people would wear. That said, some pieces are clearly based on Leia's white dress, Padme's cloak, and, uh, the outfit of Bail Organa's security detail (weird pull, but cool jacket). We also spot a remote-controlled version of the ship's astromech droid, SK-620. We have reserved room in our Star Wars shrine at home for some of these treasures, so before we know it, we've blown a significant amount of very real Earth bucks. We should really head to lunch.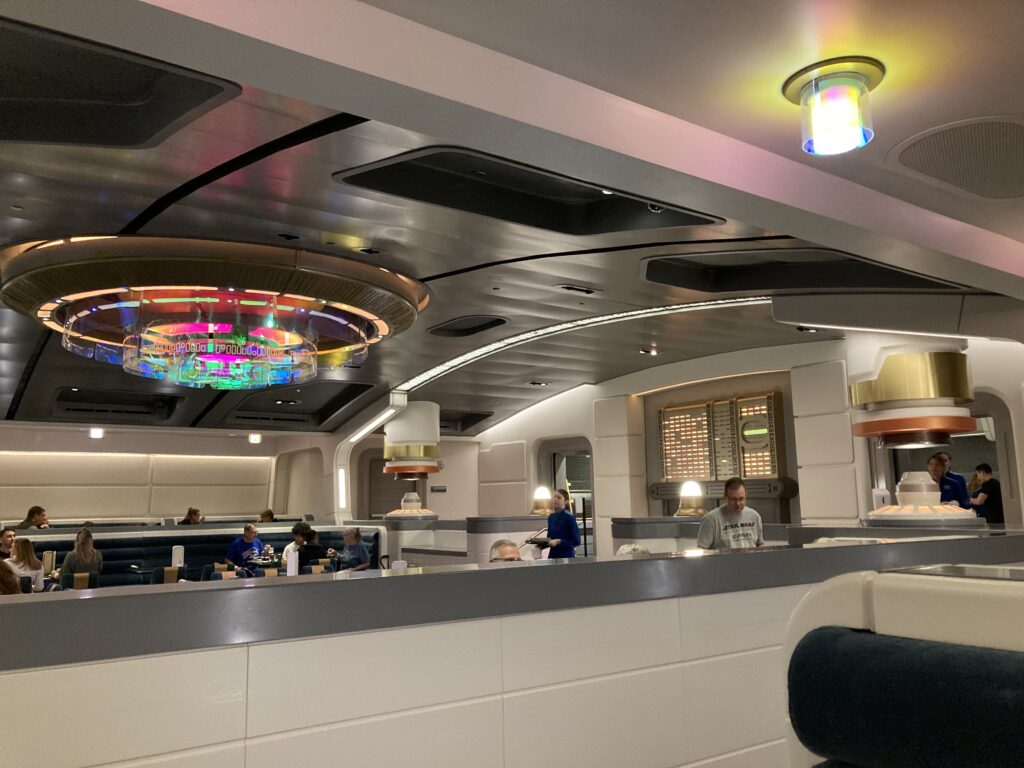 The dining room, officially titled The Crown of Corellia, is a gorgeous sprawling space with multicolored chandeliers, a mix of table and booth seating, and soft music that we never hear repeated (and we never hear anywhere else on Disney property). Lunch turns out to be a buffet of family-friendly comfort food, but elevated and intentionally weird. For instance, knowing some of their patrons will be picky-eating younglings, a variation of peanut butter & jelly is on the menu, but it's been reenvisioned as filled bread balls with green cracklin on top. (Notable that it's sunflower butter, so as to avoid nut allergy issues.) The chicken nuggets are cubes of "tip-yip," lightly fried and served alongside mac and cheese. The ham and cheese takeaway tastes gourmet but looks insane – like a concentrated sandwich on a nugget of bread. Similarly, the grilled cheese comes as a bubbly waffle with a shooter of tomato soup. Desserts are just as fanciful: Chocolate whip with hibiscus meringue; a blue bantha-milk fruit whip. In fact, there was at least one dessert mousse as part of every meal, sometimes more than one, and many of them in hues of blue and purple. Most of the bread is purple as well, seemingly because the chefs could get away with it. 
Soft drinks are also available – Coke, Diet Coke, and Sprite are officially in-universe, with their own Aurebesh logos – plus coffee as well as both blue and green milk. This is quite a big deal, as a glass of blue milk or green milk will run you eight bucks in the parks, so seeing it in self-serve dispensers is a surprise and a treat. We had unrestricted access the whole trip, and frankly, we drank way too much of the delicious stuff at every opportunity.
On the way out of lunch, we tap our m-bands to a ship console — basically an easy-to-use info kiosk with a vertical LCD screen and some chunky interactive buttons. The bands track your personal progress through the varying storylines and opportunities, so when you log in, the system knows what you can access, knows who has contacted you on your datapad, and basically helps track your personal adventure. Kat says we will need to get into Engineering, which is behind a locked door, so she wants to see if this is how we gain access. Turns out there's a four-character code that you need to know to unlock the door. I see four Aurebesh characters: A. C, L, and S. My puzzle brain thinks, okay, it's an anagram of an acronym: Chandrila Star Lines, uh, Administration, right? So I punch in CSLA and get confirmation – I can head on in.
Kat checks her datapad to find a message from Raithe Kole, the manager of intergalactic singing sensation Gaya, who will reportedly be performing on our voyage. But unlike most music industry professionals, Raithe gives Kat the info on how to break into Engineering – it's a rotating code that changes every few minutes. My acronym solution to the puzzle is not how it is supposed to work. (I later found out from other passengers online that my solution was also valid, for reasons I do not fully understand.) Her totally different code is also accepted, but I will pretend I am just that good at puzzles. Regardless, we get access.
We head over to Engineering and the door opens (and somewhat annoyingly, some other guests who didn't solve anything just drafted us and followed us in). A crew member named Mellen is there; she asks us what we, as guests, um, are doing in Engineering. Kat says we were asked to help, and it turns out they do actually need it. Mellen is covering for Sammie, the new mechanic, and the ship's systems are working but mostly miscalibrated. She walks us through the processes to get the ship working at peak efficiency, which includes calibrating the fuel, activating nodes in the power core, reconnecting magnetic plugs in the patch bay, and pulling multiple levers in sync. Each of these is a mini-game or a short puzzle, requiring simultaneous flipping of levers and coordinated button presses and whatnot – lots of teamwork is required to get these systems back online. That is a key; as Disney wants strangers on the trip to play together in co-op, escape-room-style games like these. But the magic thing for us? We got in so early – and since the folks who wandered in behind us left almost immediately – no one else was there.
There are a few special features in Engineering, such as a fun button that releases a cloud of carbonite steam and some graffiti that reads, in Aurebesh, "HS + LO." The novel The Princess and the Scoundrel by Beth Revis establishes that, after the events of Return of the Jedi, Han & Leia went on a Halcyon honeymoon, in part to show the galaxy that things were stable and everybody could relax. Is this a little touch of fan service for the types of people who are drawn to this kind of deep-lore experience, or is it blatant cross-media marketing for the Galactic Starcruiser? Yes. That said, the novel offers relevant background for this trip, as one of its characters is Riyola Keevan, the ship's quartermaster during that time period, now the captain of the Halcyon – and we will meet her soon.
Mellen walks us through how to interact with all the minigames, then we ask her about her in-universe family history as we shared some of ours. Every cast member has a background; you only need to ask for them to share it. I prepared for the trip by crafting an elaborate backstory about dead parents, growing up on the streets outside a Hutt-owned casino, and my semi-successful career as a swoop-bike racer before investing in a light transport freighter. Guess what? Nobody cares. In fact, it's not even useful to the cast.
The deepest questions most guests are asked are "Where are you from?" and "What brings you to the Halcyon?" For the former, the only wrong answer is Earth, and yet I'd say 80% of the people on my trip blurted it out. ("I keep hearing that name; our marketing department must be reaching out to new worlds," quipped the Captain at least once.) Just name a Star Wars planet – common worlds like Corellia, Tatooine, and Coruscant are all seen in the films and are all crawling with humans. Optionally, it's nice to know what your profession is – and that can be whatever you are in real life. Remember, Jedi are essentially extinct at this point, so it's a little weird to show up in flowing robes from a religious order that is actively being exterminated. Be a morally flexible importer of semi-legitimate goods. Be an accountant for the First Order. Be a cantina bartender on your homeworld. And don't underestimate how much the galaxy needs space dentists. Otherwise, the only other piece of info you should know is why you are on the cruise. What brings you to the Halcyon – a lifelong dream to see the galaxy? Did you win tickets in a lottery? Are you secretly using it as a smuggling mission to get to Batuu? We went less exotic: We said we were there to celebrate our anniversary (which we were). That was easy and the cast could riff on it.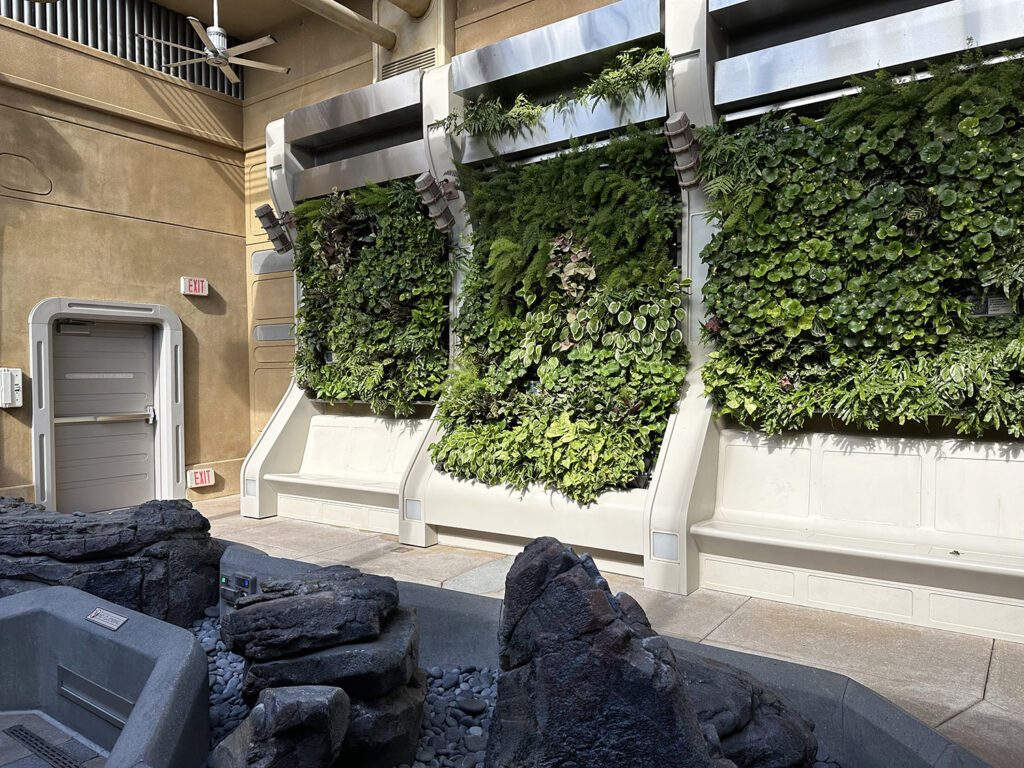 On the way out of Engineering, we spot the brig, and see there was a code for opening it on the console, but figured we'd probably have to use that later. So we head to the ship's Climate Simulator, which is a perfect recreation of the time of day and weather on Batuu, which will be our port of call for this voyage. This is, in reality, an enclosed porch in Florida with a rock garden and benches and flora from around the galaxy – an outdoor space that does not break the fiction, but a haven for anyone with cabin fever. It's also one of the few places with Aurebesh signs that lack English translations, so I got to read the word "philodendron" in Aurebesh. For what it's worth, this is not a smoking zone – if you need to smoke, you have to leave the ship entirely and go out to the entrance of the hotel. If you can survive without death sticks, that's strongly encouraged – why pay $5000 and then break the fiction every two hours?
Back in the ship's Atrium, we meet Sandro Alimander, a Mirilian kid who sold everything he had to get on to the cruise because he wants to see his musical inspiration, Gaya. (In earlier voyages, Sandro was Togruta, the same race as Ahsoka Tano, but the headpiece proved to be too difficult for the performer, so it's easier now for Sandro to be Mirilian.) Sandro is young and hopeful, bordering on stupidly optimistic. And, being a singer/songwriter himself, he brought a space guitar. His guitar is not the one we have seen in photos online; as a guitar nerd, I recognize it as a Traveler Ultralight and a Yamaha THR10 amp. Those can be bought from Guitar Center, which I can only assume is so insidious in its expansion that it now exists on Bespin and Jakku.

Sandro asks where I'm from. I say Tyrena, the tourist-friendly city next to Corellia's capitol, Coronet City, and start babbling off my detailed backstory. Sandro deftly deflects and makes up a clever song on the spot about Tyrena, which he admits he's never heard of, but the song makes it clear he thought it was a planet. This is the exact moment I realize I have over-prepared and likely know more about Star Wars lore than the performers need me to know, but it also helps me recalibrate; now I know going too deep will not make the voyage more fun for them or us.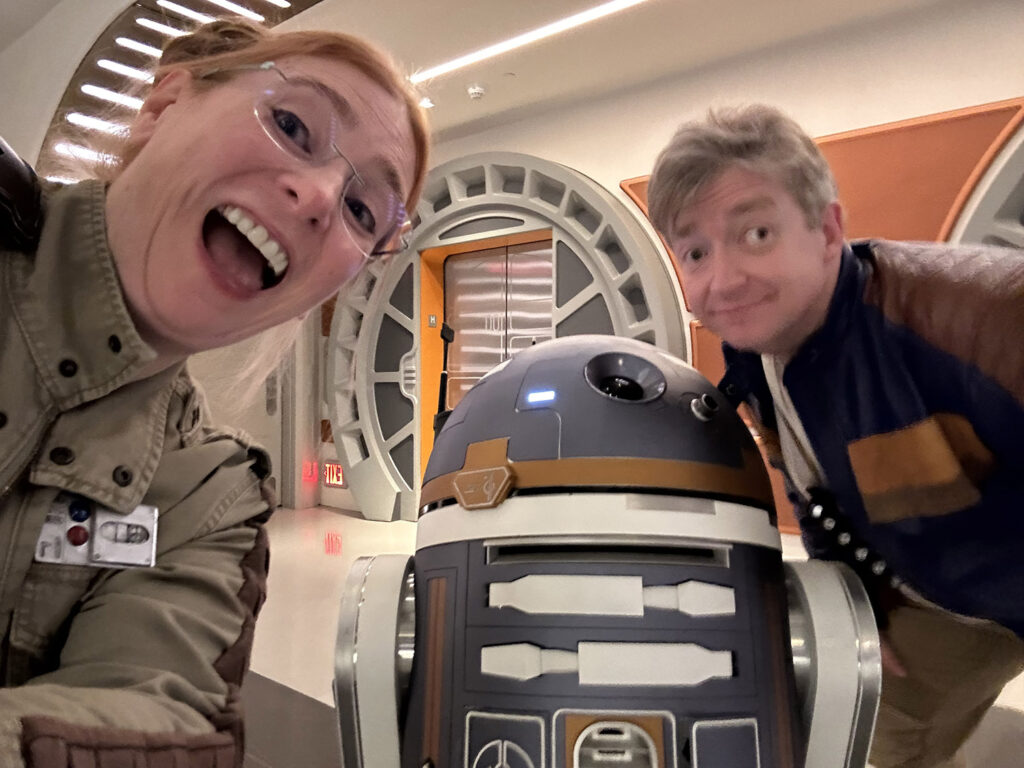 While we mingle, cruise director Lenka Mok shows up to meet guests, as does the ship's astromech droid, SK-620. We are nerds, so naturally, we ask the droid for a selfie, but we don't realize he also hides an m-band reader for more structured interaction. As more guests arrive during these two hours, the cast is just learning guests' names and feeling out the crowd. Part of what they are assessing is who here is willing to perform with them and who is here to watch a performance. With in-universe outfits, names, hairstyles, and lingo, we establish ourselves pretty clearly as willing performers.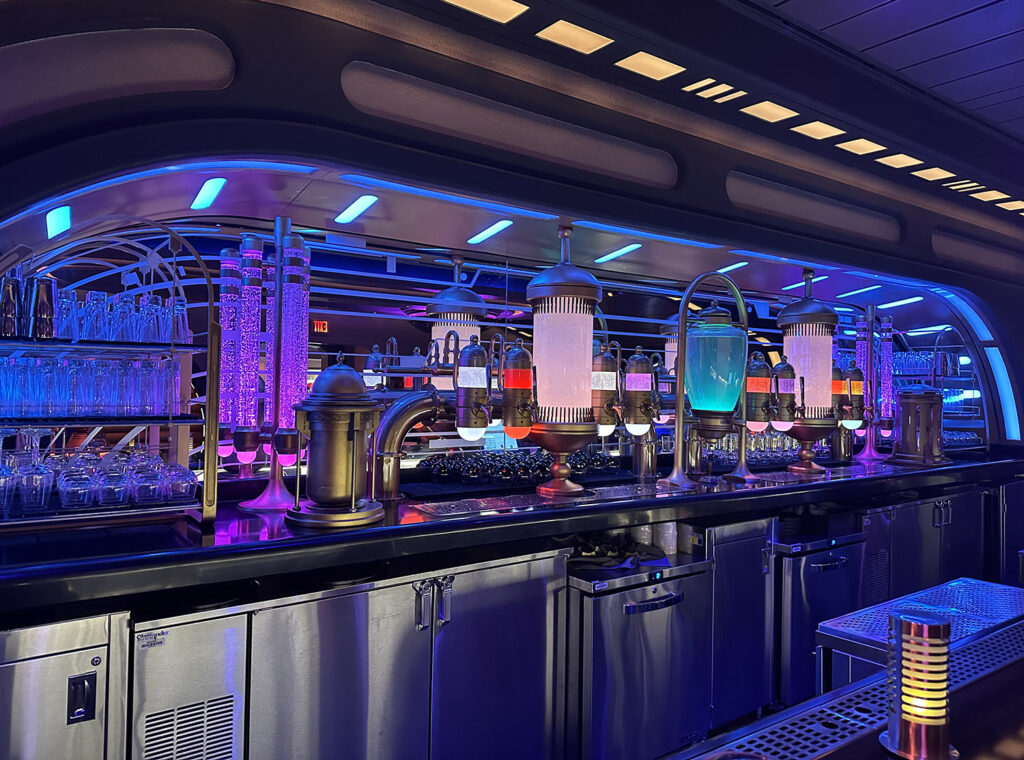 Just off the Atrium lies The Sublight Lounge, the ship's upscale cantina. A holographic sabacc table sits in the middle, a four-player video-game version of space poker, and it is the only one in existence. It's a relic of the ship's original history as a gambling barge and considered an antique, but it's one of the main draws for me. The table does the math for you and really you just watch your personal LED screen more than the curved holo-display that also shows your cards, but you play four hands and the game is over. The dice are rolled automatically in a sealed pop-o-matic bubble located at the center of the table and the computer knows what has been rolled. It is actually awesome and it makes me yearn for an official mobile-game version of Star Wars card games. As some of the only guests who not only know how to play sabacc but have practiced for weeks before the voyage, we destroy all comers with a combination of superior strategy and simple understanding of the core rules. Also, we cheat. We have set up some conversational patter that lets each other know when we have a strong hand and when the other player should back off. Normally I am the rules lawyer and a total Boy Scout when it comes to gaming ethics, but we have decided running small scams is what our scoundrel characters would do, so we bring this into our role-playing at the table. Nobody suspects (and there's no money on the line either). We win a lot.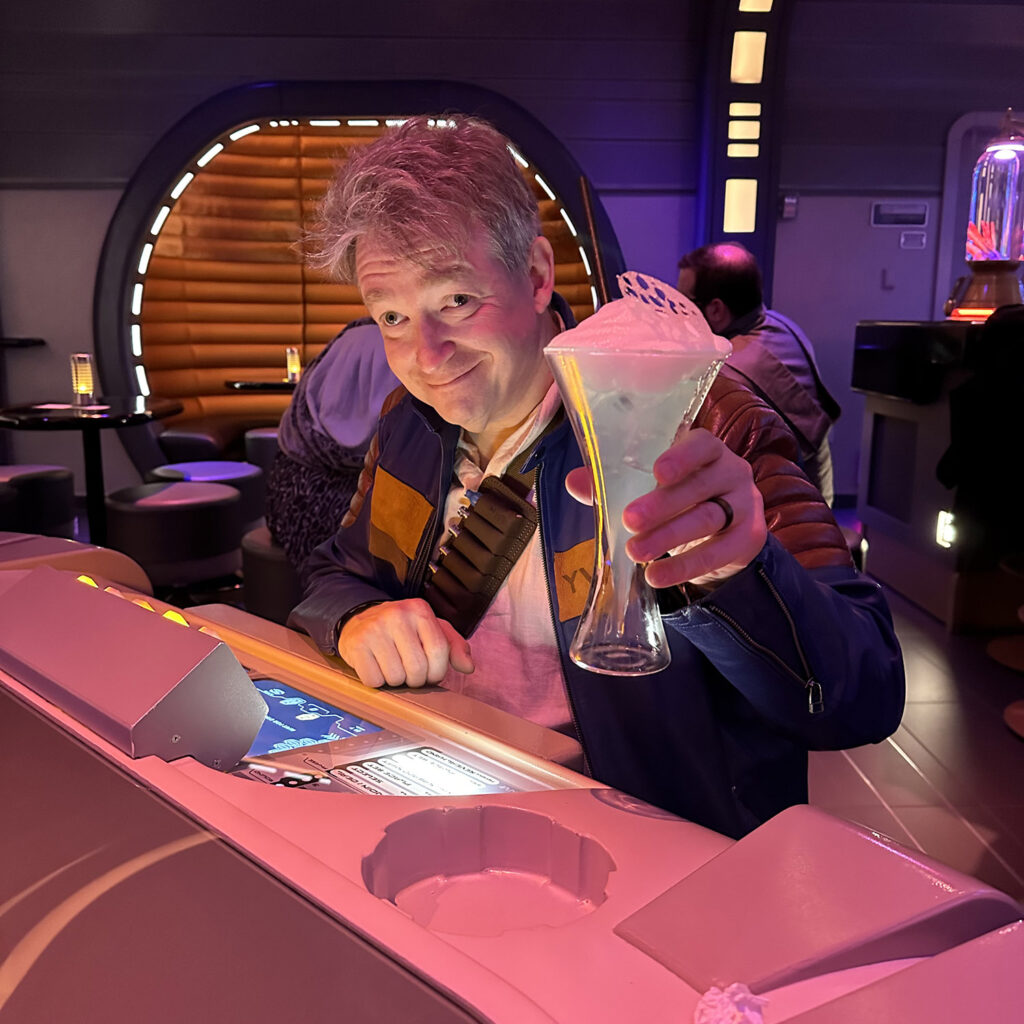 The lounge offers unique drinks, including a blue milk citrus fizz with sorbet and lychee in it. We both got Hoth Icebreakers — vodka, sugar, lemon, vanilla, foam – and enjoy our libations despite it being like 2 in the afternoon. Hey, it's 5 o'clock on someone's homeworld.
As more people have arrived to mingle in the Atrium, we head back and appreciate the decor of the surrounding area, which includes the ship's original intergalactic compass and, near the entrance to the lounge, the Halcyon Fluke, a champagne bottle that famously failed to break at the christening. We also notice that there is a water station, available 24/7, offering chilled, room temp, or sparkling water along the back wall.
Now more than just a message on a datapad, we meet Raithe, Gaya's manager, a handsome guy with graying hair who asks what we do, and takes a noted interest when Kat says "transport" in a slow, loaded tone that clearly means smuggling. Raithe gets the message; he now knows we are interested in participating in his plotlines. And it's worth noting that the performers have earpieces, but only to tell them where to be at any specific time in the plot – when it comes to the guests' names and backstories, the cast members have to remember all that stuff themselves on the fly. I'm glad I chose a relatively normal name in Trevor, because these poor performers have to remember the names of more than 100 people just to pull off this show.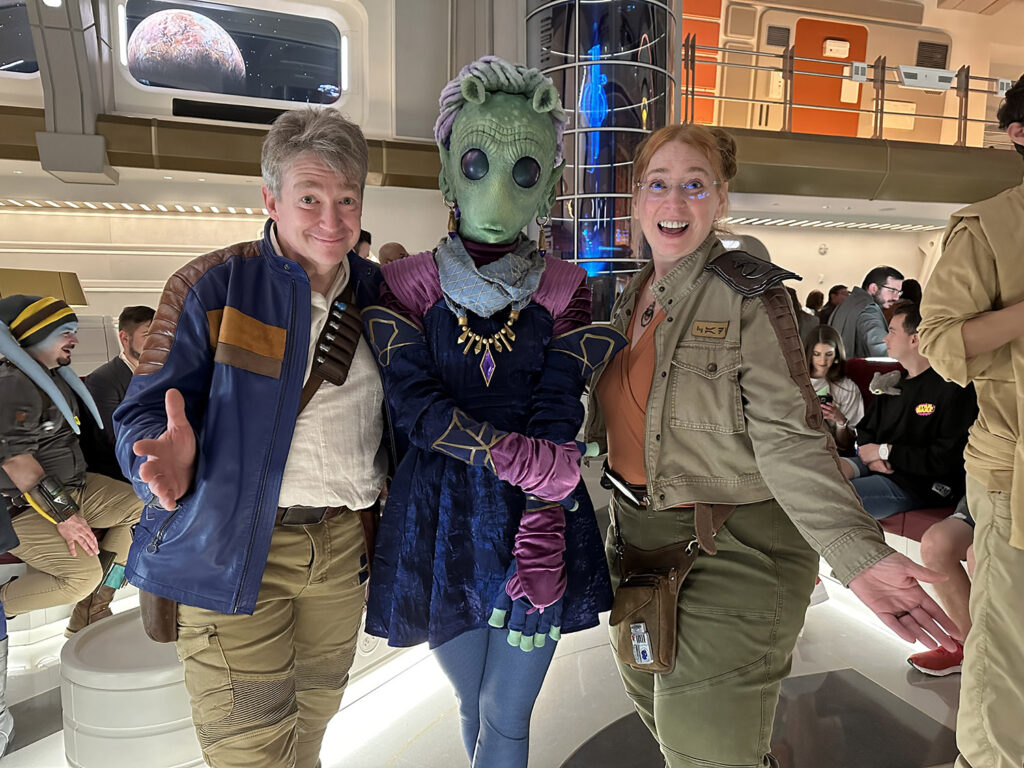 Gaya has yet to arrive, but her Rodian keyboardist/DJ/theremin player Ouannii is milling about. This actor wears a full Rodian head with dreadlocks and animated mouth – and speaks not a word of English. Like the helmeted First Order troopers we've seen on Batuu, she is triggering a series of prerecorded phrases (in Huttese!), but she's hitting the activators in her gloves so subtly that interacting with her feels like organic conversation. The performer playing Ouannii is absolutely brilliant in her role. 
It's approaching 4pm, which is time for muster. Muster is the first big group scene of the show,  an all-hands-on-deck event that sort of starts the plotlines in motion. We meet Sammie – the nervous and hapless mechanic who was missing from Engineering before – as well as the Force-sensitive Sajas, who wear comfortable tunics that recall Jedi without claiming to be their robes. Best of all, we finally meet Captain Keevan, a blue-skinned, yellow-eyed Pantoran with an appropriately commanding presence and a voice to match. Ouanni may have her own challenges with a mask and an electronic voice, but Keevan's combination of heavy makeup, a quasi-military uniform, and her need to interact with pretty much every passenger makes me respect Keevan instantly. During muster, we are split into groups and told we might be called back to these groups later, you know, just in case anything happens. During muster, Sammie gets a message about helping a ship attempting to dock with the Halcyon, and wanders off to deal with the situation.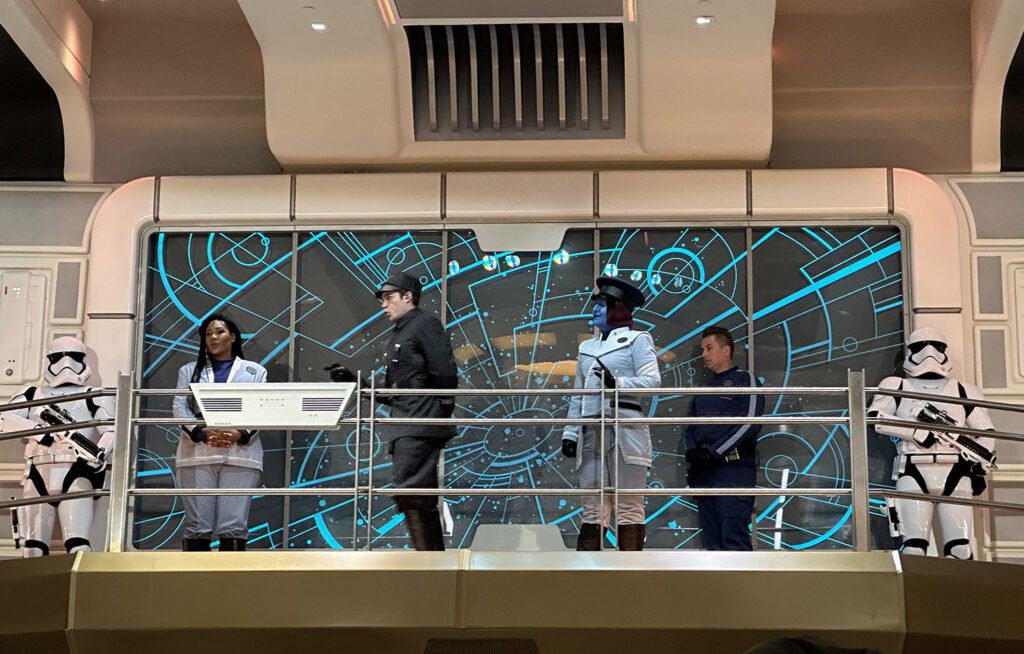 Captain Keevan – who has informed Kat and I that she'd like to meet with us in secret later tonight, after dinner – then hoists a sparkling drink for a ship toast. We learn a formal one – "Ta' bu e tay." But during the toast, the First Order arrives! Lieutenant.Croy appears on deck with two First Order troopers, looking for Resistance information, and promises he will get to the bottom of it. Croy is played by a dark-haired, attractive actor with a booming baritone voice; as the First Order antagonist of the story, his role needs to be played large. The Captain extends him courtesy out of political awareness and says he's welcome to board the ship, but clearly doesn't like him. Lenka Mok, the cruise director, makes it known she is even less welcoming. Gaya also finally arrives, complete with a literal red carpet treatment, and it's clear Lt. Croy has something of a crush on the Twi'lek superstar.
One of the Saja then gathers folks for some feel-good breathing exercises, and offhandedly mentions that she practices the martial art of Teras Kasi. I almost burst out in laughter – this is the basis for one of the most notorious Star Wars videogames in history, and I didn't realize it was still canon. But I am spared, because I get approached by Raithe, who says we are going to divert the cruise to pick up Gaya and wants to know if I can help with her luggage, which she has sent in advance.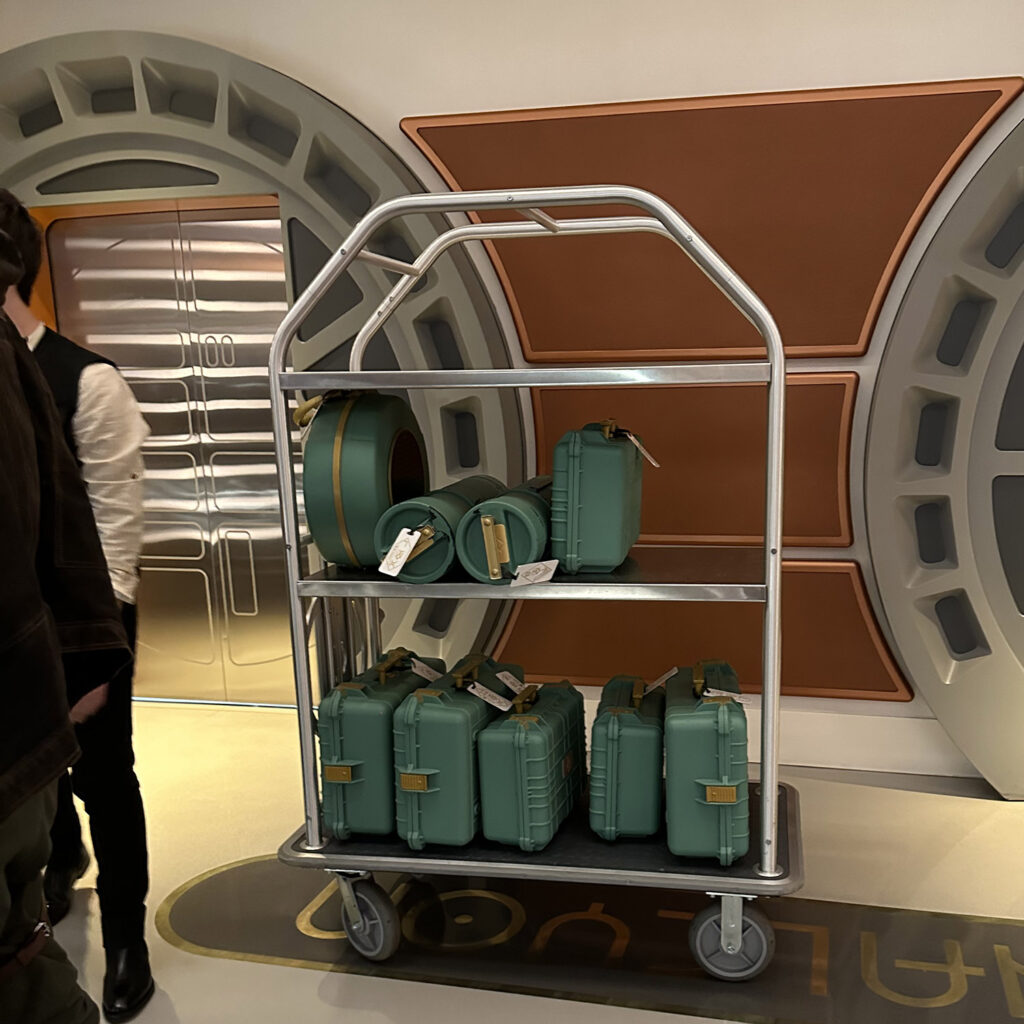 The luggage itself turns out to be a puzzle. Each case has a tag with a number and a letter and we have to put them in order. However, because I can read Aurebesh, so as soon as the suitcases are aligned, I shout out that the letters spell I HAVE DATA CODES. "Uh…yes!" says a surprised cast member, who clearly did not expect someone to actually read Aurebesh and turn a 10-minute activity into a 10-second solution. (Sorry!) So Gaya is trying to smuggle Resistance info onto the Halcyon, and this secret message is intended for her manager. I let Raithe know.
We realize we need to get dressed for dinner at the Captain's table, which only seats a handful of passengers each night (and for an additional fee). We run back to our room and get into the formalwear that we prepared – Kat designed and sewn a metallic teal teal jacket based on Mon Mothma's outfit on Andor, which she drapes over a black sparkly dress. I've had a cheap tuxedo, also in complementary teal, made to measure on AliExpress. We don't have time to get proper photos taken because we're almost immediately seated at a central table with two other families. Kat gets to sit next to the captain and asks her about being quartermaster on the ship in the past, which Kat knows from reading The Princess and the Scoundrel. Unfortunately, Captain Keevan gets a legit coughing fit from talking so much, then gets called away by Lenka – conveniently, she never actually gets served food.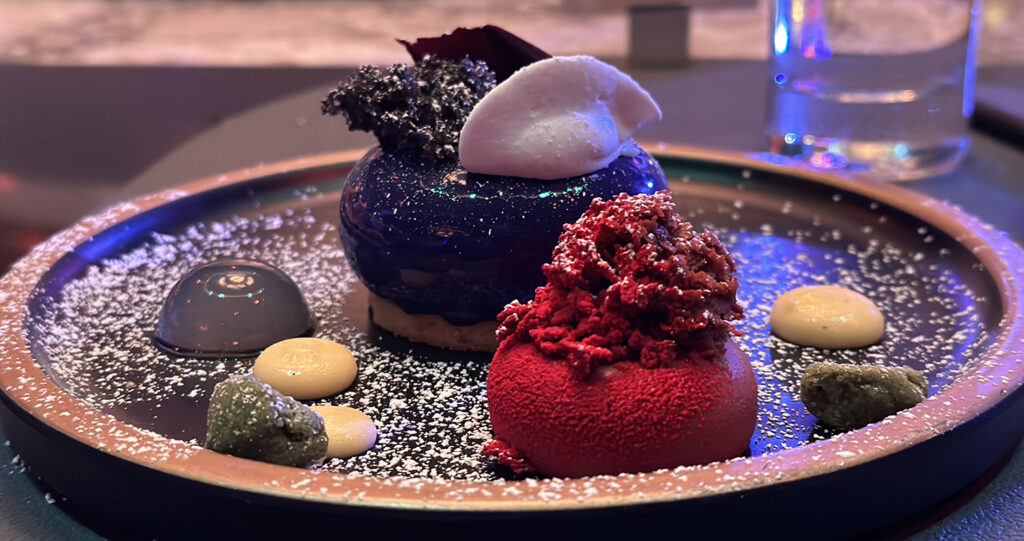 Despite the lack of our Captain, dinner at the Captain's Table is a five-course meal (others get three) that starts with a champagne toast and weird space variations on normal food – all of which are amazingly delicious. Disney knows how to do fine dining!. Among other delicacies, we are served bite-sized tip-yip, a noodle salad, a chicken soup shooter in a thin glass, and a main entree of "tamarin glazed beef with crushed moonrock potatoes." Dessert is "Jogan Fruit & Caramel Whip" (a mousse with mirror glaze) plus some exclusive chocolates for the Captain's Table. At the end of the night, instead of a bill, our server subtly delivers scraps of paper – it's a secret message torn into pieces that we must combine with the other two parties at the table, whom we had basically ignored. So thanks to that Disney magic, we're working together on puzzles with strangers, and we are told we'll all have dinner together as a group again tomorrow night. 
I have failed to mention that this was not only dinner, but a show: Gaya performs five or six R&B pop songs while we eat, roaming around the dining room. She graciously invites the overeager Sandro to join her on stage for her hit single, "Oola Shuka." (In the world of Star Wars LARPing, this is a legit hit single – the robot DJ plays it in Oga's Cantina on Batuu, and you can stream the track on Spotify as part of the cantina soundtrack.) Croy enters and takes his seat. During "Rockstar Queen," we see Chewbacca – yeah, the real one! – being snuck through the dining hall by Lenka Mok, because it's a line dance and they use it as a distraction. We are suddenly aware that there is some major Resistance plotline going on that does not involve us.
As soon as dinner concludes, we take the extra chocolates and run back to our cabin to switch back to our smuggler outfits. Kat asks a cast member with a datapad to reschedule our lightsaber training, because we have that secret meeting with the Captain in the cargo hold at the same time. This is not uncommon; the show is always in motion and different guests may be afforded conflicting opportunities, so our request is not unexpected. Thankfully, the crew member has shifted us in mere minutes.
Captain Keevan meets us in the cargo hold at the appointed time along with a handful of other guests and explains she is complying with the First Order only because she has to, but scrutiny on her is high right now. As a result, she needs us to do some hacking on the ship's terminals to obfuscate Sammie's data in the ship log. Sammie's role as the mechanic was always intended as a front and they didn't finish faking his data in the manifest, so it needs to look legit. We agree to figure out how to do it, but we have other responsibilities to work on, too.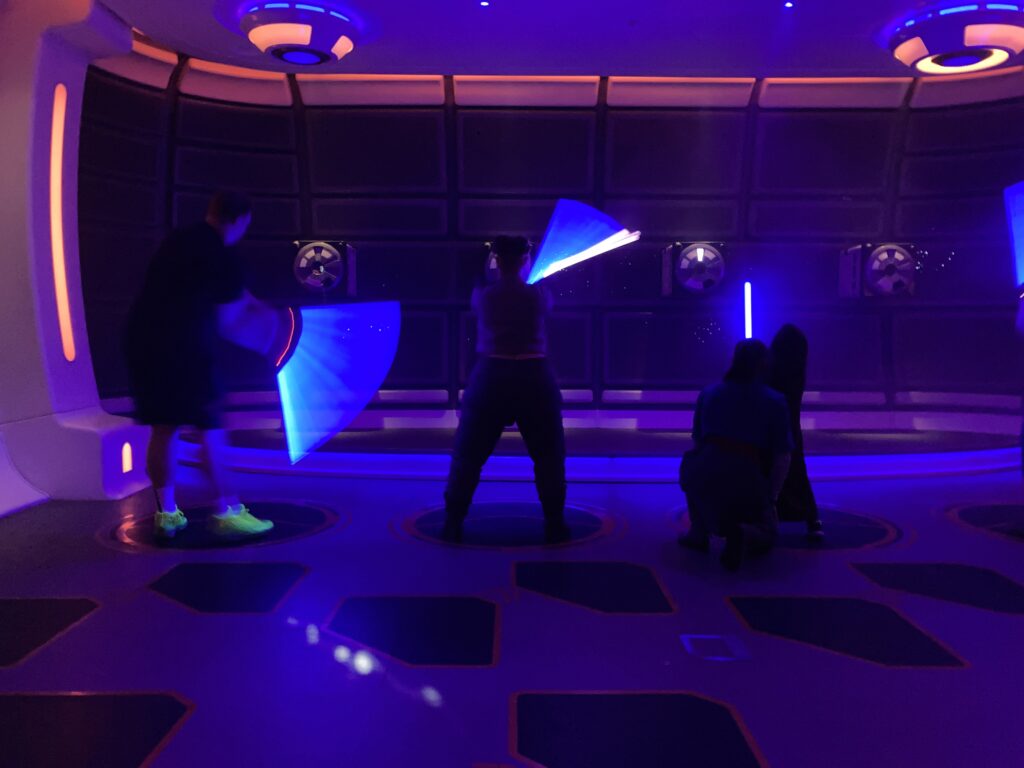 We now have lightsaber training at 7:45, where we all learn the defensive Form III (Soresu) and practice with short-bladed sabers as well as shields. We later learn you can buy replicas of these shields for close to $150, which seems steep, so we passed (but now I kind of wish we'd gotten one). The Saja leads us through proper Soresu form and its stances while we rotate between using blades and shields; we've all done so well, we warrant a disembodied message from none other than Master Yoda. We advance to using "the light of the Force" to block saber blasts without prompts, except we are actually prompted which way to move by "the light of the fiber optics in the walls." It's actually cool, because even the little kids in our session have a blast feeling like a Jedi, and for us old adults, it's a very active workout by the time we're done. 
But we're not even done for the day. We head to the bridge for a tour of its various functions – weapons, systems, shields, and cargo loading. The consoles feature big chunky buttons that look exactly like the stuff from the movies – all those switches and flashing lights share the same aesthetic as the controls you see on the Millennium Falcon and the Death Star. We rotate among the stations, as each console serves two crew members who work together to complete more co-op games. The Halcyon was designed to let people play.
During our training, Sammie comes in and, stammering, says we need to make a hyperspace jump, but can't do it alone. He calls me by name and asks if I'll help. "Have you ever, um, made a hyperspace jump before?" he asks nervously. "Well, yeah," I reply. "On my ship." "Oh," he says, relieved. "Then please, just go ahead and do it, that's great!" Uh oh – too much roleplaying. "Well, I mean, my ship is small," I backpedal. "I've never done anything this size!" So we go to hyperspace – and holy kriff, I get to pull the handle! – but our coordinates are wrong, so we wind up in an asteroid field, so we all man our stations and blast the space rocks.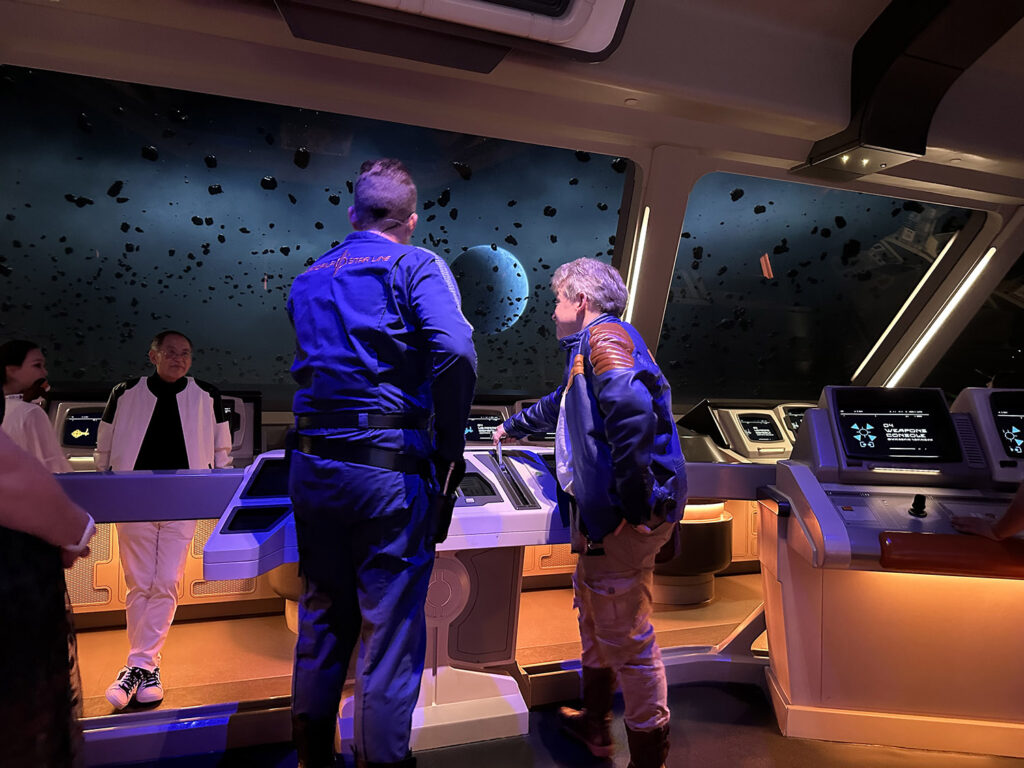 We eventually go to Hoth and make contact with C-3PO and R2-D2, who provide us with intel for the Resistance. We make the return hyperspace jump back (I do it right this time) with the data and hope the First Order doesn't get too suspicious about why this huge luxury cruiser keeps making these unscheduled hyperspace jumps – which, again, can be seen and felt by everybody through every port and window, all around the ship, including each passenger cabin.
We then follow Sammie down to the cargo hold for another secret meeting. The actor knows our names and we are really struck by what an amazing performer he is, playing this hyper-nervous, agitated character to the hilt and still interacting with guests. He asks us what we know about lightspeed tracking – and it turns out we know a little, because it's a plot point in The Last Jedi! Sammie says the First Order has now miniaturized the tech. The prototype is on the TIE Echelon on Batuu, so we need to hack that TIE and slice in some autopilot software on that ship tomorrow when we are on the planet. He makes it clear he wants to join the Resistance for real, and he reveals he was supposed to be left on Batuu when we docked, but now that the First Order is watching him, he has to stay on the ship.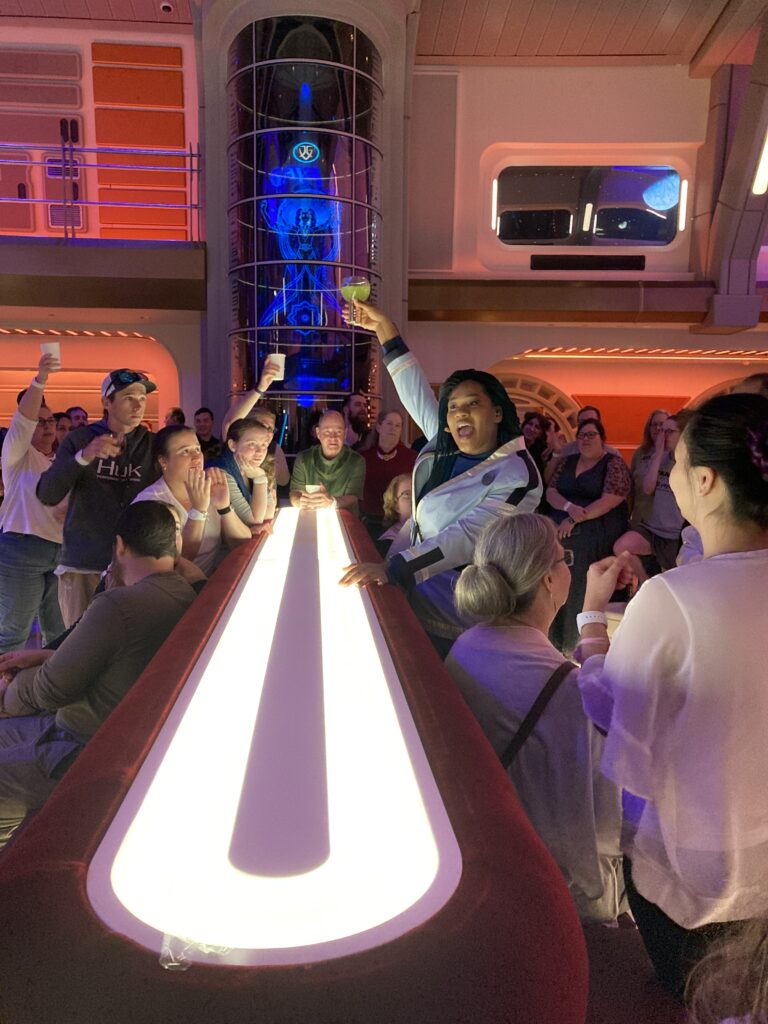 There's one more toast in the Atrium to mark the end of our first insanely busy day – we've been in character for about 10 hours now and in costume for longer. Lenka and Raithe ask guests to share the best thing they experienced during their first day, but Raithe also pulls me aside and asks me to meet him tomorrow at 4pm in the cargo hold for a mission that will help Gaya. As with the other secret meetings, he says it will not appear on my schedule. I agree and I'm kind of surprised that the seed is planted this early, almost 18 hours in advance. Then the big cliffhanger occurs – a furious Croy comes in and forces Sammie to fit SK-620 with a restraining bolt. Sammie does so against his will, and SK falls silent and motionless, down for the night. When the scene is over, we head to the lounge to play some more Sabacc and, since most people are either drinking in the lounge or back in their cabins, we take a few more photos in the common areas while there aren't a lot of people to get in the way.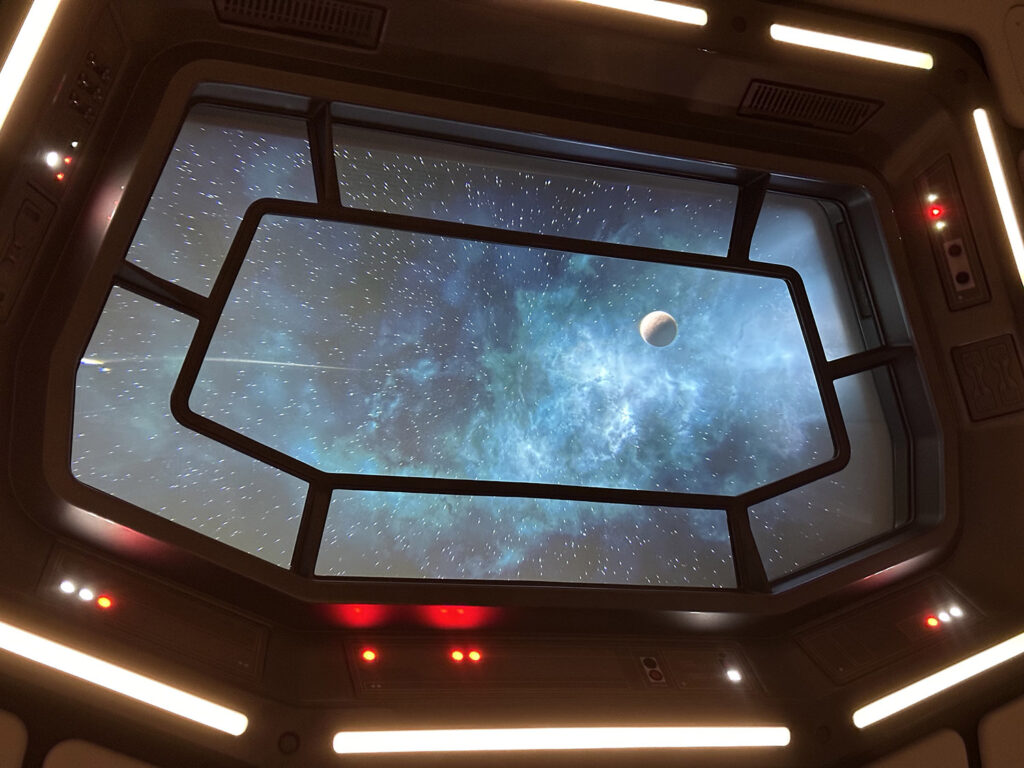 Finally, off to bed. Our cabin window shows space all night long – complete with ship traffic and hyperspace jumps. It's basically a cool nightlight, but a very bright one; while we can completely close it with a shutter, we don't want to. We ask our room droid to tell us a bedtime story and uncover one of the coolest secrets: The story she tells us is the entire plot of A New Hope, but from the droid community's perspective, where R2-D2 is the real hero of the tale and bravely saves the misguided and hapless moisture farmer who normally gets all the credit. It's 10 minutes long and absolutely hilarious. 
Neither of us slept much that night, because OMG we're in space, right? This whole experience so far feels like Christmas morning. Or Life Day. Or whatever. Everything is exciting!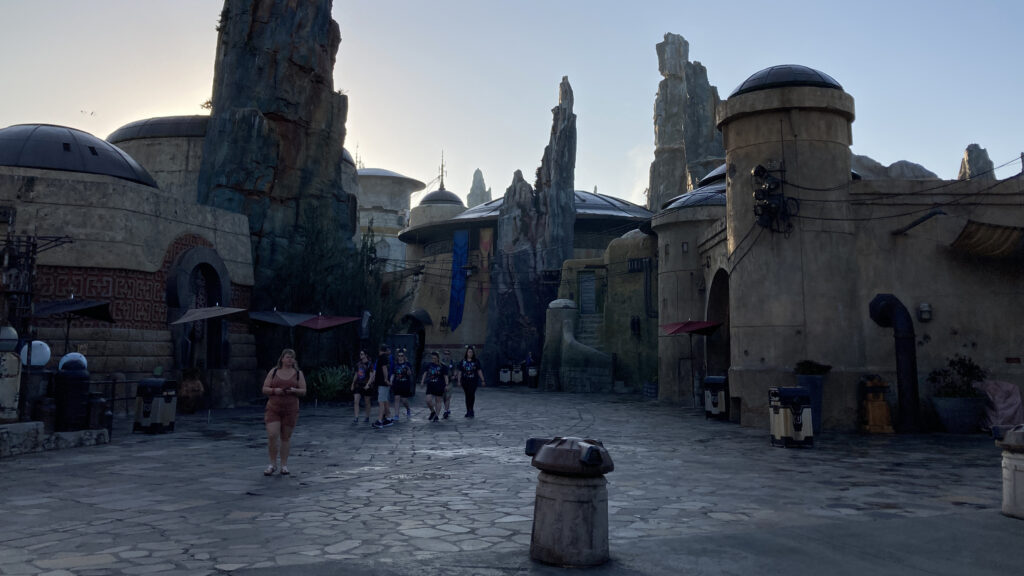 We head down to breakfast at 7am, sampling more cafeteria-casual breakfast food like novelty waffles and scrambled egg parfaits. Kat says we should head down to Batuu for our excursion and do our "on planet" stuff right away for two reasons: One, it's going to get warm, and two, we have appointments later in the day that we absolutely do not want to miss. Besides, we've been to Batuu before in the California park, and we know the Florida version is almost an exact duplicate with a near-identical layout. Our scheduled time for departure is the earliest offered, 8:20, but by 7:50 they allow us to board a shuttle. Since it had no windows, was fully decorated inside, and even had a chatty robot driver, the immersion was complete; we still don't know if it was a human-piloted tram or a semi-autonomous people mover on a track. We were the only humans inside so we enjoyed the private ride.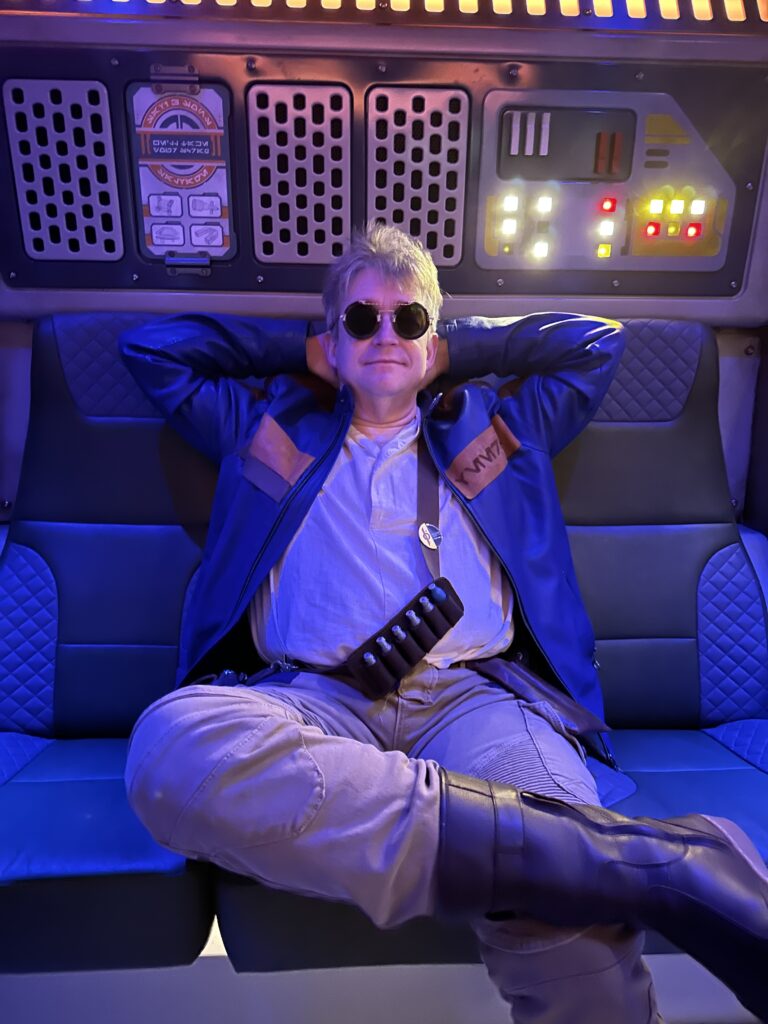 Halcyon passengers not only receive entrance to Batuu as part of their trip, but they enjoy a private entrance. What's more, they give us free bottled water whenever we want it, as well as an exclusive enamel pin that, when we wear it, lets CMs know we are VIP guests to be afforded special attention. The rare pins are valuable to collectors, but since I am wearing a leather jacket in Florida temperatures, the bottles of Dasani feel like the real perk.
Our MagicBands are tagged to give us Lightning Lane access to both rides: the fly-the-Falcon action ride Smuggler's Run and the insanely impressive, multi-stage narrative Rise of the Resistance. However, these lane-skippers are good whenever we want to use them, so we immediately start completing missions from our datapads, like hacking that TIE for Sammie. Turns out that going on both rides are also missions for Captain Keevan, but in order to get credit, we need to tag our bands when we ride. Since nobody was around, the CM for Smuggler's Run sends us through the normal line which is very short, and it was only when we failed to get credit for the mission that we realized we'd have to ride again to complete our mission. Taking two turns at piloting the starship is no hardship.
Kat had booked us a reservation for Oga's Cantina, which looks exactly the way you want it to look. One of my favorite elements of Oga's is the use of hand-written Aurebesh on signs and placards throughout the place, including the code of conduct posted at the front of the establishment. Before taking us inside, our host says "I can't let you in unless you agree to the code of conduct. Can you read this for me?" He does not expect me to say "Yeah, let's see…" and proceed to haltingly read out the house rules, including "No fighting, biting, or tearing off of limbs," and that "Wookiees have a two-drink maximum, no exceptions." When I'm done, I look at him and say "I am guessing you don't have a lot of people who do that." He looks at me half amused, half impressed. "You're the first. Right this way." This might be the high point of my trip.
The cantina will indeed serve you very strong alcohol any time it's open, even at this ungodly early hour. Kat proceeds to get tipsy on a lip-numbing Fuzzy Tauntaun by 11am. Turns out we had a bonus mission in the cantina as well; when Kat mentioned a passphrase, our bartender returned with a secret coaster with a QR code and said he needed it back as soon as we were done. Other people sharing our cantina booth look puzzled, but this just makes us feel more surreptitious and special. We can stay on planet until 4pm if we really want, but we have already spent a lot of time on Batuu in the past and we only have this one chance to be on the Halcyon, so we complete our current missions and head back to the ship.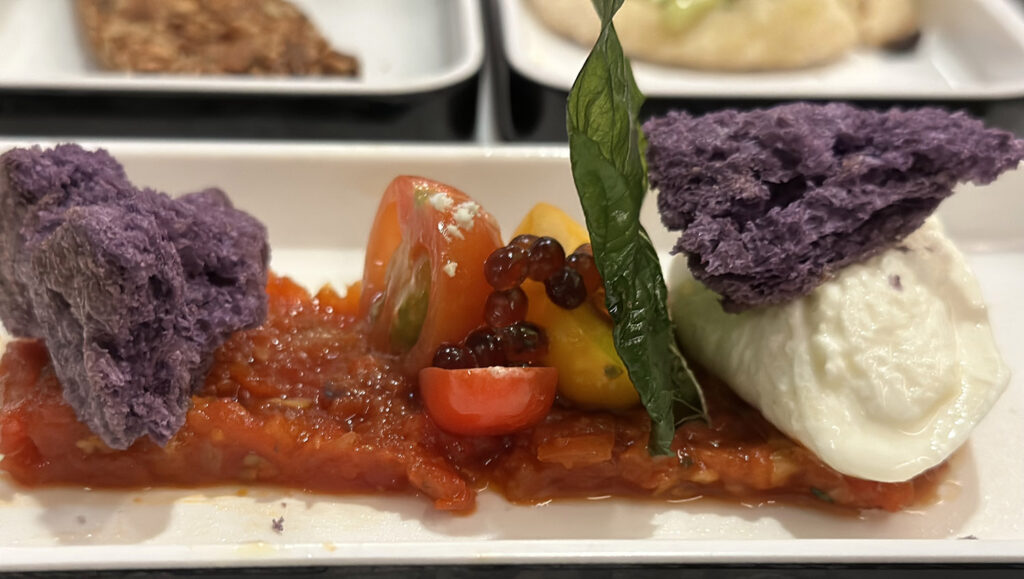 Now, we could have eaten on Batuu, as lunch credits were provided as part of our journey there, but we'd rather spend more time in the Crown of Corellia. Lunch on the Halcyon is, as the day before, buffet fare – take whatever you want and as much as you want, with as much blue and green milk as you like. (Kat's partial to the stronger pineapple-coconut flavoring of the blue, while I prefer the citrus-tinged green.) Menu items include the previous day's sunbutter & jelly pods, tip-yip & mac, a space granola bar, sweet potato soup, "red fruit" (tomato) and burrata with purple bread, flatbread pizza with chimichurri sauce and beef, and a funky looking "sausage takeaway," which is essentially a hot dog with a purple bun. Dessert was a chocolate mousse with a hibiscus meringue cookie that caused our mouths to tingle. The culinary language remains weird deconstructions of comfort food that taste great but look delightfully unfamiliar, offering a perfect answer to "How do you surprise adults and satisfy picky-eating kids at the same time?"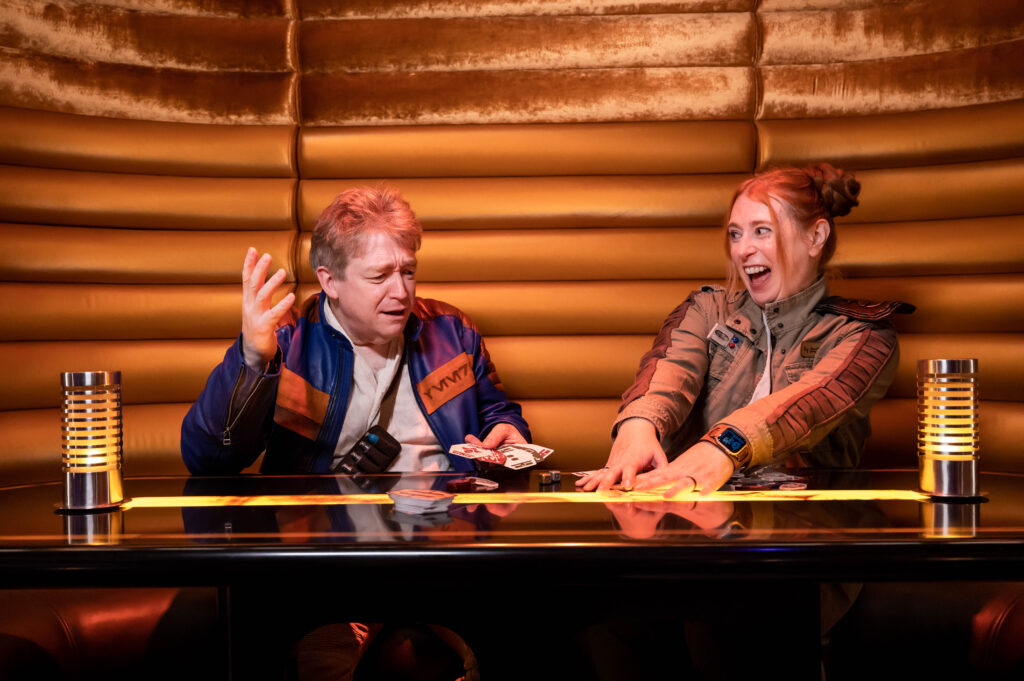 Now it's time for our private photo session, which costs extra, but we know from previous PhotoPass experience that Disney's park photographers are worth every cent. This is why we got up and went to Batuu so early – Kat intentionally planned this while other folks were likely to be in the park, so we would have access to places like the Bridge, Engineering, and other cool environments with minimal to no interruptions. We meet our a photographer and two assistants, one of whom is armed with a large LED wand to change lighting for dramatic shots. The resulting photos were stunning and told little stories: Kat cheating at Sabacc (which she swears is not true), me breaking things in Engineering, and ultimately Kat locking me in the brig. We shot for maybe 30 minutes without interruption and we got a ton of amazing shots – movie-poster worthy stuff.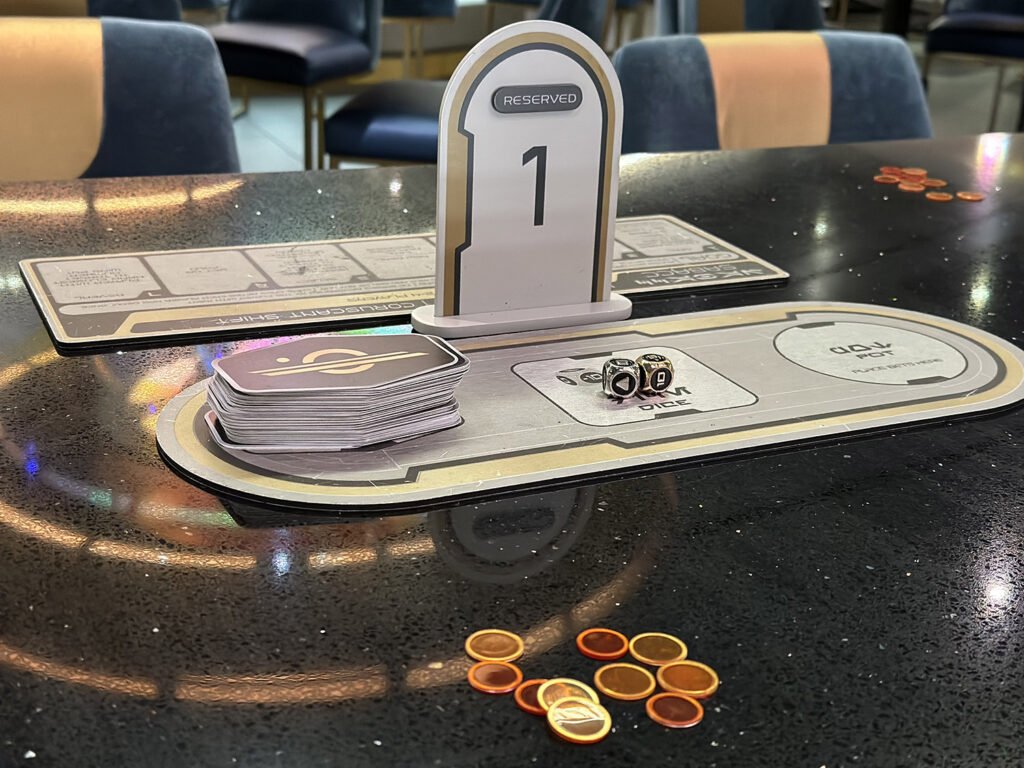 At last, it's time for my Sabacc tournament. While we had been hoping to split up and run the room, we wind up against each other in the first game. I sweep the first three hands, only to lose the fourth and final hand, which knocks me out of the tournament. William is in our group and we talk about his custom-made suits, which are really stunning and spot-on for in-universe formal wear. We also meet Morbid, a Sith in black robes and what can only be described as pro-wrestling makeup; I later learn he's adding makeup to his look throughout the journey, slowly but visibly succumbing to the Dark Side. Light side or dark or somewhere in-between, everybody is nice because everybody is here for the same reason, which is to live out their version of this fantasy. To our surprise, First Order troopers wander in and make snarky quips about the tournament and its players. Raithe – always looking for action, it seems – also hangs out during the tournament as well and confirms that we will meet him at 4pm today. 
Stinging from my loss, we go the Sublight Lounge for a drink and some casual sabacc. On the way we notice there are several crew members overseeing kids taking part in droid races. Like any other cruise, keeping kids occupied is part of the package; adults want to relax while kids want to go go go! On the Halcyon, the kids are invited to be members of the Lothcat Crew, which is an activity track designed for younglings 7 and under. As a happily childless couple, we've steered clear of these events – though there was an enthusiastic youngster in our lightsaber training the previous night, he was overexcited without really being disruptive – but suddenly seeing a gaggle of younglings serves as a reminder that there's something for everyone on this trip. Disney really has committed to running this as a family vacation destination, with all the amenities of a traditional ocean cruise – including dedicated events just for the wee ones. 
But even as the kids race to victory, the storyline continues around us. William tells us the Resistance is going to liberate SK-620 and remove his restraining bolt, so we duck out to the Atrium just in time to see Croy get pissed that someone "stole his droid." Croy's playing the villain with some authoritative menace but also aware that most guests are not rooting for him, so he's not afraid to lean into the comic parts of being the story's villain. Spotting the kids and their droid races, Croy literally picks up their toys and puts them on the other side of the room – "See? It doesn't feel good when someone steals your droid, does it?" We suddenly realize Croy probably played Gaston in the parks at some point; his voice, build, and swagger would translate perfectly. While we sip our drinks, Croy loudly argues with Keevan about whether droids should be treated as people or objects – a surprisingly existential and coherent debate in the same room where kids are racing robots.
Finally, we report for our secret meeting with Raithe, and we're joined by another dozen passengers in the tiny cargo hold. I didn't really know what Raithe had in mind, but I was not expecting the reality: "We're going to pull a heist." There's a special stone in the ship's antique hyperspace compass, a relic on display in the Atrium, but that stone is sacred to Gaya, the Twi'lek, and the other people of Ryloth; for anyone paying attention, she sang a song about that particular stone's importance the previous night at dinner. To illustrate everyone's roles and positions, Raithe places cards on the ground from his personal sabacc deck (which, Kat noted, was a cheater deck filled with only wild-card sylops).
Raithe looks directly at me. "Trevor…how do you and Aoife feel about acting?" I smile and say "pretty good," and this is exactly why the cast has sized up the guests to see who will play hard and who is not afraid to improv. He wants us to pretend to be talent scouts looking to sign Sandro to a contract – that's the real reason we were on the cruise all along, see – and as such, we need to create a distraction by making Sandro perform and audition live in the Atrium. The plan for the heist involves many moving parts and simultaneous events – other guests are lookouts, scouts, bodyguards, and there's a fake wedding proposal as a second distraction – so Raithe needs guests who can take their scene and run with it unsupervised while he performs his role. This is really more LARP freedom than I'd expected; frankly, when I think Disney, I think control and choreography. Being told that we get to do whatever feels right for our roles and create an organic part of the scene on our own feels like a very weird and special gift.

The cramped meeting contains 15 people, but we're interrupted by one more: Captain Keevan drops by to see her old friend Raithe looking suspicious amidst a gathering of passengers and wants to know what's going on. We insist there's nothing weird about a bunch of guests huddled in the cargo hold. She leaves, and Raithe assigns one more guest specifically to distract the Captain.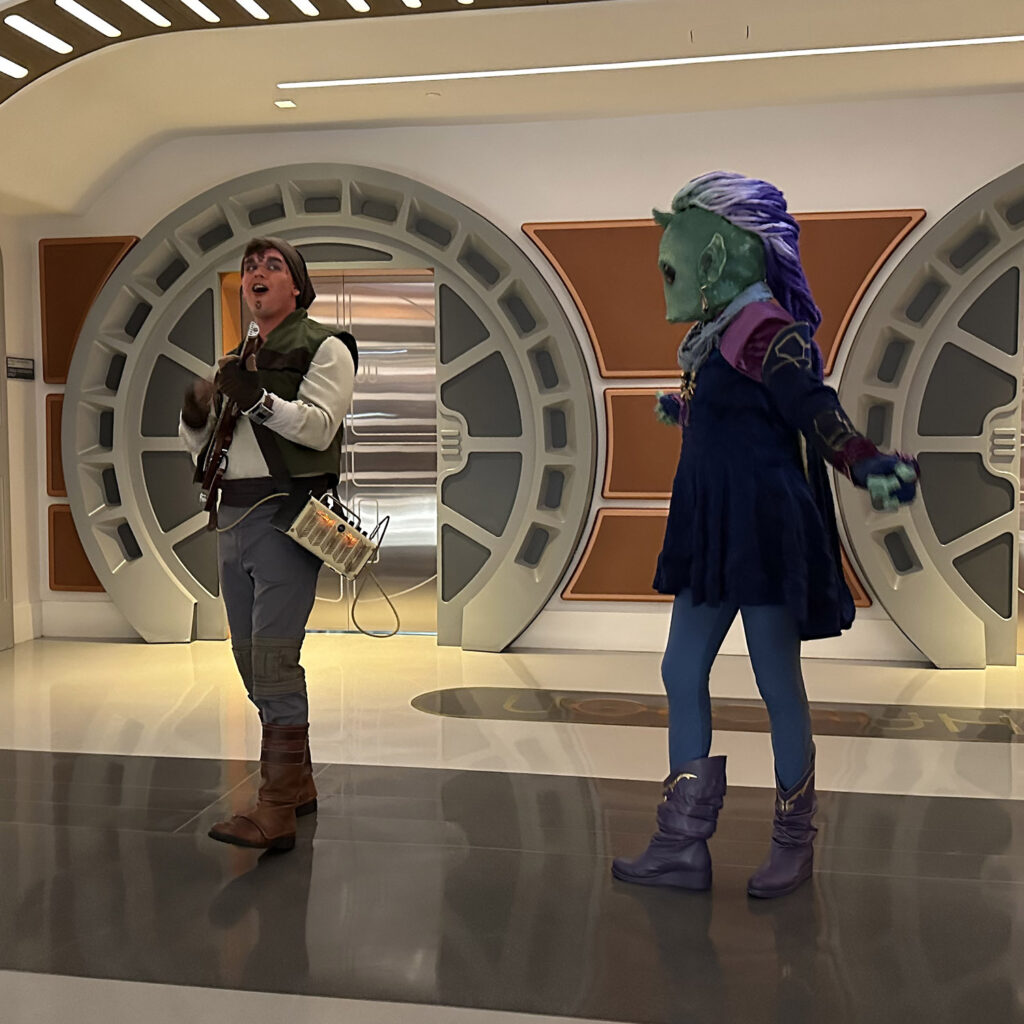 And suddenly, we're sharing the stage of the Atrium. Kat and I give Sandro the story about our real reason for being on the trip, and I go into carnival barker mode, calling everyone within the sound of my voice to hear Sandro play a few songs for his big break with Intergalactic Records (because vinyl is still hipster-cool in space). Another guest claims to be Sandro's manager and comes over to haggle with us on percentages and artist exclusivity. The whole heist takes about 30 minutes and none of us are really aware of what the other guests are doing – we're all focused on our part of the scene. It was a really cool piece of improv theater and of course it's complicated by Croy and the troopers interrupting some of the scenarios. Things are so chaotic, we don't actually know if we pulled it off or not because, despite explaining what his all-clear signal would be ahead of time, Raithe's final placement and confirmation that the job is done never actually comes. 
I'm still yammering away to create a distraction when Raithe hurriedly passes us and says "Let's go, meeting in the cargo hold, right now" – and somewhat suspiciously, we all run downstairs immediately. Turns out the heist was a success! Given that they want guests to feel like heroes, I suspect it always is, but now I wonder if maybe there is a way to fail, with so many random elements that could interrupt the scene, not least of which are the guests themselves. Raithe presents Gaya with the stone; she is deeply moved and talks about how important this is to the people of her home planet, Ryloth. As the meeting disperses, Kat sneaks Gaya one of our replica Death Star plans as a little gift, because her performance throughout the trip really has been top-notch; we can't seem to separate the fiction we paid to see with respect for the reality of what it takes to pull all of this off. We slip a few souvenirs to other cast members as the opportunity presents itself, too. On the way out, Raithe says we have to meet on the bridge at 7pm – "Don't be late," he says brusquely. "I don't care if you have to skip dessert."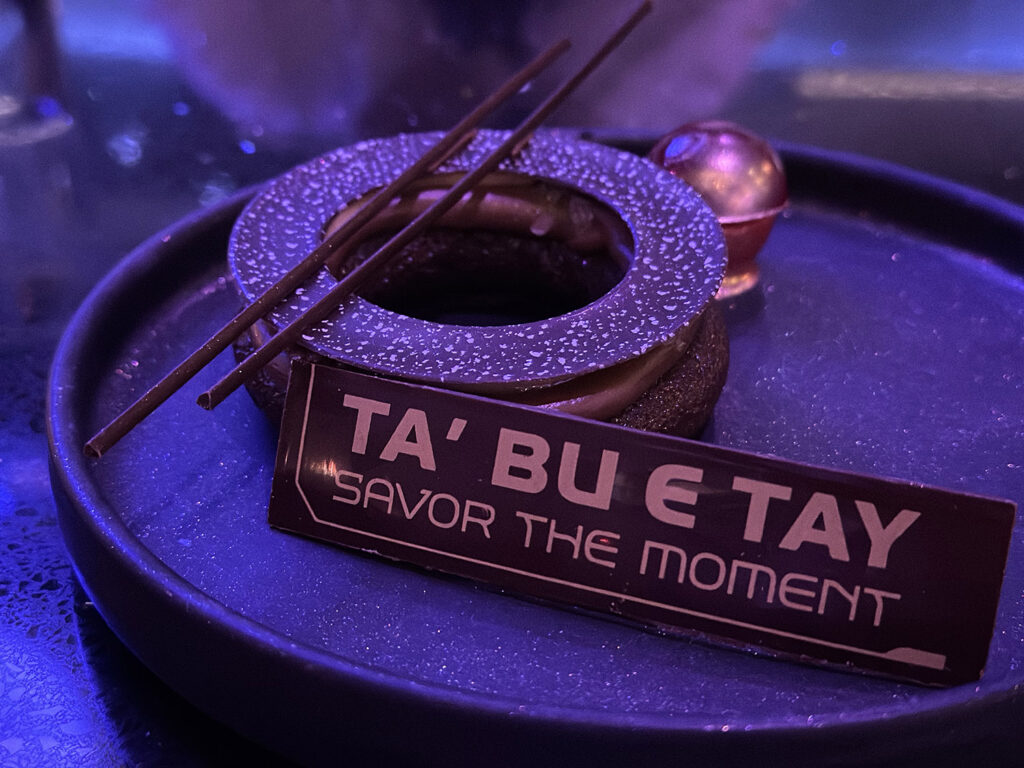 This turns out to be no small request, as tonight's dinner is a special production called Taste Around the Galaxy. All the menu items are inspired by different planets; they come out at set times with a little presentation and show lighting that matches each course. We enjoy four courses, among them a Mustafarian molten cheese dip and exotic breads, a seafood dish (due to Kat's allergies, we get a delicious tofu substitute), bantha beef short ribs, and an upscale tip-yip chicken. Dessert is a decadent Chandrilan air cake in the shape of the CSL logo for dessert, but since we are celebrating our anniversary, we got a ribbon of chocolate with that fancy toast, "ta' bu e tay," etched on it. Disney never misses a chance to make you feel special.
Whereas the first night featured a concert by Gaya, tonight's entertainment is…Lieutenant Croy.  He appears during the meal and asks if we, the guests who now feel like prisoners, have any questions. We heckle him with questions like "why doesn't your mother love you" and ask him to sing, which is a running joke since other guests got him to sing earlier in the experience. This only strengthens the Gaston theories.

Unfortunately, Raithe knew our schedule better than we did; we can't stay to see all the desserts, let alone eat them, because we have to leave at 7pm to meet him on the bridge. We know that if we aren't there in time, there is no late entry – we would miss the entire story segment. Sadly, we ditch our anniversary dessert and go.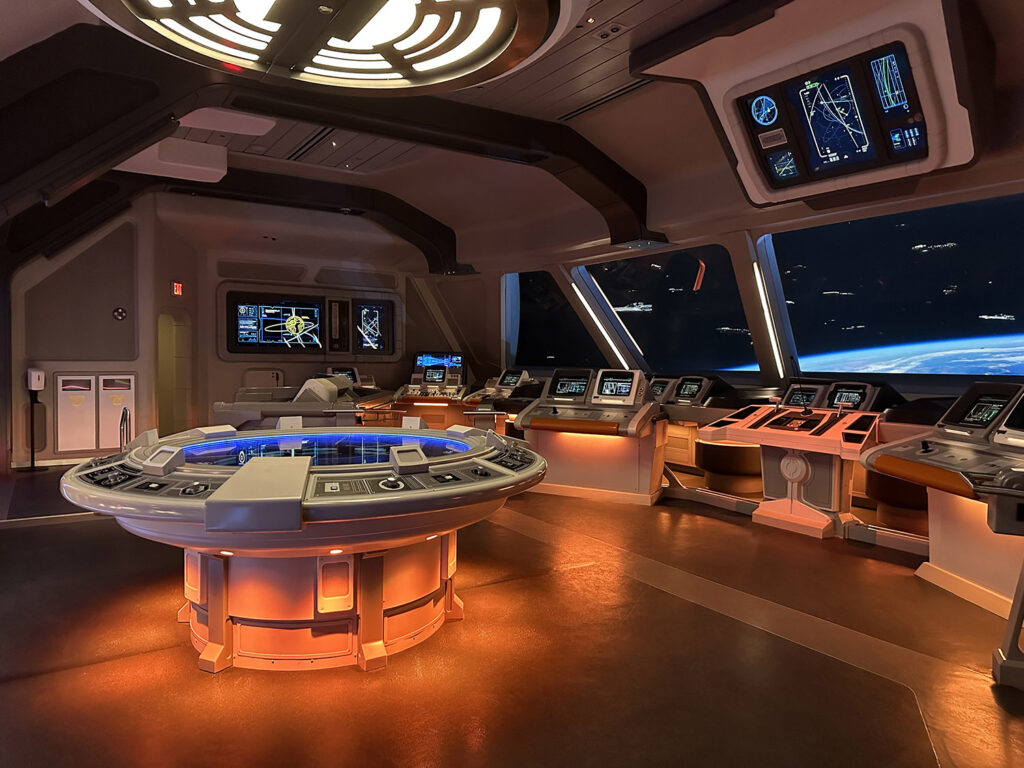 As we pass through the Atrium, Gaya is giving another performance, this time an acoustic concert. (Disney has since released an album of Gaya's songs, which is basically everything he performed on the ship.) We're not watching the show because Raithe has put us to work on the Bridge, as he's dealing with notorious pirate Hondo Ohnaka to receive a smuggled shipment of coaxium. Kat and I help blast a path using the bridge controls to help the delivery take place. Hondo only appears as a recording on our visiscreens, but he's portrayed by an actor in full costume and prosthetics. Since we've only ever seen him as an animated character or an Animatronic, it's actually pretty cool to see him "for real."

Croy, however, intercepts the coaxium and takes possession of its crate right there in the Atrium. To help the Resistance, Gaya flirts with him – which works, since he does have that crush – and she lures him to her concert. Raithe uses the opportune if implausible distraction to steal the coaxium in plain sight. He ultimately needs to hand it off to Lenka Mok. 
Suddenly, we're back on the bridge for another story segment, this time with Sammie. This morning, on Batuu, we hacked and installed an autopilot into that TIE Echelon, but now we need to help engage that remote piloting system and bring the assault shuttle to the ship. Hondo returns to be a wingman and protect the stolen TIE, but isn't happy about it and wants more money for this unscheduled assist – after all, he's Hondo. Lenka, our fiercely Resistance-loyal cruise director, takes over for Sammie and finishes the scene with us; we rotate through the various bridge positions, manning different stations as we work together to get the smuggled shuttle docked with the Halcyon.
From there, we're supposed to immediately meet Lenka in Engineering to make an escape plan. We actually miss this because the bridge scene runs just a little long; Lenka goes directly there and the door closes behind her – we miss it by moments. We get rescheduled (as this Lenka meeting happens more than once so lots of guests can experience this critical part of the story) and, with the ship in partial lockdown thanks to Croy, we tackle those multiplayer co-op games – flipping switches, matching lights, and other physical interactions – to get various Halcyon subsystems back online. Under the watchful eye of Chewbacca himself, Lenka carefully places the smuggled coaxium into the reactor core and gets the ship working again.
Croy, it seems, has had enough – the First Order officially takes control of the Halcyon, and an emergency alarm sounds, complete with red lights flashing and alarm klaxons blaring. This is the story-based emergency event that was previewed, so we know there is no need to crawl into our cabin safety pods. Instead, all guests report to muster in our original groups. Everything comes to a head for a 30-minute scene with all the characters we've played with for the last two days – plus Rey and Kylo Ren appear to fight it out with lightsabers.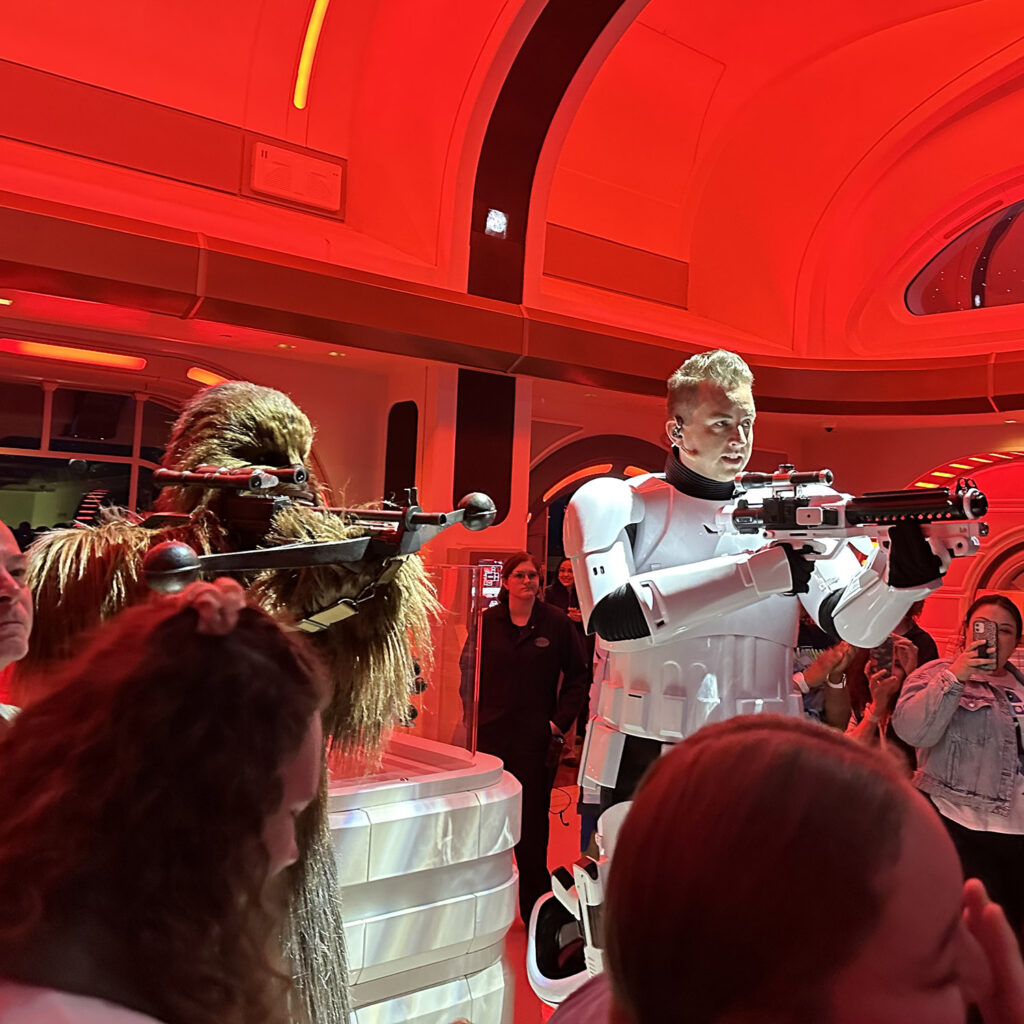 Yoda's voice is heard during some of this, and shy, awkward would-be hero Sammie saves the day by going undercover as a First Order trooper. Chewie even pulls out the bowcaster for the final showdown, and there is much rejoicing among the guests – until Kylo Ren uses the Force to destroy the central chandelier in the Atrium! He loses the day and scrams, leaving Croy to thank the guests who were loyal to the First Order (some of whom chant their loyalty back at him, reich on cue). To our surprise, Sandro calls out both Trevor and Aoife with a special thanks at the end of the event – still in character, but we feel plenty proud to have gotten acknowledged for playing so hard. There are fireworks out the windows of the ship, and the show sorta breaks – the characters are available for photos and farewell, but we quietly thank the cast for playing with us, including Sammie, who does confirm with no small amount of emotion behind his eyes that this is his last voyage. Later on Instagram, the performer confirms that he'd be happy to sub in if needed, but that the part he's been playing for a year really has taken a toll and is one of the hardest acting challenges he's ever faced. He specifically mentions that for the cast, the performance continues for two days straight, even overnight, as they constantly review details, remembering names, preparing for anything-can-happen interactions, and things like that. Even when they're going to sleep, they are "on stage." Understandably, that can take a toll.
But now, with their massive performance at an end, most of the cast ultimately shuffles out of the Atrium, giving way to a boozy afterglow in the Starlight Lounge for guests, plus one more event: Sandro & Ouannii, now romantically involved, perform a few songs while the rest of us enjoy one more round of dessert in the dining room. Several folks stay up to drink and play sabacc and hang out in the bar. We change back into our fancy clothes for a handful of photos on the nighttime ship lighting and head back to our room, where we are treated to another one of D3's bedtime stories –this time, a retelling of The Empire Strikes Back, where a heroic blue-and-white astromech droid turns out to be the true star once again.
The next morning, we're not ready to let go of the fiction. We dress in costume for breakfast, which includes CSL logo waffles and blue milk yogurt. A phrase we hear out loud from several of our fellow passengers is "I just don't want to leave."

Before leaving our room, we pack a giant plastic bag of stuff to ship back to California – all our souvenirs, plus our formal outfits. They say if it fits in the bag, it ships; it does, but for safety, they wind up putting our gear into two boxes anyway. Thank the maker we did this, because it lightened our suddenly significant load for the rest of our standard park vacation. It's all waiting for us when we arrive home a week later, and unpacking it feels like a little time capsule for us, as we relive memories with each souvenir. 
So…for all the internet chatter about the high price and expectations of a normal hotel and the general sneering from grumpy fans, was the Galactic Starcruiser worth it? For us, absolutely – we saved up for about two years to make it happen. We came to play and that play was rewarded. What's more, we realized we didn't see all that the cruise had to offer, because we experienced only some of the Resistance plots and none of the First Order. I was literally happy the entire time, and we had dreams about it after we left.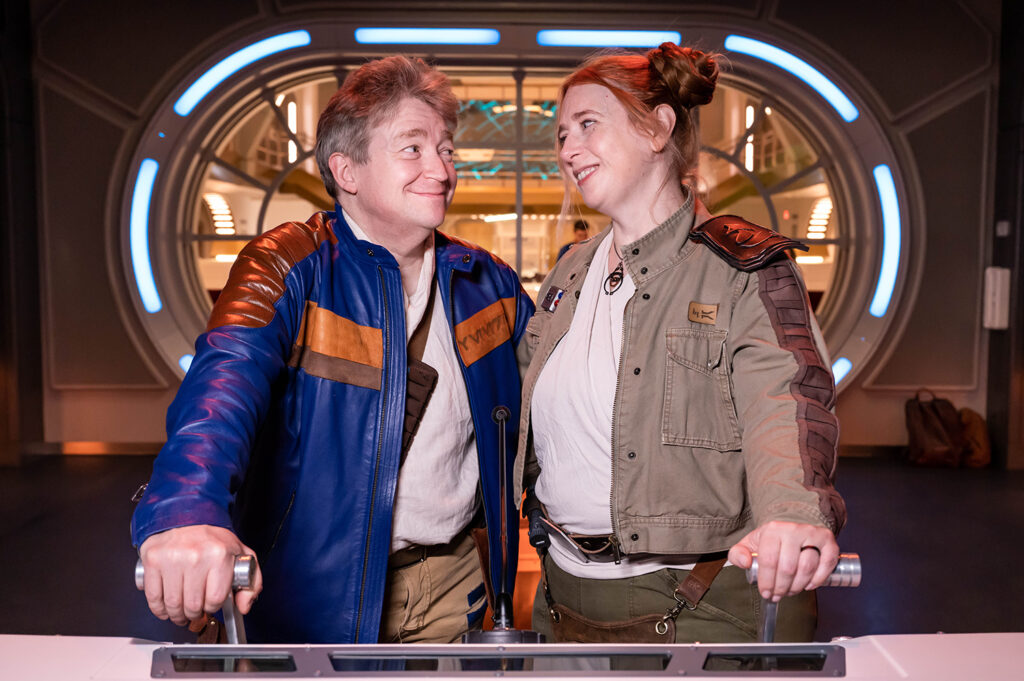 Unfortunately, as we were finishing the final edit of this tale, Disney announced they'd be shuttering the Galactic Starcruiser at the end of September 2023. Despite having fun ideas for new characters and costumes to experience all the plot points we missed the first time around and plans to return in 2024, we probably will not get a chance to go back to the Halcyon and experience those elements that we missed. Sure, it's better to have loved and lost than never loved at all; our respect for the Imagineers and cast members who made this incredible fan experience possible is enormous. But the entire immersive journey felt intensely personal; we've never been part of something that felt more built for us specifically, never felt so emotionally engaged in a vacation – so the sudden inability to return feels personal, too. We'll simply never get to play make-believe in a galaxy far, far away quite the same way again.
We just didn't want to leave.