Well, a week ago, this was the scene at my office: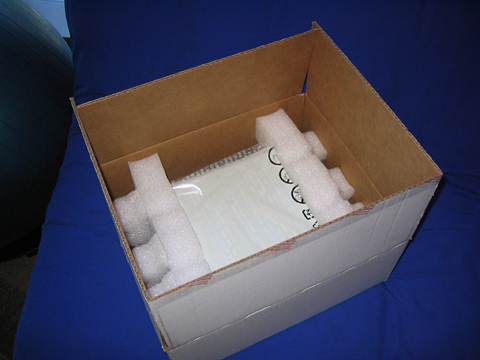 That's my three-red-lights 360 in its cozy little cardboard coffin. Microsoft sent me the shipping container for my return in just one week. Came with its own pre-paid UPS shipping label, too. I turned it around the same day, of course. The tracking number said they received it in Texas on Sunday.
The next day I got this email from Microsoft:
This e-mail is to let you know that we have received your request for service. However as of today, we have not received your Xbox console and would like to verify that you wish to continue with the service.

If you have not received the shipping materials or are having a problem with the shipment, please contact Xbox Customer Support. If your Xbox console no longer requires service, you can cancel your order by accessing http://service.xbox.com/servicesignin.aspx. You will need your Windows Live ID and Xbox console Serial Number included above to access the status of your order. Once you have logged in, click on "Review your repair status". Or, please let us know and we will cancel the order for you. If we do not receive the Xbox console within 30 calendar days from the date you first requested service, your order will be automatically cancelled. If you wait longer than 30 days, this service request will no longer be valid and a new service request will be required.
So, wait…you have my Xbox, but you don't know it, so I have to stop you from cancelling the repair? I think, because I changed my address to have the box delivered at work instead of my home, that they "lost" my machine. Ironically I did this so I would not have to worry about the coffin getting blown away in the wind outside my unprotected doorstep; it was safer and easier to have it sent to the office. Now it's in limbo. Guess it's back to the phones to figure it out — and that worked SO well last time.
Meanwhile, I'm playing BioShock with my hard drive on a borrowed system from the office and loving it…except that there's some sort of glitch that freezes the game as it accesses from the hard drive. Ugh. It's like playing a slide show when you're fighting a Big Daddy. I've tried clearing the drive cache through the secret cheat code, and I've deleted some of my unnecessary files and save points. When do we get an auto-defragmenter for this thing?