I am a sucker for customer rewards program. I always sign up for frequent flyer miles, and I will shop at a different supermarket if it gets me more invisible points with someone's redemption scheme. As a guitarist, I have often bought D'Addario strings. They're usually the cheapest option, so that makes them attractive. But they also offer Players Points, so for every pack of strings you buy, you get 3 points. Turn in the points for swag like t-shirts and pint glasses. Simple, but the idea of getting something free (not that a $10 t-shirt after buying $60 worth of strings is really "free") does influence my decision.
With all the guitars and basses in the house, I buy a lot of strings, which means a lot of points. I also buy cables and accessories like that, which nets me even more points since Planet Waves is part of the D'Addario family. (I love the Planet Waves stuff because it's always cleverly designed and high quality — Lammy's tuners and most of the cables for my PA are Planet Waves). And best of all, the points don't expire, so I can just hoard them for years.
Which I did. I didn't see a t-shirt design I liked for a while (they change annually) so I decided to go for the biggest item on a list, a stool. I always wanted one. It's totally mundane, but there you have it. It's practical and it became my white whale. It was 120 points, but after about two years of collecting points, I finally sent away for it.
That was July. After six to eight weeks, I dropped a note and asked for a status update. They acknowledged my order but said they were waiting for stools to come in. A few weeks later, I was told they were still backordered, but I'd have it no later than the first of November. And when I wrote in in early December to inquire about it…I was told that my order had been lost.
But…they said "we're putting in a new order for you right now, you'll have it within a week." And I did!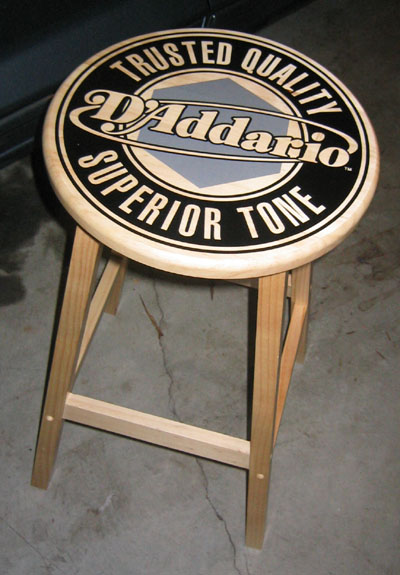 It came during a busy day at work but I had to take a few minutes to put it together. It was a major award! I wrote back to D'Addario to thank them and let them know I got it safely.
Then, a week later…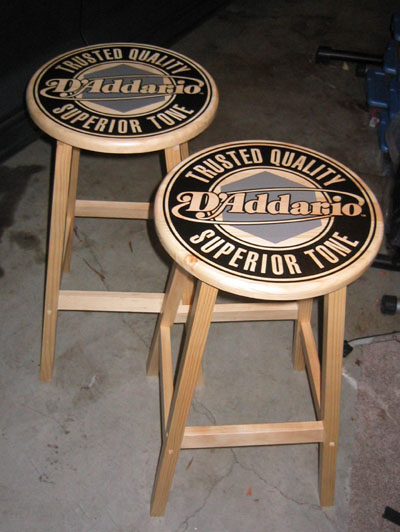 I guess my original order wasn't so much lost as processed without being noted. I wrote in and asked if they wanted it back, but I figured the shipping wouldn't make it worth their while. I even offered to send in the 60-odd points I had collected since. They said no, but thanks for being honest, and enjoy the matched set.
I never lost my temper, I never send a rude e-mail, and they stayed cordial throughout too. It was an accident, in my favor, but I think one of the reasons they didn't care about me sending it back is that I was never a dick about it. So often I see people get irrationally angry over, like, minor human mistakes, and karmically, I just didn't want that on me this time. Patience and understanding wound up with a happy ending.
And hey. Free stool.