Yes, I was one of those people who got up early to get an iPhone this week. My contract with Verizon was up, my Razr was starting to die, and I resented having to hack it to do shit it should do in the first place — transfer files, homemade ringtones, copying off photos I'd taken, charge from my computer's USB jacks, stuff that Verizon locked out. I was grateful for the hacking community that made all those things a reality for me, but I also had bad gadget lust when the iPhone came out.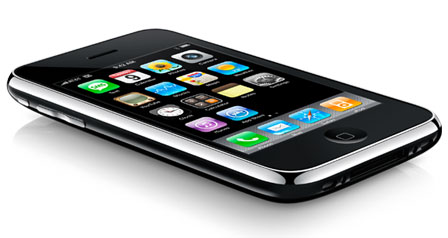 Kat had it even worse, and as a freelancer she has a business reason to have a smartphone. It's a miracle she lasted this long without one, but the plan for the last several months was to get the 3G iPhone — and when there was that false start a month ago, those plans became solid. Kat woke up (that is, didn't really sleep anyway) at 4:30 to go get in line. I thought she was nuts; isn't the iPhever over? No, she was 13th or 14th in line, sitting behind people who'd brought a camping mattress. I had to travel Friday on short notice but I wasn't going to let that screw this up for her. I joined her in line at 7am and was stunned to find 50, then 100 people stretching around the AT&T store. She was right again — people were losing their minds and had gotten there as early as 10pm the night before. So, thanks to her forethought, we were both able to get 16GB black iPhones. (I almost got white. It's going in a case anyway, who really cares?)
Due to authentication troubles, I had to take my trip without the iPhone in hand, but since it switched over my number while I was in the air, I wound up not having any phone at all in the trip. Doh. But when Kat picked me up…I gotta say, this thing was worth the hassle.
The Good:
I didn't have to do anything special to get my existing iTunes to recognize both my iPod and iPhone; setting up the phone to just sync the songs and movies I wanted it to have was not a big hassle. Actually, I can have them both connected to the PC at the same time, syncing and charging.
I had custom ringtones and wallpapers on the phone within an hour.
I love being able to hit Google in the car, find the name of a song during a conversation about music, or comparison shop online while I'm in a store. Oh good lord yes.
I can take photos and download them to my computer without having to pay for it, the way Verizon expected me to do it.
Games are now a reality. I hate traditional cell phone games; every time I tried to play one, it was either difficult to use, disappointing to experience, or both. A big touch screen, a fast processor, and a good toolkit make a huge difference. I'll get into the games and apps more in a later post.
UPDATE: It uses my existing iPod chargers and cables for the PC and for AC adapters, but not in the car. It's something, but I'm bummed that I can't use my old car charger.
The Bad:
AT&T's Incipio case is $20 of crap. I got it because I wanted a case for the plane ride, but the protector shield was a dust magnet (on the underside of course!) and the silicone sleeve was a sloppy fit. I bought a lovely Belkin sleeve the next day, so my only recourse is to tell you not to buy the lame AT&T one.
Battery life with everything turned on (Wi-Fi, GPS, Bluetooth, 3G) is understandably short, especially if you play games and watch movies and stuff. A daily charge would be required if you left all of it on all the time, and you'd want to invest in a car charger just in case.
Still had to buy my custom ringtones at $2 each — and I was buying iTunes versions of songs I already own on CD. I wish I could just edit audio files myself and create my own ringtones, but I had to hack my old phone to let me do that too. It's a fight I'm not going to win. [UPDATE: Um, figured it out. There are multiple, non-hacking ways to create custom ringtones, and we've gotten two of them to work perfectly so far.]
I am baffled as to why my email will not work. I can link my rarely used Gmail account but I cannot get my main bunnyears mail to play nice, and I've checked and rechecked all the server settings. Grr. Gotta be something.
Overall? The timing was right, I'm glad I waited, and I'm happy so far.
Of course, I haven't actually gotten a phone call on the thing yet…