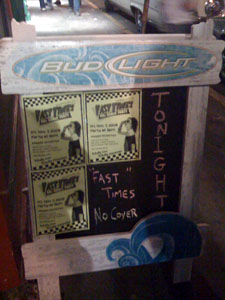 It went well. Since it was my last show, all the little less-than-glamorous things that any gigging band has to do were amplified — can't find parking, load-in is a hassle, small dressing area, not enough space to store gear — and I re-injured myself right before the gig, so I had some trouble moving around and really pulled a whole network of muscles on my left side on a guitar jump, which may or may have been evident. But I have no doubts that the audience had a good time, and I truly believe we put on a show worthy of a rebooking. That was kind of the point of this gig; before I decided to depart, it was to be the new beginning, getting out into SF clubs and rebuilding our reputation as a great live band worth booking. We'd kind of gotten so into doing weddings and casinos that we lost recognition around town. The band had snap bracelets with our URL made up to give out the crowd, and the crowd loved them — smart marketing when everybody's drunk. You wake up the next day and you remember who you danced to. So we left a good impression and set up for future gigs — can't ask for better than that.
It was also nice that so many friends were in the audience. I didn't want to market the show as my farewell for the marketing reasons stated above, but I did let folks at work and in the industry know that this was sort of the last chance. Andy, Bissy, and Meghan have always come regularly, so it wouldn't have been the same without them; Chris Kohler was there, who not only genuinely seems to like the band but has dragged friends to see us as well; I heard that Will Smith (the other one) and his lovely wife Gina were in attendance, but I didn't get to see them; and the happiest surprise was that ex-FT bassist Tim (aka Chewie) and his wife Susan showed. Tim's been understandably shy about seeing the band after leaving it, so it was a nice moment.
Kimzey made cupcakes for the occasion. They all had frowns on them. Six of them were decorated with faces of band members. The only smiling one, she said, was supposed to be me.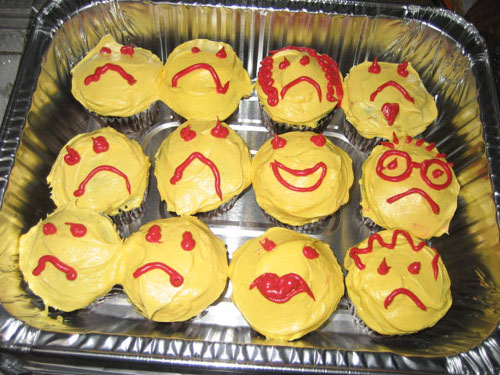 That was sweet on many levels. And I was delicious.