About nine months ago I decided I wanted to a) stop using bootleg software for audio work, which I'd been doing for several years; b) learn Pro Tools, which is the industry standard, and c) set up a better home studio, with dedicated monitors and a simplified interface. I have a great desktop mixer but it's kind of overkill for what I need, and I don't have tons of space on my desk.
I found a nice Mbox 2 Mini package with monitors and Pro Tools LE 7, and I thought, well, that's that. I adopted Kat's backup Macintosh (as a freelancer, it's important that she have a spare if her main machine goes down), installed Pro Tools, and set about going legit.
There were only a few problems with this plan:
1) Pro Tools kept giving me error messages about the hardware buffer. The MacBook is totally up to the task — dual core, more than 2GB of RAM — and it's saying "no." But it's a laptop and apparently PT needs a second drive just as a target recording drive.
2) Oh, and my USB 2.0 drives wouldn't work — it had to be FireWire.
3) And it had to be a FireWire drive using a specific Oxford chipset.
4) When I plug the Mbox 2 Mini into my PC laptop — an unimpeachable, rock-solid Dell Latitude D630 — it blue-screens. USBDRIVER.SYS totally vomits all over itself. I rooted around online and found that it could be this device overloading my USB bus. It's a laptop; it's not something I can change. And I really want the convenience of using my existing XLR condenser mics with either machine — so this was the last straw. If it doesn't love my computers, I shouldn't keep it.
Therefore, it's on eBay. I am keeping Pro Tools LE because at least that puts me on an upgrade path should I find a future version is perfect for my needs. But I've found a Line 6 TonePort UX2 on clearance that seems to do everything I need and with more stability (and for about the same money I'll get for the sale of the Mbox). I'm a Line 6 fanboy so it feels good. Also, the UX2 does more and looks fucking awesome: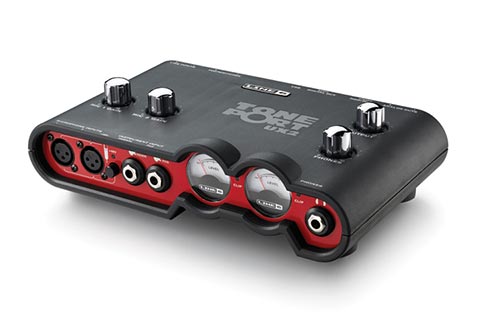 I'm also going to give GarageBand a whirl, because a) I have already it, b) Jude uses it for his half of PSN, and c) lots of people say nice things about it. Maybe some day I will take another swing at PT, but for now, I'd rather have fun making music than fight the tools I'm using.