Les Paul died today, at the age of 94. Gibson's announcement is as nice a retrospective as any. I actually had him in a death pool, and he's the only guy on the list I was not looking forward to getting points for.
As morbidly cruel as I often am, I'm actually pretty broken up about it. And namechecking him in the last blog post was honestly coincidence — I was trying to think of something from the previous generation that I would have never been exposed to if someone hadn't shown me the value. Les Paul is still a good example of that.
I've already seen a ton of people saying "OMG RIP guitar dude" on Twitter, and the media will provide plenty of retrospectives, but if you are curious at all to know more about the man behind the famous guitar, there's really only two things you need to do.
First, see this film, Chasing Sound. It's a brisk, fascinating, fun look at his life with himself as the narrator. It puts all his accomplishments in proper perspective — inventor, musician, innovator, and all-around no-bullshit guy who was confident in his abilities. You can find it at Netflix.
Second, buy some of his music. There's a four-disc box set which is overkill for the morbidly curious, and even hitting the greatest hits of Les Paul and Mary Ford doesn't really show what the guy was about. I strongly recommend Chester and Lester, where he and fellow guitar legend Chet Atkins simply sat down in the studio, hit record, and goofed off while playing inspirationally beautiful versions of old standards. (For reference, Les is generally on the left, and Chet is on the right.) The playing is phenomenal, the spirit is pure, and you'll never hear a more honest and unprocessed document of Les Paul's playing — particularly rare for a man who was known for studio experimentation and tricks with tape. They did a second record together, Guitar Monsters, which is harder to find, but I bought the two-on-one disc reissue some years back, so search the used bins and you might find the version I own. Were it in print, I would recommend that edition, because the second record is funnier and has even more studio chatter. But $8 for the first record is still a good investment.
The guy played weekly at a jazz club in NYC until he took ill with pneumonia. He was gigging at 94 years old.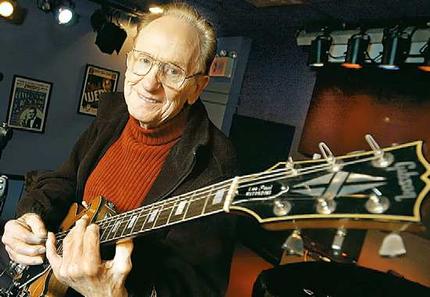 If good music and good ideas are all he leaves behind, that's plenty.