Two of my favorite music stores — Gryphon and Gelb — are closed Sundays, and I never seem to be near them Saturdays. Today we knew we'd be near both stores so I arranged time in our schedule to go and window shop. I mean, you never know what you're going to see for the first and last time, and it's good to be ready to jump…but I just like looking anyway. I don't like to be that guy trying everything and buying nothing, so I usually don't even ask to play anything. But I did play a number of Taylor soldbodies and I think I now know I don't want one; they just don't fit me yet. Maybe later, but this model doesn't connect with me. (But after playing the T5 12-string? Sign me UP.)
But a swing by Gelb to see what they had on the walls (I have been particularly curious about the Paul Reed Smith McCarty Korina — I loooove korina as a tonewood) revealed a tiny little Ibanez Mikro GSRM20 bass. And even though it was shiny blue, it didn't grab my eye — it grabbed Kat's.
Now, we have a deal: I don't get new guitars unless I sell an existing one. I understand the necessity behind that very fair rule, and I have now gotten the guitar and bass count in the house to under 20 (15 are mine, the rest are Kat's basses). So for something to grab her eye, well, I do get to say the same thing. "Do you like this more than your Fernandes Nomad Bass?" I asked. She said yes. Her face just lit up when she saw it, and again when she held it, and again when she played it. So she said "I can't put this through its paces, tell me if it's good." So I played it. Um, wow. A bass for $180 should not be this good. Full-size pickups, a solid bridge, even the setup was pretty damned good out of the box. Great neck feel.
It's clearly a bass aimed at kids (the other colors in the store were black and metallic pink). It's a very short-scale instrument (28″ instead of the usual 34″) but I play a short-scale guitar (24″ instead of the 25.5″) and it feels great in my tiny hands. Kat's hands are similarly small. The knobs are embarssingly plastic, and I figure the thing is probably made of agathis or some other horrible wood, but I trusted my instincts — if she liked this more than her other bass and she would play it more often, it had my endorsement. So, we jumped, and we'll sell the one she doesn't play. We will likely make a profit on the deal.
I got home and found it's not only gotten some good user reviews, but it's made of mahogany. Yeah. Fucking A.
Now, it's worth noting that if you search for this bass online, it looks like this:
That's Dan Amrich Blue™ but otherwise unremarkable. What would grab your eye? This.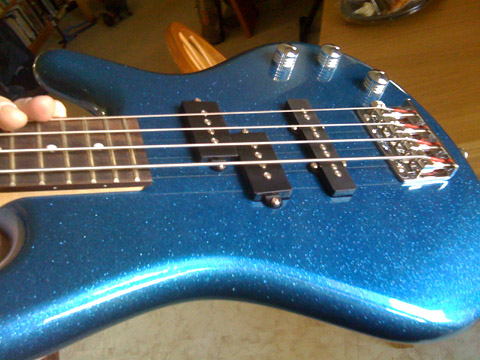 They don't show the metalflake at all in any of the promotional materials. And it's gorgeous. My photo does not do this justice. Kat used to have a Yamaha BB404 in metallic blue which also looked pretty, but it didn't feel half as solid as this.
So if anybody wants dibs on the Nomad Bass before I put it up for sale, speak now. It's also great, but Kat just wasn't playing it, and…well, you know the rule.