My repair history is spotty. Taking things apart, I'm an ace. Making them work the same, if not better, afterwards? Not so much. But when the volume/wah pedal on my POD xt Live started sticking and making a horrible squeak, I knew I had to take action, even if it looked a little inimidating.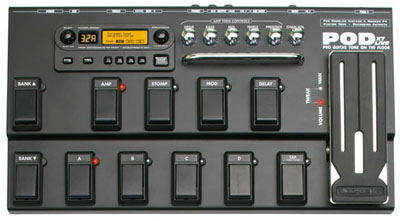 Other people online had complained about the same squeak problem and said they made it go away with a little WD-40. "WD-40 is evil!" screamed others. Someone suggested powdered graphite, which is used to lubricate locks; other said to just loosen a screw. Seemed safe enough. My warranty expired years ago, so it was time to open that sucker up and fix it.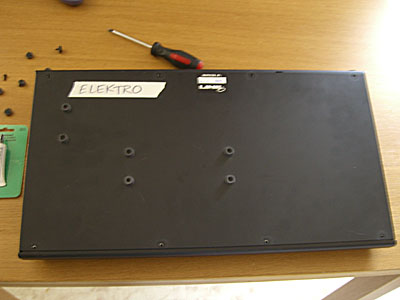 I used a POD xt Live instead of an amp in Fast Times, as did the far more talented lead guitarist, Bistie. Our stage gear looked identical so I put a little lightning bolt on the front of mine with tape, and my stage name on the back. One of the reasons I wanted an xt Live was because it works with the digital Variax guitar that Line 6 also makes — one stomp with your foot changes not only the sound of the emulated amp but the emulated guitar that plays through it. I use a Variax on all the Palette-Swap Ninja songs, so I actually find I'm using this more now than I did when I was playing in the band.
If you're reading this as someone who wants fix the squeak on your own xt Live, unscrew all the little rubber feet including the two underneath the pedal (which I hadn't yet removed when I took this photo). Leave the four in the middle alone.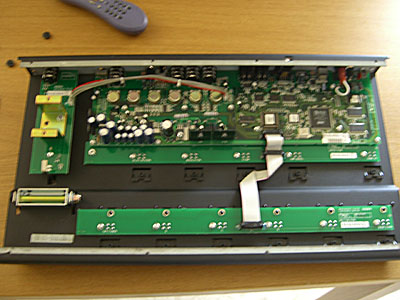 I was amazed at just how clean the build was inside. I like Line 6; their stuff is built like tanks and I figured it would be neat and organized inside…but I didn't expect that.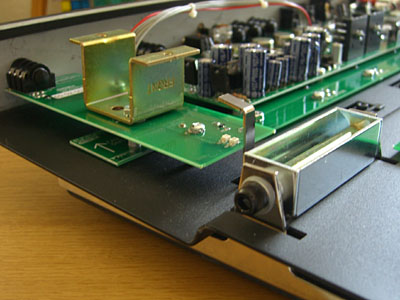 This is the actual pedal assembly; there's almost nothing to adjust. That gold-colored bracket screws into the bottom of the unit for stability and strength. The L-shaped silver bracket sits opposite a sensor that reads its position; there's no potentiometer like in a regular wah/volume pedal. But the squeal was coming from the rectangular box below it — the hinge.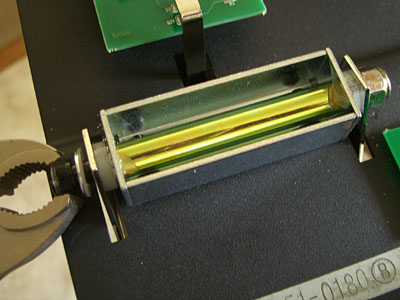 One side is a hex nut, the other is an allen key nut…and none of my nine allen keys would fit it. So hurray for vice-grip pliers. I was able to disassemble the whole thing (though I didn't really need to) and shoot some graphite in-between the plastic washers. I'm pretty sure they were the culprit. Some fiddling with the wrenches got the hinge flowing freely, without being floppy (it stays in place if you want it at half-mast) and without that hideous racket.
When I put it back together it worked…with one exception. "Zero" on the volume pedal was no longer zero — I could only lower the signal to about 20%. The pedal was out of calibration, but the fix was easily found with a web search and easily performed shortly thereafter.
So, success. Chalk one up for The Repairdan. I like buying new guitar toys, but not so much that I want to toss my existing gear over small problems like this.