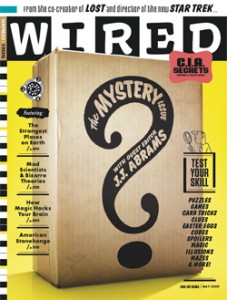 This issue (May 2009) makes me so happy. J.J. Abrams is the guest editor, which gave the Wired team an excuse to fill the magazine with small puzzles, coded messages, and a metapuzzle that runs throughout the mag.
I tried to do something like this back at GamePro — twice — and it was the wrong magazine with the wrong audience at the wrong time — twice. But I always felt that magazines could do things like this. They could be more than just a collection of articles, if you gave the audience enough credit. You could truly dig into what the print medium does well, with design and type and frankly the expected banality of print conventions, to make for a very rewarding experience for your reader. And of course — and this is the message I keep trying to preach — you create interest in a form of media a lot of people take for granted, and would like to believe is dying altogether. Despite my personal love of puzzles, the marketing angle seems like a slam-dunk if you're trying to build product awareness, particularly buzz for an impulse-buy print magazine. It's certainly working for Wired, and I am absolutely thrilled to see them pull it off. As a reader, no single of Wired made me happier, ever. Not even the ones where I wrote some of the articles.
I have more to say on this topic but I think you'll have to buy me a drink in person to get me ranting about it.
Go buy this issue of Wired you still can. It simply isn't the same experience if you're reading all these articles online.