In-between yesterday's day-long computer massacre — the sound card took another six hours, not one, before it was tamed — Kat took me out for a meal at uWink, which is Nolan Bushnell's latest business venture. He's the man who founded Atari, then launched Pizza Time Theater, a.k.a. Chuck E. Cheese. The guy knows about games and restaurants colliding. I got excited when I heard about his plans for an adult gaming eatery two years ago in a Wired article; Nolan spoke of ordering via digital touch-screen menu, then using that same screen to play games with the people at your table and everybody else in the restaurant. That sounded like heaven — not only do I still go to Dave & Buster's whenever I can find an excuse, but I used to go to TGI Friday's just to play NTN trivia (now Buzztime) against everybody else in the place. I was thinking, okay, this is like that only NTN is not an accessory to be turned off when a big football game is on the other screens. So as soon as I found out (also through Wired!) that a few locations had opened — including one in near-enough Mountain View — Kat and I planned a late lunch.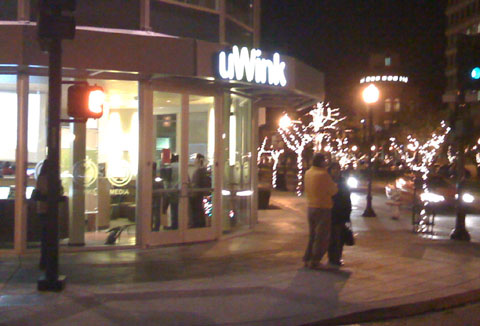 Well, that was the plan; it turned into dinner. See, we got there only to find that uWink is open from 11am to 10pm…but not in a row. The place is open from 11 to 2 and 5 to 10. We arrived at 4, so we walked around town a bit and I actually heard someone say "look at that guy" while I was in the used bookstore; I turned around and they were pointing at me, then laughing. That made me feel great.
So when we finally arrived, I was in for the first surprise. I thought the original article said that the touch-screens were built into the tables, like the Microsoft Surface. Instead, flatpanel screens are bolted onto tabletops.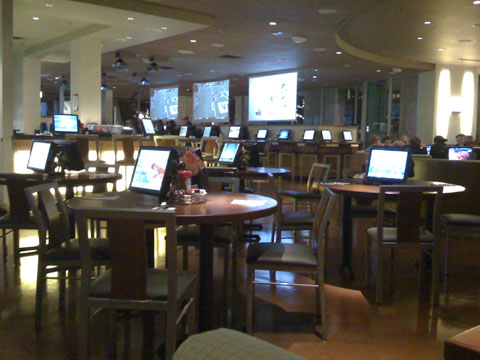 Kat and I were escorted to a booth. The tables are wide so you still have room for meal plates.
Ordering is easy and kinda cool; I always feel weird asking for my food in a restaurant and I never ask for anything off the menu or special. If it comes with tomatoes and I don't like them, I just take them off. But with a touch screen, I can say "hey, hold this and that and the other thing" and it's all good. Of course, that also meant that I accidentally took the blue cheese off my blue cheese burger, but I felt fine knowing it was my fault and not the kitchen's!
Servers bring your food and drinks to the table, so Kat asked about the games. The system works like any other arcade, where you need to buy credits. Since we were sharing one bill for the whole table (all two of us), we asked if we could also split the credits between us. The manager said yes, so we ordered a big pile, thinking we would likely burn through games quickly.
Aside from non-interactive fare like some 360-degree digital photos and movie trailers borrowed from IGN, many of the actual games were single-player variants on old standards — a solitaire card game, a straight-up Bejeweled clone, a version of Who Wants To Be a Millionare? cleverly retitled Zillionaire. I thought, cool, we're going to poll other players in the restaurant for lifelines…but no, it's really just single-player. There were only five selectable multiplayer games in the system, which included a clone of Taboo called My Word!, an awkward social question-and-answer game called First Date, and a strategy game called ColorWar, where you tried to connect your wave of colored icons with others on the playfield to own 51% and win. That was a one- or two-player game…but the problem was, it was only a two-player game on my side of the table. Kat played and her screen was not networked to mine. What we realized was most of the multiplayer games were designed for a table of four people. Even My Word! kept score by simply having a button that said "We got it!" So, high tech, but kinda low-tech too.
So where was my big restaurant-wide trivia game? It's mentioned on uWink's website, something called Trivia Live, and it was exactly what I was looking for. I never got the chance to play it, in a 90-minute visit. At what I guess are standard intervals, the large screens that adorn the walls (which were showing baby photo slideshows and — of course — football) announced that there would be a group game in two minutes; all you had to do to be invited was exit whatever you were playing by then. It didn't tell you what the game would be, though. We played a "spot the differences between these two photos" game, and an anagram game (twice). It was cool to see my name up on the board, but the games didn't happen frequently enough (I thought they were on a 15-minute rotation until they stopped coming up that often) and there was no way for patrons to start them on their own. Like, I figured I would be able to enter a queue of interested players — "click here if you would like to sign up to play trivia, or anagrams, or whatever" — the way you can if you go to a casino or card room and ask "Who's up for low-limit hold 'em?" And then if enough people sign up as interested, the poker game starts. Unfortunately uWink doesn't work that way; the restaurant picks its own games and you either play or you don't. In an interactive restaurant, I want more chances to interact.
And speaking of which, Kat and I actually didn't interact much with each other during the meal. We found the First Date game boring and forced, and the other games needed either more players at the table or a different seating arrangement so we could share a screen for ColorWar. But I think it was only natural that we both wanted our own screens — we are both gamers, after all. Also, having two monitors bolted into the middle of the table means you only get to see the top of your friend's head.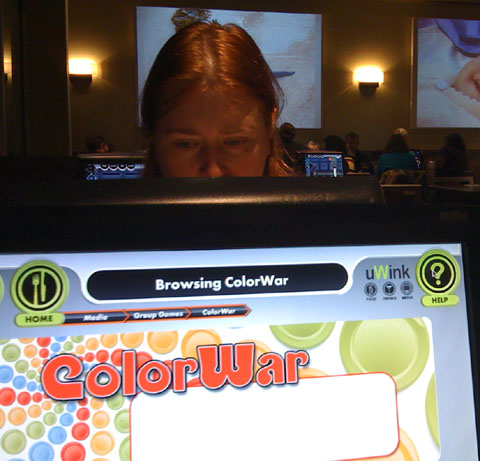 Also, the single-player games have no pause button, so we actually both lost our respective timed puzzle games when a server interacted with us. For a new social eating experience, it was weirdly insular.
At the end of the meal we realized our $10 worth of gaming credits was still untouched, even though we'd played the whole time. When I signed the bill (with my finger  — which I had to do three or four times to get it to look like my actual name), I got a note that said I could redeem unused credits for coupons. So I asked the greeter, and she said "Oh, we don't do that, since all the games are free right now."
Um, they're free? Remember when we asked the manager if we could split one pool of credits? He said yes, not "actually, they're free at the moment." Mistake or slimy tactic? Not sure. We got a refund for our game credits.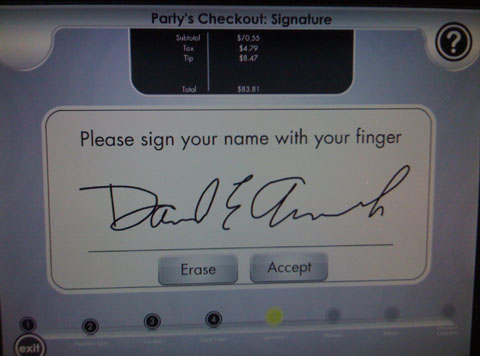 Ultimately, uWink was underwhelming, especially having been eager to see what Nolan had planned for two years. The food was merely okay, the social aspects were strained, and — while I'm sure there was no way for uWink to predict or react to a market change like this — we had comparable single-player gaming on our iPhones. Hell, I was Twittering during the meal and I was thinking about The Price Is Right app that I'd downloaded last month from Apple's Marketplace. If I didn't want to play games with Kat, I could have ignored her at the table using what I brought with me! When a cell phone can give me more compelling gaming options than a restaurant built expressly to embrace gaming, it's time to revise the software and put more power into the fingers of the diners. Whether they know it or not, uWink is still in beta.