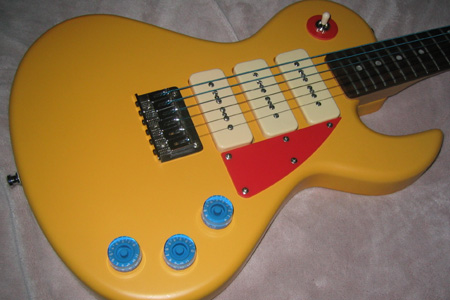 I have two rules when it comes to collecting guitars. I didn't start out with rules — I didn't even start out to be a collector! — but in looking at what I've acquired over the years, there have been two constants, which became deliberate choices after I noticed the pattern:
1: Nothing in brown sunburst. Any other colored burst is fine (Kat's bass is a sparkly blueburst; the T5 is a blueburst over a tiger maple top), and even just showing the natural wood is fine. I know it's "traditional" but after 50 or 60 years, isn't it time to break with tradition?
2: Nothing in black. In this case, it's not even tradition — it's a cliche. For some reason, it's even worse in the world of bass. For every 14-year-old who says "I want a bass," I always reply, "Oh, good! What shade of black are you going to get?" Playing a black bass does not make you a stud. It makes you a sheep.
Now, my guitar tastes run toward the unusual. I like guitars that respect the truly classic American designs, and I have my fair share, but I usually buy ones that put their own spin on those designs, have some special relevance, evolve them in some interesting way, or just plain make you do a double take. But no matter what I've gotten, those two rules have always been in place: no sunburst and no black.
Baaaa. Baaaaaaaaaaa. I bought a black bass last week.
Mind you, it does strongly illustrate the evolution point. I have been using Line 6 gear for six or seven years now. I loved their POD guitar amp simulators, so I bought their bass unit to match. Then I upgraded to a newer POD, then a floor unit, which I used on stage with Fast Times. Then they started making guitars, so I tracked down a Variax 500 in (thankfully) candy apple red — it thinks it's two dozen different guitars, so I can go from Telecaster to dobro to Les Paul to Rickenbacker to sitar by turning a knob. It's also entirely programmable via Windows or Mac, via POD and a USB cable. I can make custom hybrids and weird guitars that should not exist but now do, virtually.

The black bass I got is a Variax bass. It does most of the same things as the guitar, but for four-strings — six flavors of Fender, plus Rickenbacker, Steinberger, Gibson, uprights, even some synth toys. Being a Beatles fan, I've been lusting after a Hofner violin bass for years, but they are fragile and limited. The Variax model based on the Hofner got high praise, so to be able to have that — AND Flea's Modulus bass, AND a Stingray, AND a freakin' 8-string — well, it was worth breaking the rules.
The eBay seller sent the wrong gear with the bass, plus there's a noticable ding in the front that he says wasn't there when he shipped it. I had to take off the knobs to remove the bits of frayed plastic that once protected the pickguard; the pickguard screws were rusted from sweat, and the strings show corrosion, so they're getting changed. I put on Schaller straplocks as usual (had to do the toothpick-and-wood-glue trick since the previous screws were on the beefy side), and I tried a few straps to offset the boring blackness of it, but — embarassingly — my lovely 2.5″ basic black suede strap works best. Anything else takes away from the interestingly shaped pearloid pickguard. I have to admit…it looks classy. All my other guitars offer form and function, but this time, I had to be honest with myself and say that I value function over form. And it's not ugly.
Besides, they only made this bass in two colors. Guess what the other one was.
As a result of this acquisition, I am regretfully selling my uber-funky Fernandes Vertigo bass if you are interested. It's this one — heavily customized (Lace Sensor pickups, Badass II bridge, Q-Parts knobs, solid tuners, and of course Schaller straplocks) and totally refinished in non-factory-standard Sherwood Green nitrocellulose. Just drop me a line if you're interested, because I have to obey the "one-bass-enters, one-bass-leaves" rule.