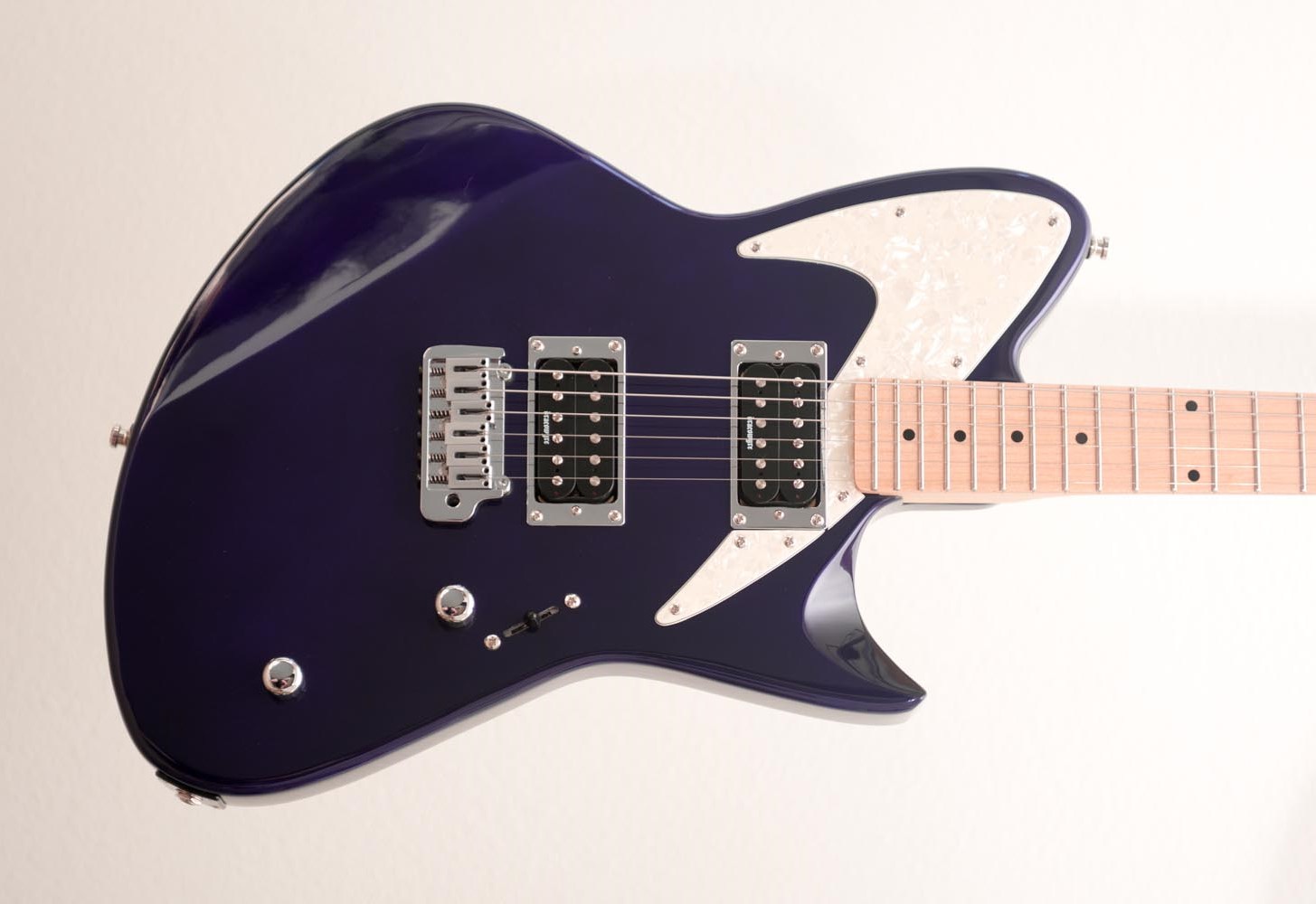 I got a great deal on one of the first Retronix R-800s — the Korean-made models of J. Backlund's designs — thanks to Kickstarter. Fantastic look, very comfortable neck and body contours, trem bridge with coil-tapped humbuckers — extremely well built and designed for flexibility. The company even threw in a hardshell case as a surprise to backers, custom-fitted to the unusual shape.
The only thing that bugged me about it was the color. The Cobalt Blue turned out to be a lot darker than the prototype photo suggested — "blurple" at best, and to my eye, almost black unless sunlight was shining directly on it. I was really bummed, to the point where I considered selling it, but then realized maybe I should just have it refinished. And so…
When I returned to the Bay Area, I contacted my old friend Greg Philpott at Orbiter Guitars and asked if he was up to the task. Greg had previously refinished one of my basses and we share a love of shiny hot-rod finishes, so I suspected the answer might be yes!
The first thing Greg did was disassemble and strip it "like a chop shop on a hot car," in his words. When he did — and shined a direct light on it — the finish looked more like what I was expecting, even though Kat's photo above is 100% accurate to the guitar's colors in normal light.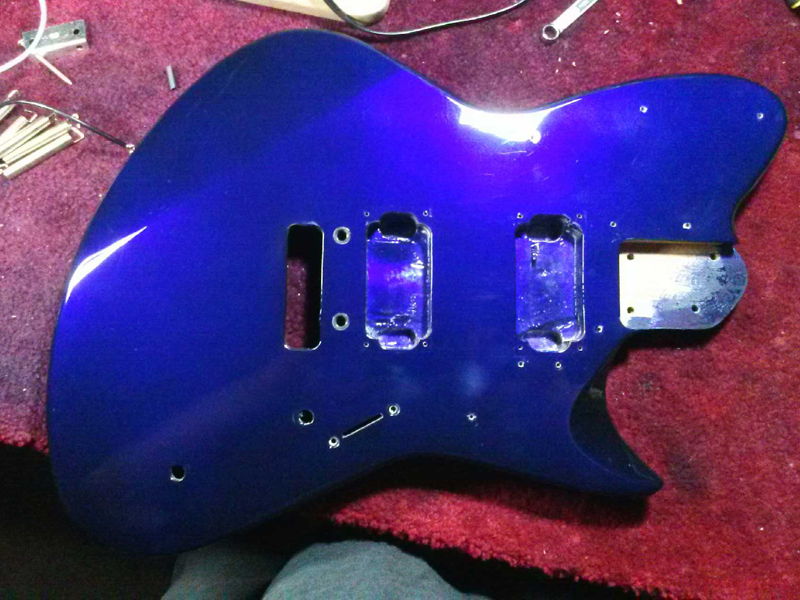 It didn't take Greg long to figure out why it looked so dramatically different: There's a layer of purple pearl on top of the cobalt. Over a silver or white, that purple pearl might have looked really cool, but here, it just choked the intensity out of the cobalt and made everything muddy and dark. So it wasn't just my crazy eyes this time — that's not cobalt.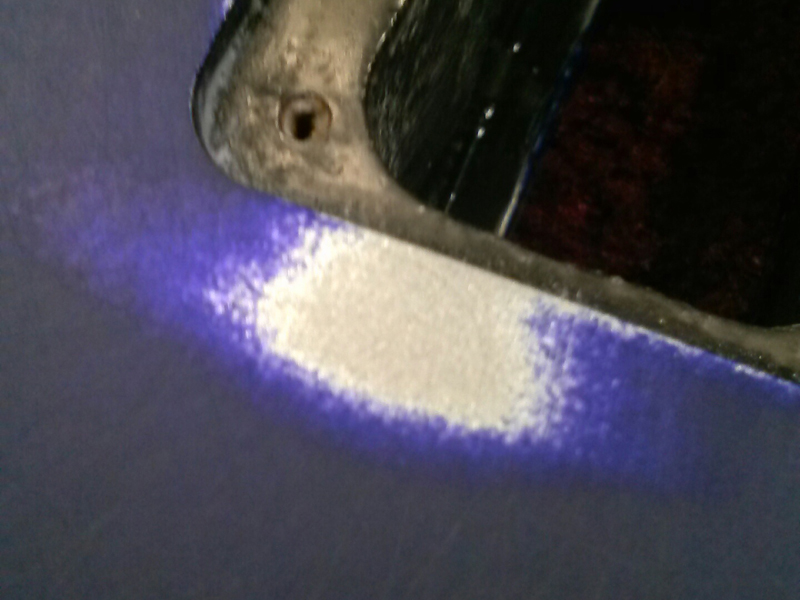 As Greg sanded it down, he uncovered the layer colors and even found an imperfection or two on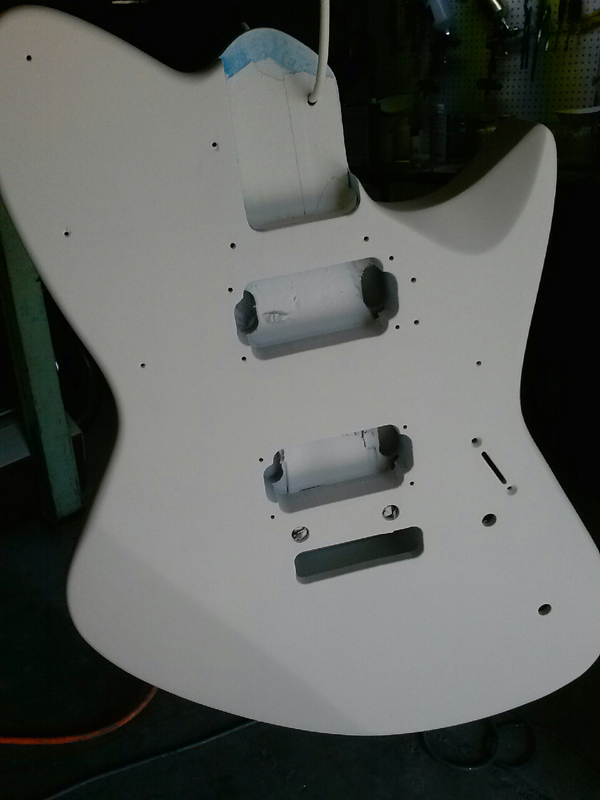 the original paint job. He quickly had the guitar primed for re-painting (note the blue in the neck pocket).
My original vision for this guitar was always something bold and dramatic — a metalflake finish in green, teal, or orange. I have a guitar or three with metalflake finishes which I love, but after discussing the difficulty (and expense!) of applying flake finishes, we decided on a non-flake candy tangerine.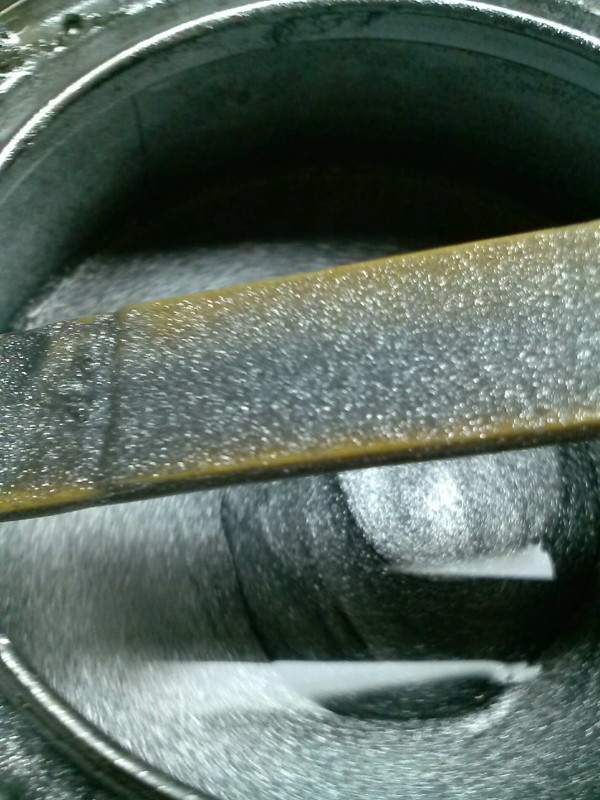 What I was asking for involved painting a translucent "candy" color over a sparkly metallic base (over the primer). Each layer takes several coats, the color growing richer with each one, and the finish needs sanding between each coat. To make the orange pop, Greg sprayed a silver basecoat. Some guitars are sprayed over a gold basecoat, but that would have made for a darker orange with more red in in it. Three or four coats of silver already looked sufficiently awesome: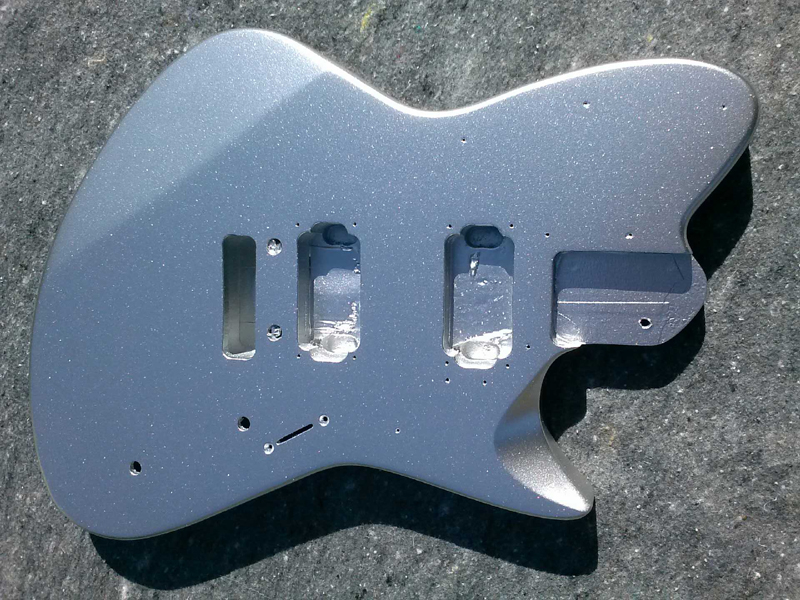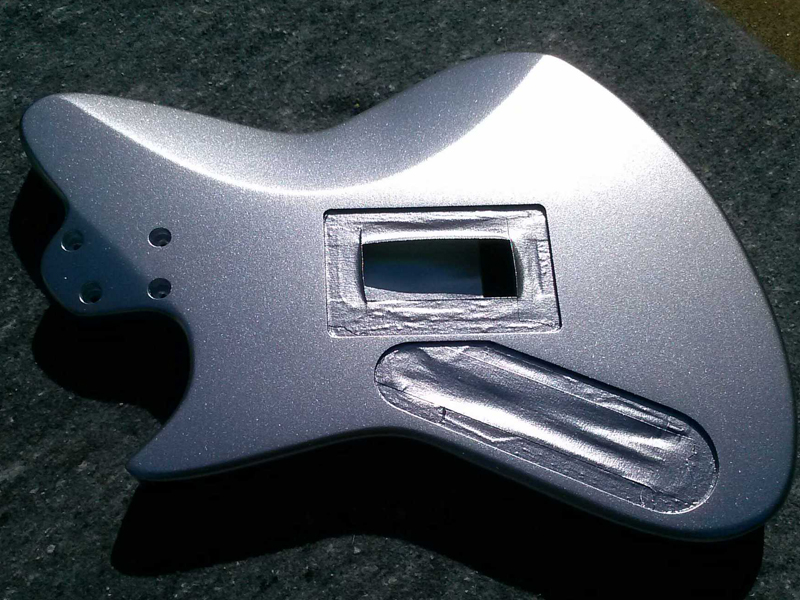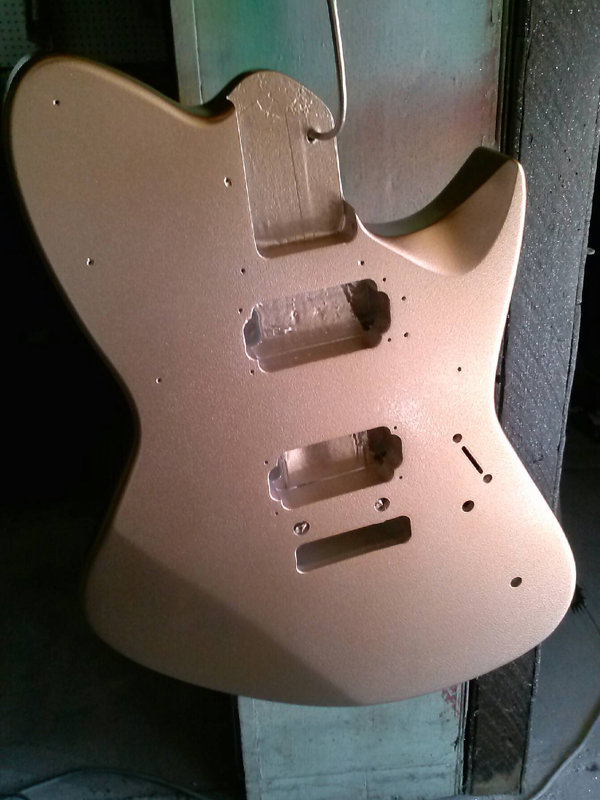 I was looking for what I called "orange soda orange" or "creamsicle orange" — what Kat would call "orange with a lot of yellow in it." We chose House of Kolor Kandy Tangerine for the job, which looks pretty damned good on curvy objects. Just one coat didn't look very orange at all — more like a light dusting of copper. But as Greg built up more layers, the intensity kicked in.
Plenty of sparkle from the silver layers comes through, but it's deliciously orange! The cutaway has a cool beveled edge which I think will really show off this finish.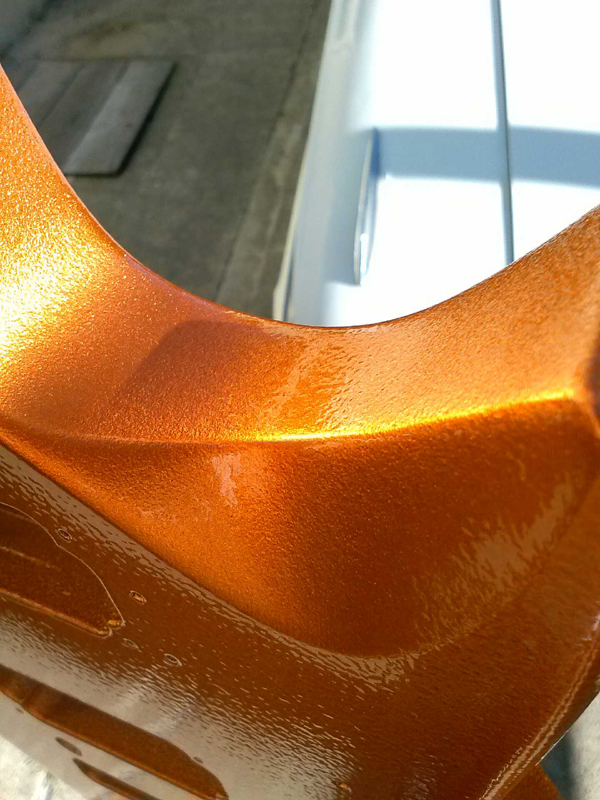 You can see a rough "orange peel" texture in this mid-stage photos, which means these coats still need sanding before the clear coat seals everything in.
A day and one or two more coats later, plenty of the silver sparkle is showing through in direct light — it definitely has that fizzy orange soda look to it. Cobalt blue? I don't even remember what it looks like.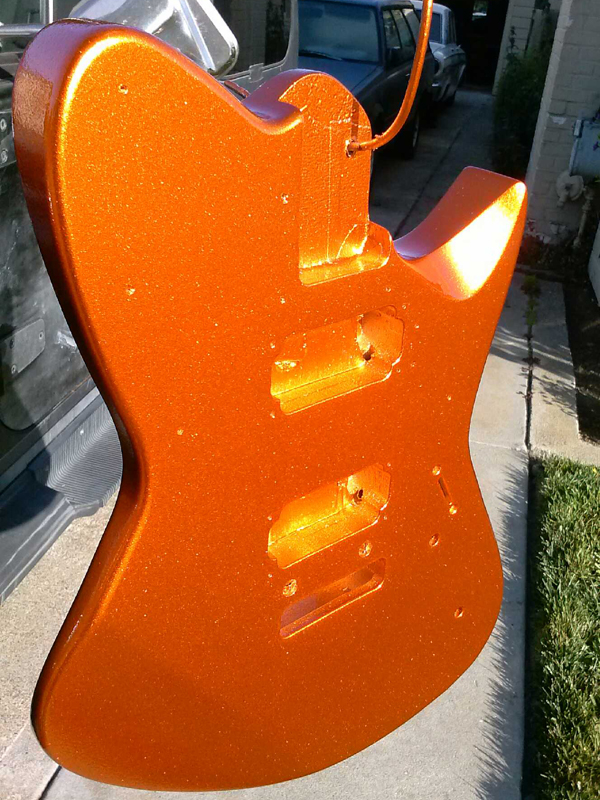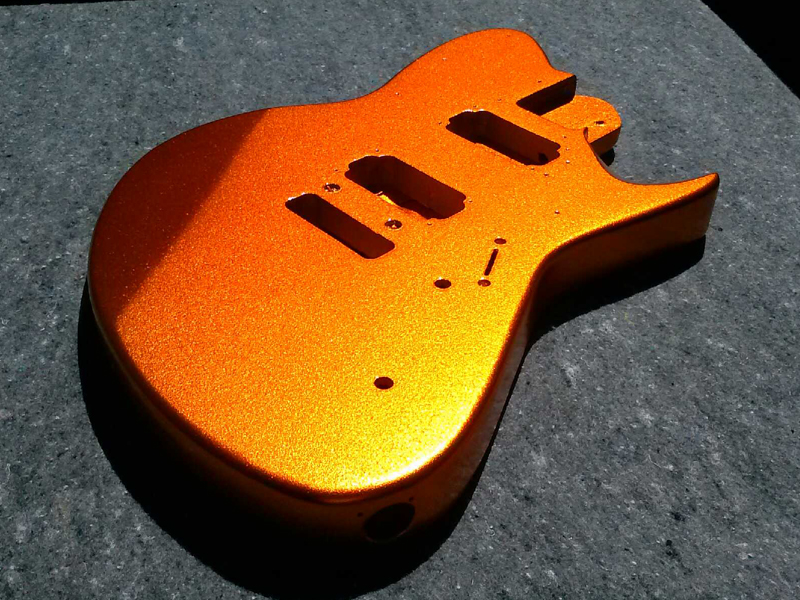 At this point, Greg decided it was time for the clear coats to seal in the juicy flavor. All those contours are catching the light just right.
Several layers of clear coat (and a lot of sanding between coats) later, I picked up the finished instrument this week. Ladies and gentlemen, I present…The Tangerine Dream: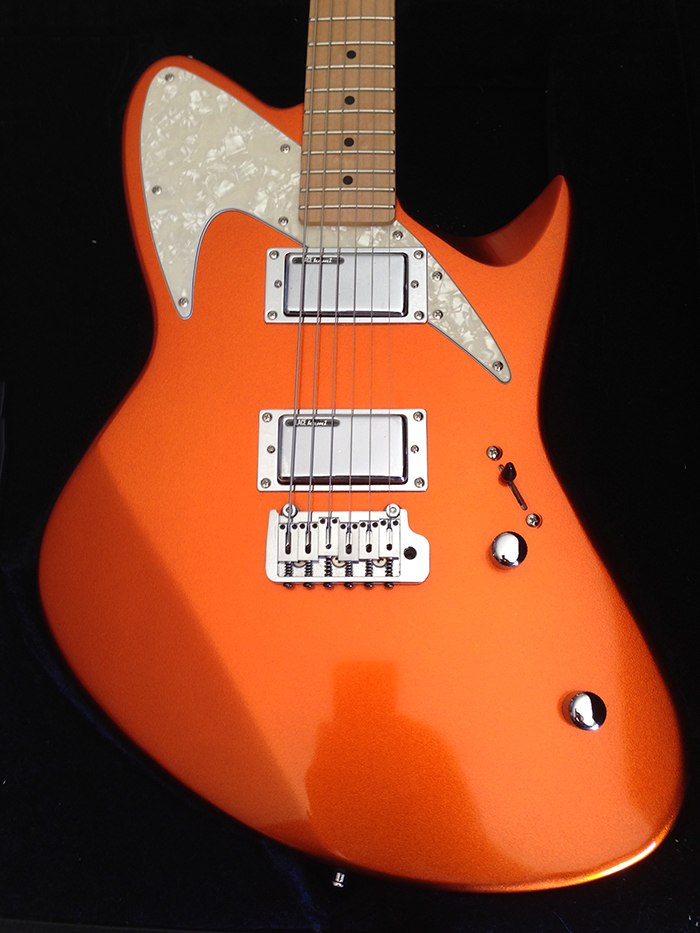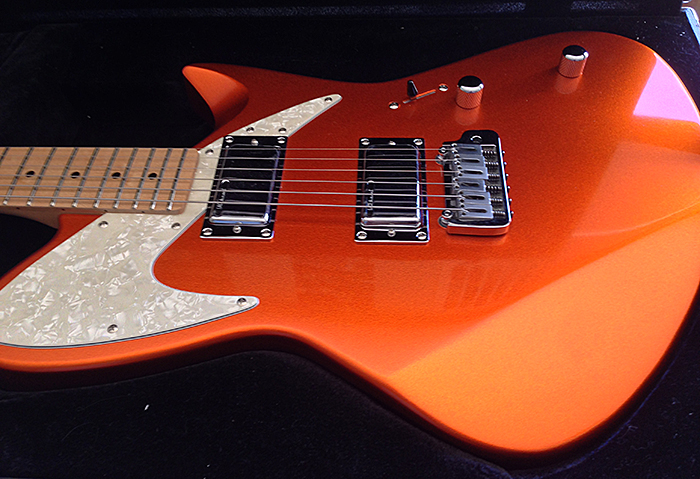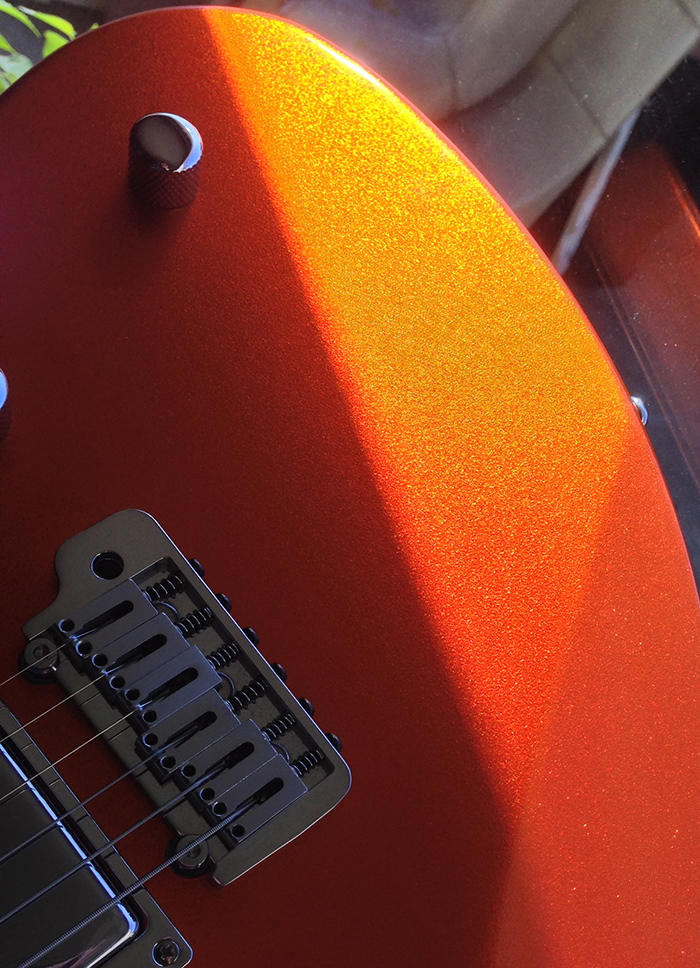 I could not be happier — it's hard to get a good photo of just how lovely it is, but these cell phone photos are pretty accurate. Kat will do a better job when she gets it in her studio.
I bought some Lace Hemi humbuckers because I wanted something with smooth chrome covers, and I love my Lace Sensors in my Strat. This sounds as good as it feels and looks.
All told, this was 60 hours of work. Greg is a freakin' artist and I cannot get over how amazing this turned out.