One trip to Fry's, one trip to Central Computers, and one lap around the office to get advice and spare parts put me in good shape for the rebuild. It didn't take long, but it did take all the time between the last blog post and now, pretty much.
Behold the new rig, nearly all of which was the direct recommendation of folks from PC Gamer and Maximum PC, after they found out I wanted to build a Swiss Army knife rather than a hot rod: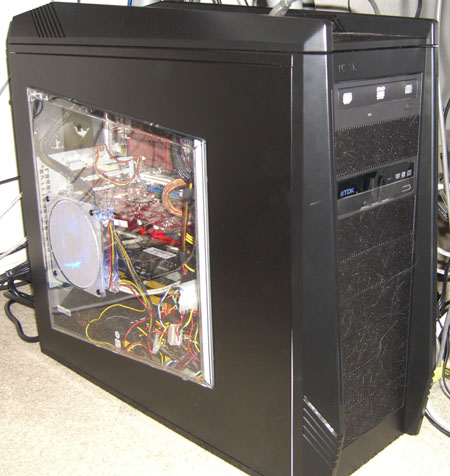 For the nerds, that's…
Intel Core 2 Quad Q9300 (Penryn quad-core, baby!)
ASUS P5E motherboard (X38 chipset)
ATI Radeon 3870 512MB video card (courtesy of Norman Chan)
Antec TruPower 850 (with yellow racing stripes!)
4GB Corsair Dominator 800 MHz RAM (nom nom nom!)
500GB Seagate Barracuda hard drive (take that old drive!)
Nzxt Tempest case (courtesy of Dave Murphy)
…and yes, it glows blue when the camera's flash is off. And even though it has six fans in it (!), they're all large and therefore turn slowly, so the unit is surprisingly quiet. It's also a mid-tower that thinks it's a full tower, and it's a heavy steel beast. But I've always had problems with overheating and needing to take the side off the case, so maybe this is the answer. I also paid attention to cable routing and kept everything as neat and short as I possibly could, so as to further help the airflow. And I only broke one part! I snapped off part of the case bezel but you can't see it. At least I didn't mess up the CPU installation — I always get nervous.
I've moved over my old DVD writers, the 250GB drive that didn't crash, the Audigy 2 ZS Platinum Pro sound card, mouse and keyboard, and the speakers and monitor stay put. And the naughty drive is being given a second chance as an external/backup drive in an eSATA/USB enclosure.
Bottom line: I'm way overpowered for WoW now (I cannot wait to see the draw distance and frame rate), I will actually be able to run Crysis and Hellgate, and I'm set for a few more years, I hope. I'm glad the band's done well lately or I wouldn't have been able to spring for all the parts all at once.
I haven't figured out what to name it, but I feel it needs a name this time. Kat always calls my PC "the other woman." I thought maybe "Lisa" in honor of Weird Science, but the blue LEDs give it a Tron feel. I'm up for your suggestions.