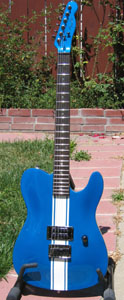 So I have this guitar and I love it…except for all the parts in it. I got this Fender Esquire GT on clearance a few years ago and I adore it. (For the non-guitar geeks, an Esquire is a Telecaster with one pickup — The More You Know!) The body is a carved top, it's a set-neck, I like the flat-D neck shape, I like the light weight, I love the bright blue with the white racing stripe and the matching headstock with a silver Fender logo. My guitar tech/hot rod enthusiast Greg dubbed it The Bitchin' Camaro and it stuck.
But…they designed it as a pop-punk machine and nothing else — one pickup, one volume knob, no tone options. The pickup is a Seymour Duncan Invader — as used by Blink-182 in their prime — which is one of the highest-output, gnarliest pickups ever made. It screams! But I'm thinking I have less opportunity to scream than I did when I first got the guitar. Also, they went with briefly-trendy black chrome hardware on the tuners, the pickup ring, the knob, and the bridge. The problem with black chrome is it tarnishes if you, you know, touch it. Also, the logo on the headstock is standard silver, and the frets are in great shape…it's like this guitar really needs a chrome makeover.
So…that's what I'm doing. My Christmas haul included this stuff: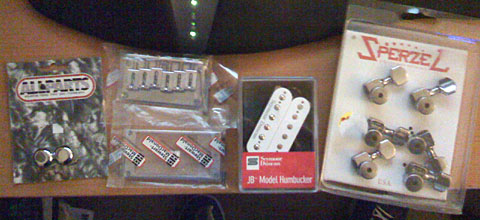 Chrome replacements for all of the above (Sperzels because I found them on sale!), and for the pickup, a white Seymour Duncan JB. I had one of these in a guitar I later sold and I thought it sounded fantastic. I don't care about a tone knob; I just want that pickup's natural voice flat-out.
So…I'm wondering if I should try to do the swaps myself. I am not good at this kind of stuff and I'm super nervous about damaging one of my guitars. Like, what if the tuners need bigger holes than the ones that are there? I usually take this stuff to Greg but maybe it's time to learn to do relatively simple stuff on my own. Hell, it's only one pickup with one knob — how hard can it be, right?
Gulp.