Aside from the time I wanted to myself for Christmas, I also got some nifty things.
Got some lovely books (Neil Zlozower's book of Van Halen photos, some musical instruction, and some deep-thinking-about-game-criticism stuff), Darth Tater, a Han Solo Hoth Mighty Muggs, an aluminum wallet (!), and Metal Slug 7 for DS (a big deal for a Slug nut like me). Also, the most awesome Gears of War action figure ever made, which will only be cool to people who snipe. (And for being extra good this year, I am told that an X-Fi sound card and a new pickup for one of my guitars are both en route. Apparently, the reindeer got delayed.)
Also, I don't know where you find metal guitar ice cube trays, but my dad did.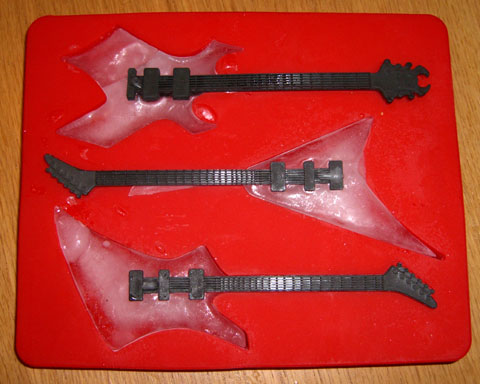 The necks are swizzle sticks. Awesome. Brownie points for anybody who can name the three models of guitar represented here. 
I think the niftiest gift is one I knew about ahead of time. Instead of getting the Fender Custom Shop calendar again, Kat made me a custom calendar of my actual guitars, which is super cool. (She also got me actual "geek" business cards with my photo on them, so I could be a card-carrying geek.)
I had a nice holiday and I am grateful that people like me enough to get me stuff.