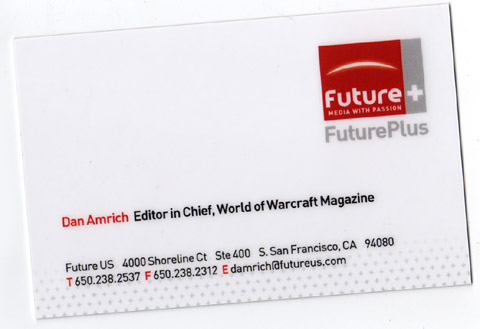 Future partners with Blizzard Entertainment for
World of Warcraft®: The Magazine
International print launch for subscription-only title devoted to
the industry-leading MMORPG debuts this fall
Global editions in English, French, German, and Spanish languages
to launch simultaneously

08/19/09 – Future, the special-interest media group and leading games media publisher, has announced an international partnership with Blizzard Entertainment, Inc., creators and publishers of World of Warcraft®, to publish World of Warcraft: The Magazine, the official magazine of the record-breaking massively multiplayer online role-playing game (MMORPG).
Debuting this weekend at the BlizzCon® 2009 event in Anaheim, Calif., World of Warcraft: The Magazine is a new quarterly publication that covers all aspects of the industry-leading MMORPG, from game content to the players themselves. Launching simultaneously in English, French, German, and Spanish editions, the new magazine will be available via subscription only, sold through World of Warcraft Account Management or direct from www.worldofwarcraftthemagazine.com (which launches at 9.00PST/17.00GMT on Friday, 21st August) The magazine is available as a one or two-year subscription, pricing for one year is $39.95 in the US and 34.95 EUR or 29.95 GBP in Europe – two year subscription packages cost $69.95 in the US, 61.25 EUR or 52.50 GBP.
Each collectable issue will be packed with engaging, entertaining and comprehensive articles that cover all aspects of World of Warcraft through insider insights and player perspectives.
The first issue will celebrate the fifth anniversary of the release of World of Warcraft by showing how the game has evolved and taking a look into its future. In addition, the first issue will compare tactics from top guild leaders for Ulduar – helping gamers to build the best strategies for their raids. With plenty more content inside, the first issue of World of Warcraft: The Magazine packs 148 pages with insightful articles and beautiful artwork that World of Warcraft players are sure to enjoy.
Future has pulled together a stellar team of games and technology journalists to produce World of Warcraft: The Magazine. Created by Future's custom publishing team, FuturePlus, the team is led by Editorial Director, Julian Rignall and former Official Xbox Magazine Senior Editor, Dan Amrich. The magazine is designed by Art Director, Ryan Vulk, who joins Future from Wired. A panel of international journalists will contribute to the magazine, including European Editor Tim Edwards of PC Gamer UK.
Those who sign up for a subscription at Future's BlizzCon booth located near the entrance of Hall B of the Anaheim Convention Center will receive an exclusive plush green murloc stuffed animal.
John Gower, International Director of FuturePlus, commented:
"Building on the global online phenomenon, World of Warcraft: The Magazine will provide an insider's view of the game in the form of a glossy, high-quality, quarterly print title with beautiful, high-definition art. There is increasing recognition that there is a huge demand among gamers for print products to support their online experience and vice versa. Future's experienced team will create an essential magazine for World of Warcraft enthusiasts around the world. Future has a world-leading games media portfolio and this major launch builds on our position in the industry."
Paul Sams, Chief Operating Officer of Blizzard Entertainment, said:
"Future produces some of the most respected gaming magazines in the industry, and we're pleased to be working closely with them to make World of Warcraft: The Magazine a true standout product. Together, we look forward to offering World of Warcraft players a great mix of entertaining and insightful content in every issue."
Julian Rignall, Editorial Director of World of Warcraft: The Magazine, added:
"We're bringing together an international team of player-writer experts to create in-depth articles about World of Warcraft's design, art, lore and community, as well as all aspects of its gameplay. It's really important that our magazine articulates multiple player perspectives, so that the editorial offers balanced – and sometimes even opposing – points of view on winning strategies and tactics."
To subscribe, please visit www.worldofwarcraftthemagazine.com at 9.00AM PST/17.00 GMT from Friday, 21st August when BlizzCon starts, or visit Future's booth at the show, near the entrance of Hall B.
About Future
Future plc is an international special-interest media group that is listed on the London Stock Exchange (symbol FUTR). Founded in 1985 with one magazine, today we have operations in the UK, US and Australia creating over 180 special-interest publications, websites and events for people who are passionate about their interests. We hold strong market positions in games, film, music, technology, cycling, automotive and crafts. Our biggest-selling magazines include T3, Total Film, Digital Camera, Fast Car, Classic Rock, Guitar World, Official Xbox Magazine, Official Playstation Magazine, Nintendo Power, Maximum PC and MacLife. Our websites include gamesradar.com, bikeradar.com, techradar.com, and musicradar.com. Future produces over 4 million magazines each month; we attract more than 18 million unique visitors to our websites; and we host 25 annual live events that attract hundreds of thousands of enthusiasts. In addition, Future exports, syndicates or licenses its publications to 90 countries internationally, making us the UK's number one exporter and licensor of monthly magazines.
About Blizzard Entertainment, Inc.
Best known for blockbuster hits including World of Warcraft® and the Warcraft®, StarCraft®, and Diablo® series, Blizzard Entertainment, Inc. (www.blizzard.com), a division of Activision Blizzard (NASDAQ: ATVI), is a premier developer and publisher of entertainment software renowned for creating some of the industry's most critically acclaimed games. Blizzard Entertainment's track record includes eleven #1-selling games and multiple Game of the Year awards. The company's online-gaming service, Battle.net®, is one of the largest in the world, with millions of active users.
For more information
Will Guyatt, Media Relations Manager, Future, +44 7788 576505
Will.Guyatt@futurenet.com
Heather Sorensen, Plugged In PR for Future US, +1-503-841-0625
heather@pluggedinpr.com
Victoria Bacon, Head of Group Communications, Future +44 207-042-4033
victoria.bacon@futurenet.com