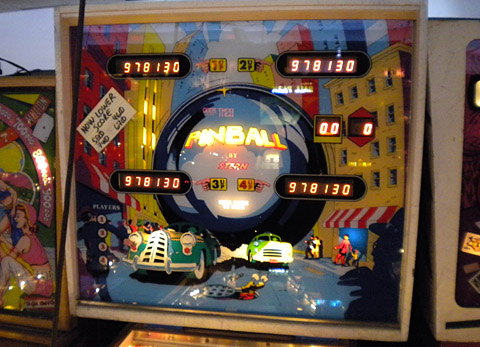 Most folks don't even know such a thing exists, but exist it does, in a tiny non-descript strip mall in Las Vegas (as opposed to all those descript strip malls in Las Vegas). Kat was heading to Sin City for a Photoshop conference so I burned a few vacation days and went along, doing my own thing during the day and hanging out together after her conference was done. I twisted fellow pinball junkie Rob Smith's arm to come along (his wife was at the same convention) and after a small adventure on the public bus system (hint: do not let me navigate), we arrived.
First of all, you need to know that we found the geek epicenter of Las Vegas. The Pinball HOF is located next to a second-run movie theater; on the other side, a sports bar (how did they know pinball players like both booze and mozzerella sticks?) and a comic shop. And on our way from the bus stop to the front door, Rob stopped at a small building and said, "Say, isn't that a guitar store?" And it was. So next time I go completely AWOL, you know where to look.
Once you walk in, the place itself is several rows of total awesome.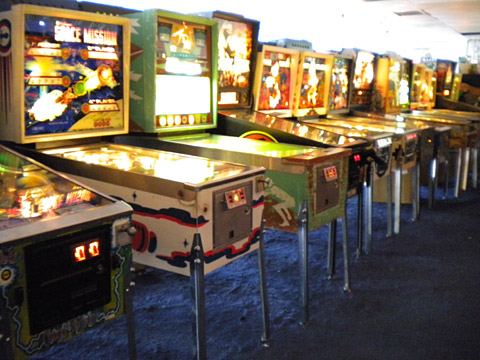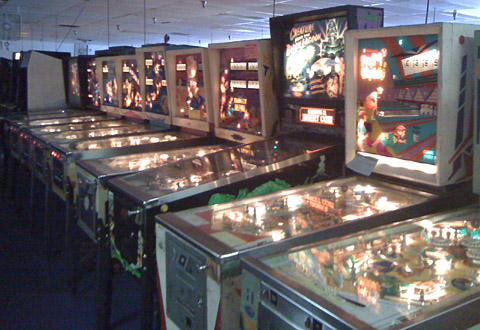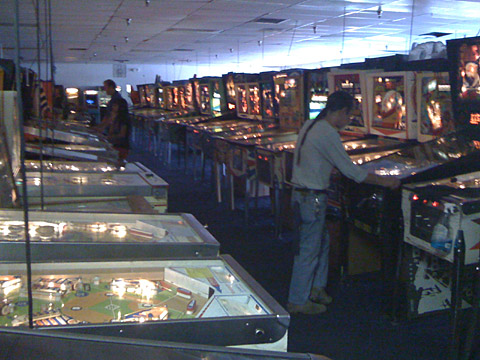 The Pinball Hall of Fame is a true non-profit that benefits the Salvation Army. The story is better told on the Hall's own website, but Tim Arnold retired from the arcade biz, moved to Vegas, and decided to do some good with a collection of some 200 pins and vids (mostly pins). The full list is on the site, but…Addams Family, Twilight Zone, Theater of Magic, Medieval Madness, Haunted House, Revenge from Mars, Pinbot, Taxi, Cyclone, Comet, Terminator 2, both Indiana Jones tables…pretty much all the machines you can think of are here, and several you'll get to play for the first time. The games span more than 50 years (current 2009 machines included 24 and CSI from Stern), and a play costs between 25 cents and, in one rare case, a dollar; many of the pins are set to 5 balls. Rob and I spent $20 over five hours and had no regrets.
I love going to California Extreme every year, but the trick there is you have to wait to play most machines. No waiting here, at least not on a Friday afternoon. There were many highlights but within moments of getting there, my brand new camera — bought for the occasion, actually — broke. So please suffer through my iPhone shots.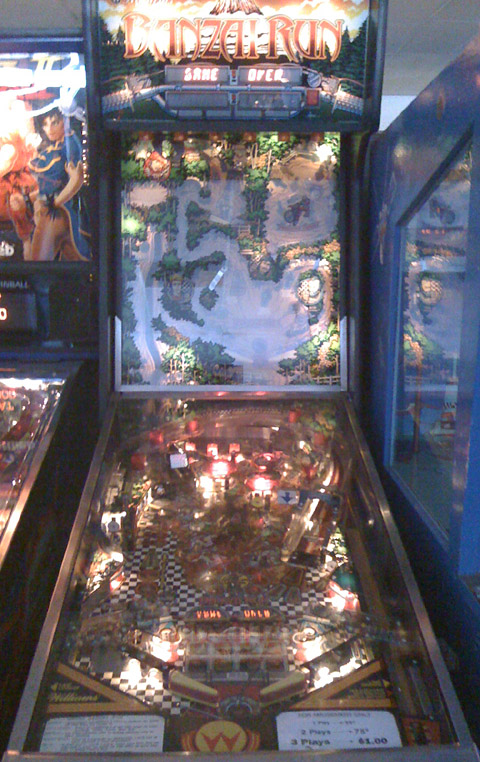 I'd always seen Banzai Run but never got to play it. It's a motocross-themed table; when given the signal, shoot the target in the upper left of the playfield and the ball ascends into the backglass, where you play pinball vertically. It's tough and weird and worth trying.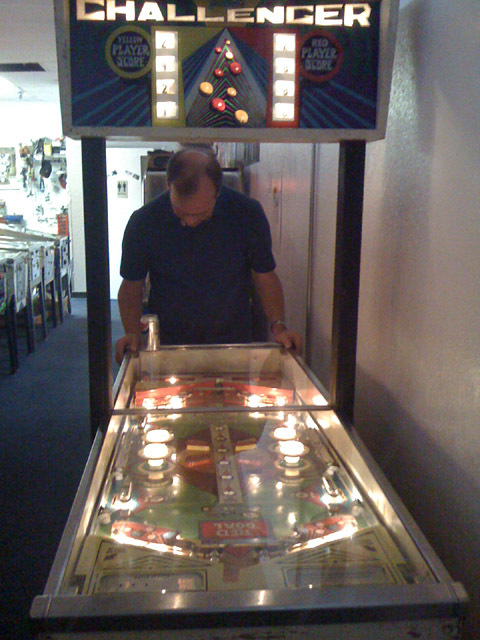 Rob and I found this unusual two-player machine from the 70s tucked at the back of the hall; only 210 were ever produced. The Challenger playfield mechanically tilts so that each player is basically trying to score on the other, actively flipping the ball into their drain. Rob beat me. (A few minutes later I announced that I was "undefeatable" at air hockey, so Rob beat me twice.)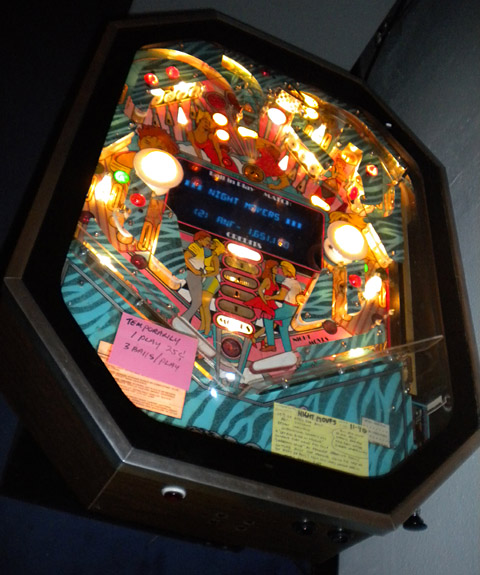 Night Moves was not fun, but it was unusual. Cocktail table pinballs always interest me just because I get the feeling that an engineer sits down and says, "Well…maybe it will work this time." The action was rather boring, but the disco theme was kind of funny…especially considering it was made in 1989 by a no-name company. Bonus points for misspelling your game "Night Movers" in the LCD readout — look closely and you'll spot it.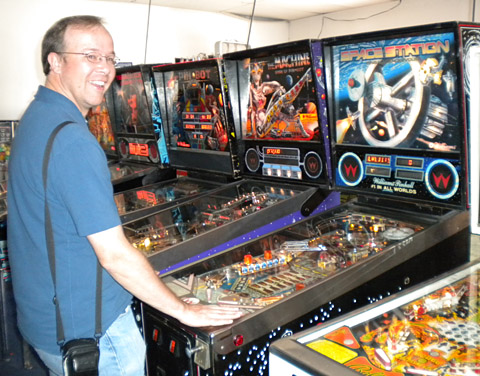 Oh, this — this is Rob. Rob is playing his favorite pinball machine in the world, Space Station. Later that day, he broke it.
Okay, that machine that cost a buck to play? Totally worth it, when you consider there are only two in the world, and one in America, and it's a fascinating prototype for a completed game that was never produced. That game is The Pinball Circus. It's located directly at the entrance so some of my photos suffer from glare.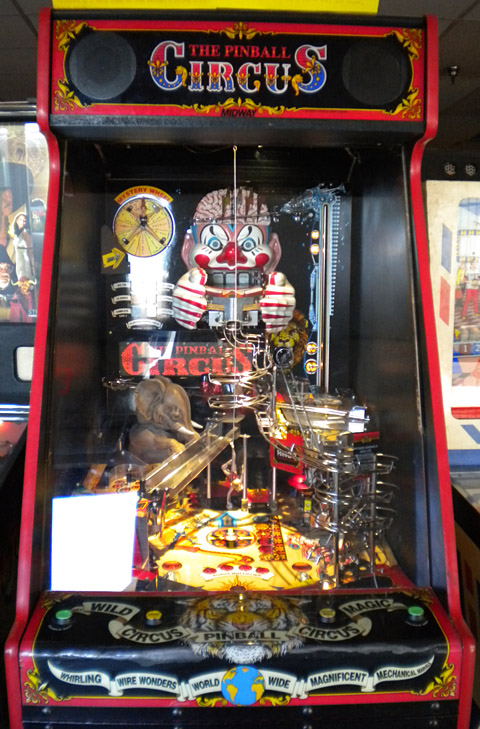 This was absolutely fascinating. It's a pinball from 1993 constructed inside a traditional upright video game cabinet, so the play is actually vertical and more in 3D space than a traditional pinball — lots of curly tracks and steep ramps, plus a fair share of mechanical toys.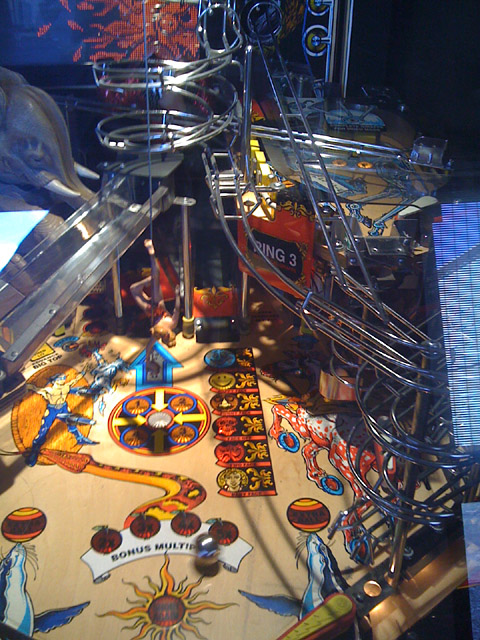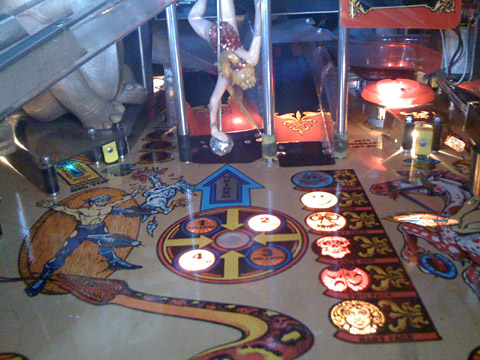 The core playfield leads to two ramps. The right ramp leads to a generous score loop; hit it seven times in a row and it pays out 10,000,000 points.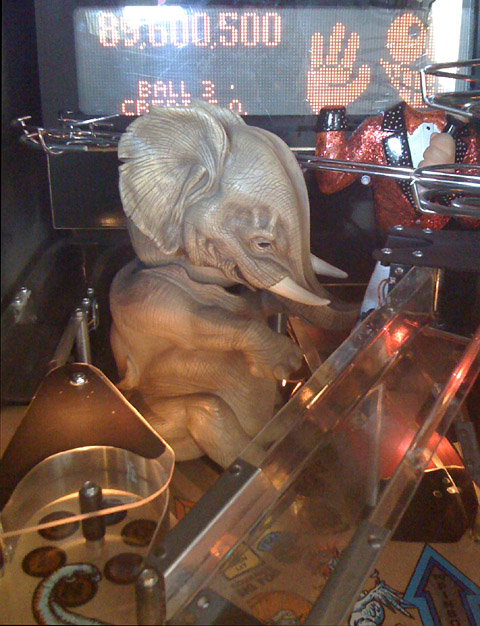 The left ramp is super-steep and leads to a plateau that feeds a mechanical elephant. He scoops the ball up with this trunk and sends it on its way.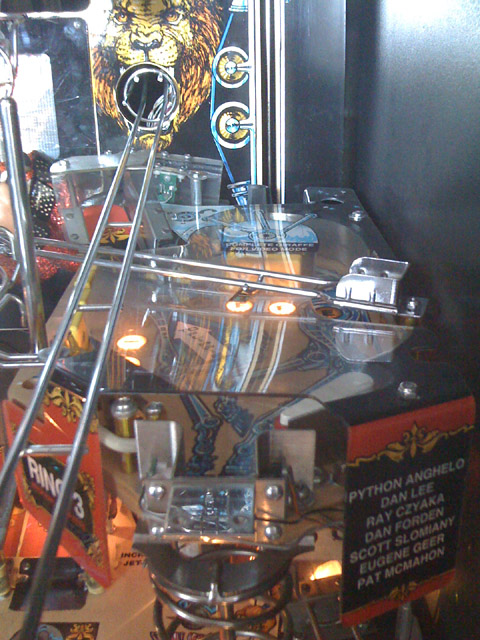 If you can make the next shot, you hit another plateau with another tricky shot. Your ultimate goal is to feed the giant, terrifying clown face, which features its own playfield with tiny flippers right in front of its mouth.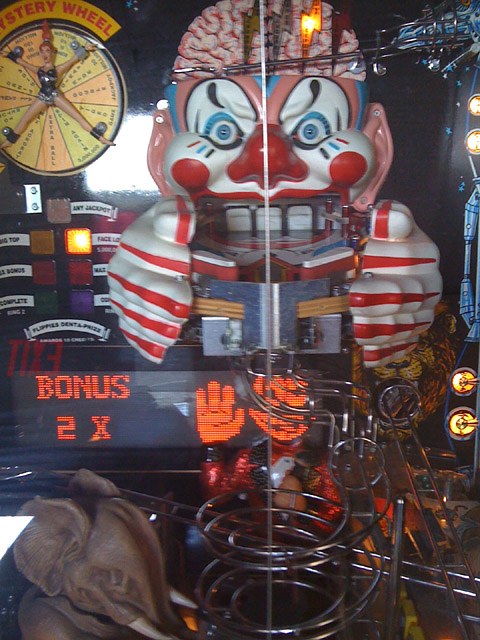 So if it's so much damned fun, why wasn't it produced? It was too expensive. This was created just six years before Williams shut down its pinball division altogether, and it was going to cost $1000 more per machine — which distributors balked at, since the test run didn't earn more money than a traditional pinball. Williams canned in and put its resources into Pinball 2000/Revenge from Mars instead before closing up shop completely. As a result, only two machines exist; the Hall of Fame's machine came from an ex-Williams employee, and is the only one in America. Frankly, I felt honored to be able to play it.
Oh, and that's Rob again. Thankfully he didn't break this one.
Next time you are in Vegas, absolutely go. You'll never have more fun supporting charity. You can take a cab from the MGM Grand and it's a straight shot down Tropicana, but if you don't mind riding the bus, it's cheaper and the stop is located right at that intersection. It's open daily; prepare to spend a whole day there.